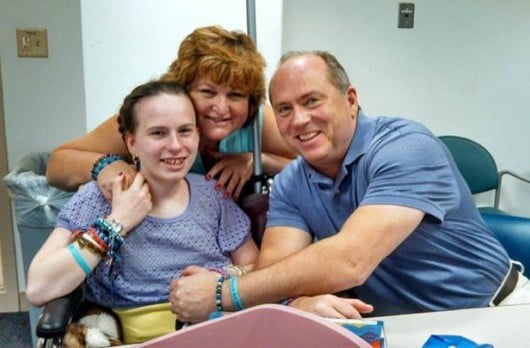 This is a quick update for you, as I just read some good news.  (Thank you, Kimberly, for helping me stay on top of this story!)
Apparently Justina Pelletier's Dad's choice to risk jail time for contempt (he was ordered not to speak about the case!) was a wise move, as it caught major news attention and then the attention of Massachusetts lawmakers.
"The self-stated goal of the Department of Children and Families is to strengthen the link between families. Removing a child from her family is reserved for only the most egregious circumstances where evidence of malicious intent, negligence or the blatant inability to care for the child is present. No such findings are present in this case," (Representative) Lombardo said in a release.  (Source)
If you haven't been following the story, you'll recall that all of this happened because her parents disagreed with the doctors on Justina's diagnosis and treatment…
When her parents reportedly disagreed and asked for a second opinion, they lost custody of their daughter. DCF was called in after just four days. The parents haven't had custody since last February.

"The Pelletier case is a dispute between conflicting medical opinions," (Representative) Lyons said in a release. "In my opinion, the decision on which medical treatment to adopt should rest with the parents, not with DCF. The Department's heavy-handed, unjustified interference with the rights of these parents is an example of what is wrong with this agency."
Yes, a lawmaker said that, Hallelujah!
Just one scary case?
If you think this is a unique case, sadly, you're wrong.  It's sad and it's frightening, but it's not unique.
I have two close friends who are dealing with similar issues right now.  One is fighting the docs who believe his child needs some very invasive procedures; after hours of research he blatantly disagrees and feels they are unnecessary.  Now, due to some things that have been said and the way things have been handled, he's nervous about where this will go…  (Just what you need when your child is sick, another thing to worry about!)  The other is a friend whose doctor wants to put their child with occasional Crohns flare-ups on a Ensure calorie shake.  They've said, "We'll make our own shake recipe, then, Ensure's is full of crap."  The doc has said no way, it has to be that one, and that if they continue to fight him, he'll drop them from his practice.
I wish I was kidding!!!