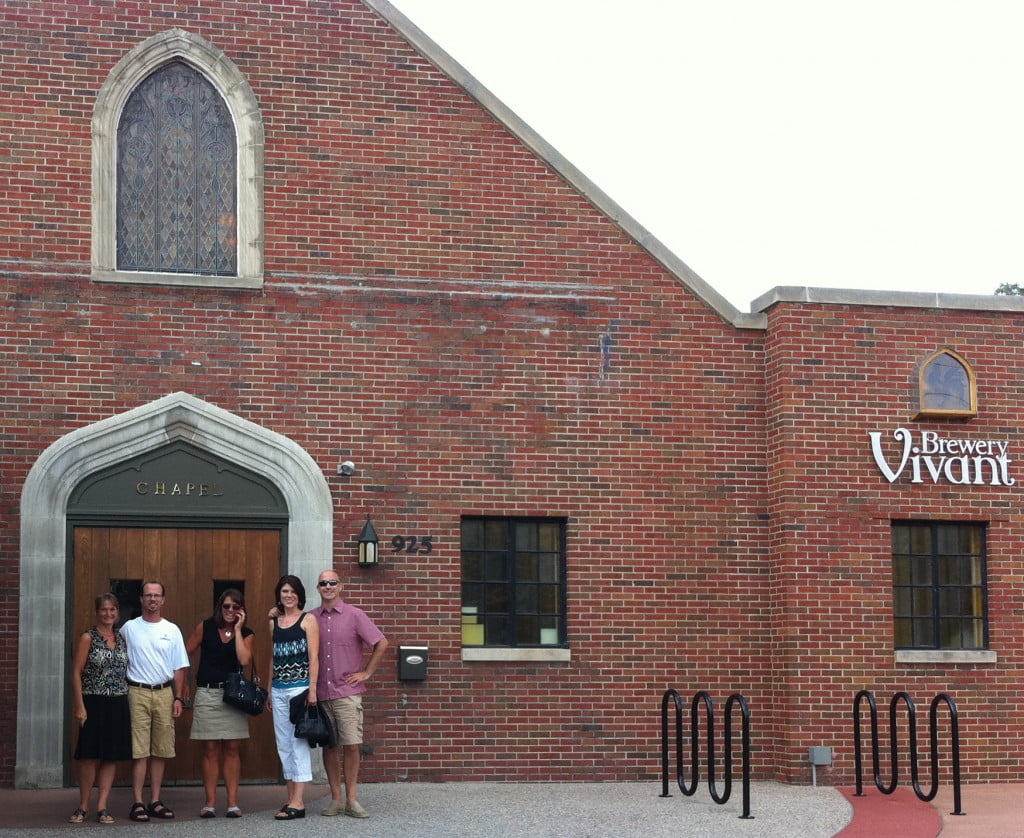 Just the name is cool isn't it?  And Brewery Vivant gets even more character points because this quaint pub is located in an old church close to downtown Grand Rapids.  But that's not the best part.  You can guess where I'm going with this…  The FOOD!  I'll show and tell you all about it with lots of pictures.  And get this, our server, Aaron, actually seemed to like all my foodie questions.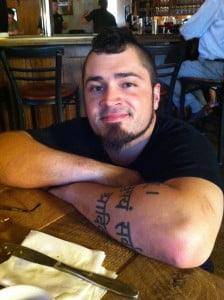 He said their goal is to "raise the bar on bar food".
I'll tell you about their beer, too, but first, here are more reasons why I now have another local restaurant to rave about:
"It took our chef, Drew, three years and two trips to France to get the pâté just how he wanted it." I'm not exaggerating even a teeny bit when I tell you that it is the BEST pâté I've ever eaten! Because I'm not as good about my organ meats as I should be, I have to admit that the reason it was SO good is that it had NO liver taste. None. What it did have, though, was bacon wrapped around it! "Roasted Pecan & Cherry Country Pâté ~ grain mustard, cornichons, baguette."
Their duck confit is "a labor of love to get that just right", and we enjoyed these knock-your-socks off nachos: "Pulled Duck Confit Nachos ~ brie cream, caramelized onions, white corn tortillas, tomato concassé, duck cracklin."
Their burgers are famous and everyone says that once you've had one, you'll never be able to order anything else off the menu. Of course I had to know where the beef came from before I tried it and Aaron had my answer: from organic and grass-fed "happy cows" on a farm in St. Joseph, Michigan. Yes, he actually said those words! "8 oz. of chef-selected and house ground beef; tomato, butter bib lettuce, onion & bacon marmalade, pommes frites, béarnaise-mayo." – the onion and bacon marmalade MAKES it. I shared my fries with Sonia, and only ate enough to enjoy the crazy good homemade béarnaise!
It's not easy to see just how fat this burger is, but they made me try to show you:
All food is made fresh in their "scratch kitchen".  Aaron told us, "There are no fries from a bag, they're all hand-cut, even our ketchup and mustard are homemade."  (While they don't fry in healthy oils like tallow, lard or coconut oil, at least they don't use soybean oil, which I have a bad reaction to.  They use canola, which really isn't any better for us.  You all know by now that soy is terrible for you, right?  And that fats from pastured animals is very good for you?!  Read more about healthy fats and the saturated fat myth.)
Here's the dish I plan to try next time:  "Farmer's Market Prix-Fixe – Chef will design a 3-course menu based on his findings at the local market.  (These items will available on market days only, and are very limited.)"  A couple of their chefs go to the Fulton Street Farmer's Market (just a few blocks from there) and see what they can find!
Even though beer isn't my thing, I should probably give it a mention since this is a local brewery after all, and for Kent that's just as important as the food.  He said that all the different beers they have are the "Belgian expression" of that beer style.  It was happy hour when we got there, and pitchers were $2 off.
They started with "Big Red", which Kent liked best.  "Big Red Coq:  Hoppy Belgian Ale – This red ale is all about hops.  It is an American-Belgian fusion of beer styles taking imported Belgian caramel malts and slapping it with a heavy handed dose of American hops. Expect hints of mango, pineapple and citrus to hit your nose with an assertive hop presence."
The next one Kent said was his second favorite, the "Triomphe: Belgian IPA – This beer is made with a classic Belgian style yeast strain that gives the complexity and slight sweetness you may expect from a Belgian style ale, but then reaches deeper providing a smack-down of American hops.  Served in a large tulip glass to capture and focus the hop aromas."
Lastly, they tried the "Solitude: Belgian Amber Ale – A deep mahogany colored beer that is made in the tradition of the famous brewing monks of the Abbeys of Belgium.  It is malt forward with hints of caramel, pear & raisin."
While their focus is beer, obviously, they did have a few wines.  I tried the apple hard cider (locally grown fruit!) and the apple blueberry hard cider and loved both of them.  Sonia doesn't like her wine as sweet as I do and she enjoyed the "Melange: Red Bordeaux Blend – Aromas of cherry, raspberry, and currant. Toasty cocoa balances minerals and fruit on the palate. This has a lengthy finish with soft tannins."
More pictures!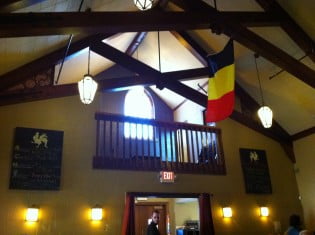 Inside they have long tables that give the pub a European feel, and on their website it's described like this:  "Step inside and you will feel like you just stepped inside a Belgian monastery… except we don't have monks walking around in robes."
Sonia & Bob are on the left.  On the right is Joe, Kent, Mary & Megan.  Mary is Meg's sister, and her husband Jack came later, but the picture with all of us turned out so bad they made me promise not to post it.
Sonia let me try her tomato curry soup, which isn't something I'd normally order so it was fun to taste, and delicious, too.
Sonia was the only one who still had room for dessert, and again, when she ordered this it was something I probably wouldn't normally have chosen, but thankfully she shared a couple bites and it was unbelievable.  The mixture of flavors all came together perfectly and was light and satisfying at the same time.  "Brandied peaches melba:  house pound cake, raspberry coulis, sliced almonds."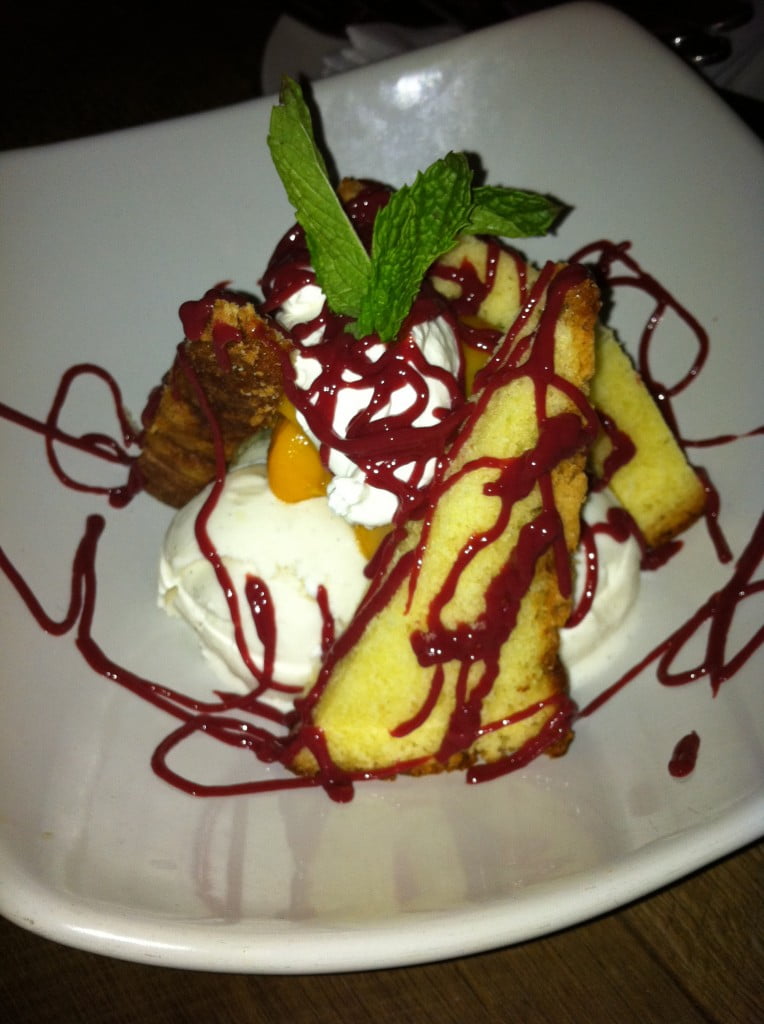 Check out their "Cool stuff we like page", where they drop some names us Real Foodies are very familiar with, like Joel Salatin and Michael Pollan.