Are vaccines dangerous?  What's more risky?  To question everything and do the research, or to blindly follow?
Jenny McCarthy may not be the most sparkly spokesperson for encouraging parents to question standard vaccine protocols, but I'm still thankful for what she's done to raise awareness on the issue.   So when I read this article announcing Jenny's new job at 'The View', which came complete with a jumbo dose of 'you're stupid if you don't vaccinate your child to the HILT' judgments, I got a tad bit steamed.
Click here to read the article and see if you want to throw something, too.
In one of the statements that riled me up, the author wrote:
"Giving a job on The View to a anti-vaccine celebrity sends a dangerous message about public health and science in general."
And what dangerous message is that?
That we should question everything?  That it's important to do your research before allowing anything to be injected into your child?  Is that actually more dangerous, or is not doing those things more dangerous?  If you really think about it, which is the more intelligent response?
Another blurb that got me going:
And there's a bigger problem.  To say that you can simply shrug off differences about medical fact as "outrageousness" or "controversy" is to feed the belief that science in general, be it vaccines or climate change or evolution, is simply subjective: you have your truth and I have mine. But we don't. The Earth didn't revolve around the sun only for Galileo.

WHICH science or medical fact is he talking about?!

It really doesn't take a whole lot of common sense to know that "science" and "medical fact" are highly influenced by the funding source of that particular scientific research.  I thought this was common knowledge?
Yes truth is truth, that I agree with.
But not when it's skewed by money, as most things are.  Unfortunately figuring out where the truth lies is a bigger challenge these days than ever, but throwing our hands up and blindly trusting the medical community certainly isn't the answer.
Instead it takes a lot of prayer, a lot of common sense, and a lot of time digging and researching.
This is why many do just blindly follow.  I'm reminding myself not to judge anyone for that because it's not easy.  But those of us who put in the time and then challenge the system shouldn't be judged either.  (I think that'll be my new line for whenever I'm confronted on any of my foodie or health freak choices:  "I don't judge you for blindly following, so don't judge me for researching and bucking the system."  Maybe not… I guess that still sounds judgmental.)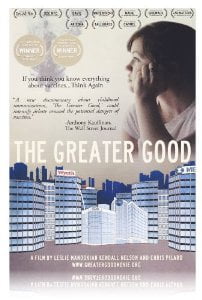 And besides, there is science supporting the fact that vaccines are not always safe.  Here is a large catalogue of the science compiled to date that explores vaccine injuries.  Here's another neat link on the same site where they put together a PDF of all the science references so you don't have to follow all the links:  Click here for that.
If you want to learn more, you can get The Greater Good movie here, which is a huge eye-opener.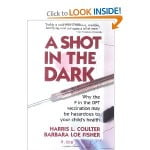 By the way, here's another good book on the topic:  A Shot in the Dark.
So does all of this mean that I personally recommend not vaccinating your kids?
Absolutely not.  There's too much I don't know.  I do, however, strongly, implore you to not blindly follow me or your doctor or anyone when your child's health is on the line.  Don't be lazy, make the time to do your research.  A good place to start would be my list of posts on the vaccine issue where you can read about the decisions we came to, and what led us there.  Keep in mind that if we had another child today, I don't think we'd make the same decisions, but I do know that we'd be researching it to death all over again.

One of Jenny's books titled, Mother Warriors, says it all.  That's what we need to be in order to take on the system.  Call me the crazy one if you want, and believe me you won't be the first, but now that I know how broken the system is and that we must question everything and not blindly follow anyone, I can't go back.
More:
(Top photo:  Victoria Will/Invision/AP)