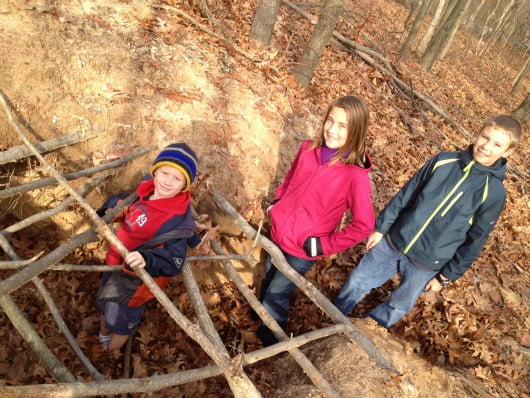 It's been a while since I've updated you on how our first year of homeschooling is going, so when a reader emailed with some homeschooling questions I decided it was time; also I'll tell you what curriculum we loved this year and what we hated.
Plus I asked Kent to share what his thoughts are now that we're 3/4 of the way through the year, scroll down for his answers…
Recently a reader wrote the following:
Kelly, I found you when I came to your website to find some great info on food. I saw your homeschool tab and read your first blog post about it. Thank you!!!
You have described almost to a point what I have begun to experience. My story starts like this. One of my friends has been a homeschooler from the start and I don't know why, but I asked her a question about it. Later that afternoon or evening I couldn't get the thought out of my head that I should homeschool. I still think about it often.
My first is in grade 2 at the moment and although he is a clever and social boy, he struggles to focus and keep up with the class to the point the teachers and I have tossed the idea around of "modifying" his workload. This means he will have to do less than the rest of the class. I'm not fond of this plan since I know he's capable but just needs more time. The part that scares me though is that I am not a teacher or have never even thought of being one, let alone a homeschooler. My second child is set to go to kindergarten in the fall but I think that I should give him the opportunity to 'try' school out to see if he does any better in that environment than my first is doing. My third is now 3 months old and I wonder how that will play a part in MY focusing to teach from home. We struggle with homework constantly! With me or my husband trying to motivate him or him actually doing it. Sometimes it takes up the remainder of the day and continues in the morning to get complete. Often it's only 2 or 3 pages but has been as high as 5 if he hasn't done anything in class. Even one single page turns into an all nighter.  This stresses everyone out and robs us of very valuable family time in the evenings and on the weekends because he/we are bound to the kitchen table to get it all done. 
He has great leadership potential and I have the fear that if left up to me to educate him, I might do something wrong and stifle those qualities in him. I am on the other hand hopeful that our relationship could grow and become stronger. Oh, the fear of the unknown!
Its easy to share the good things, but if you could share some of the struggles you faced in the beginning, I would be very grateful. A weird as may seem, it might give me hope.
Thanks, Carrie.
Here are some random replies to Carrie and our good and bad updates:
First, I'd say you are SO BLESSED to consider going down this road while your kids are still young, I wish I'd have started from the beginning!  Our 8th grader has been the trickiest this year, mostly because taking him to band every day (where he gets his friend fix) chops up our day terribly, and cuts short a lot of fun field trips.  (Although some days I email the teacher and he just misses band.)  For next year in 9th grade he decided that he didn't want to continue band, but instead he wanted to take another elective so he could still see his friends every day.  I decided I'd put my foot down and I said 'no'.  But he got all wigged out about not seeing his friends at all, and then he started saying that he really just wanted to go back to regular school.  Yes, we could've just said, "No way", but that would've turned into a big fight.  So I had him write out his own pros and cons list.  Once he did that, he realized that he really didn't want to give up all the benefits of homeschooling, but he also really wanted to see his friends.  SO I decided to sacrifice and keep driving him to one class a day at the public school in the fall, in order to keep him home with us happily – if this is what it takes to help him relax about the friend issue, then so be it.  If we'd started sooner, he'd already have established a bunch of friends in homeschooling circles who he was comfortable with.  So that is why I wouldn't recommend you start your Kindergartener in public school, and instead get your kids to places where they can meet and get to know other homeschool kids.  (Our younger two have made good friends at their enrichment classes that we go to weekly and that's been wonderful.)
Second, I can totally relate to your fears of being inadequate as your kids' teacher.  I still struggle with this at times, then the kids will say or do something that blows me away and I realize, "We're really pulling this off!"  I do think that feeling is normal and it keeps me on my toes.  It also keeps me researching and finding better ways to teach them things and new ways to make learning interesting.  I also have lots of good friends (and all of you, my reader friends) to ask when something stumps me.  Which is often!  If any of you are ever stuck on something, message me on Facebook and I'll post it on my page and you'll be shocked at how many great answers come through that way from all of my readers.  The resources you need are out there if you look!
As you read in that post, we had those same struggles with homework that you mention, in fact it was the whole catalyst for getting us to consider homeschooling.  We also had times that a single page of work turned into a huge dramatic fit for our then 1st grader.  What's awesome now is that when one of those meltdowns happen, or he just wasted a bunch of time instead of finishing the work, I just say matter-of-factly, "OK, just don't do it today then.  You won't get to do (whatever it might be) until it's done, but it's your choice."  Every single time he'll decide the next day to get going and knock it out, and it's over in about 10 minutes.  I think if they see there isn't pressure or any battle involved, then it's over.  But when we had a paper we had to turn in to the teacher for homework, there wasn't the luxury of letting it slide for a day or two.  While Kasey still complains about writing every single day, at least it's getting a little less.  I've kept it low key, just had him do some writing each day, and not made a huge deal of it.  But he is devouring books.  He reads dozens every week, sometimes every day.
Also, for our 8th grader, when something he's supposed to do becomes a bigger battle than it should, now I've learned that it's because he's stuck on something and not because he just doesn't want to do it.  So I take the time to sit down and see where the road block is, we get around it together, and then he's done in 10 minutes.
More good and bad…
We've had our frustrations, though, that's for sure.  Around early December I was so irritated with the little turds because they kept goofing off or fighting or whatever during school time, that I called my friend Julie and had a pity party.  "Maybe I'm just not cut out for this…"  She encouraged me and reminded me that the first year is always the hardest, and then told me that she has an allowance system.  She pays the kids "bonuses" for getting all their school work and chores done each week.  We gave it a try ($1/day) and it's working out good, because now when we're at the store and they ask for something, my response is, "Do you have money?"  We're also opening up accounts for them so they can save half of what they earn each week and spend the other half.  So they're learning all sorts of good money lessons like choosing between buying something small now or saving up for something more expensive, and that if you don't work you don't get paid.  And obviously they're getting extra math this way too!
We've had the whole range of days so far this year.  Some days I want to wring their little necks, so on those days I'll take extra cod liver oil (it's my all natural chill pill!), and then other days it's downright awesome.  Hopefully we'll have more of those as time goes on.  In early March we had our first whole week where everyone was good and got all their bonuses for the whole week!  So we celebrated by making homemade ice cream.  🙂
Our daily list of school work and chores for each kid has been a beautiful thing.  I'm a major anal list person anyway, so of course I'm all over this type of system.  (I use the calendar on my Mac, a separate color for each kid, and print a new list every week with spots to check off jobs that get done.)  That's been a work in progress all year (which I actually began implementing last summer), streamlining this and finding the right balance for each kid so that chores are fair, and the school work is enough but not overwhelming, etc.
Just the "life skills" have been an amazingly awesome part of this for all of us.  We had no time to teach them this stuff when our life was full of homework, but now… NOW they're taking turns emptying the dishwasher, folding laundry, watering plants, breaking down recycling boxes, shoveling snow, making dinner, emptying trashes, refilling soaps, and cleaning bathrooms!  Even our seven year old cleans a half-bath.  (Not very well yet, mind you, but our daughter is an awesome bathroom cleaner, so I have her check his work and teach him.)  Of course much of this is done imperfectly and with a lot of help from me, but that will get better over time.  There is nothing like having them look at the list, and then without me saying a word, seeing them go get the cleaning caddy and clean the bathroom they've been assigned. Or having them say proudly at 11:30 a.m., "Mom, I just have to do my math and then I'm done for the day!"
Some days things with my business go nuts or I have errands that take almost the whole day or big cooking days and we get nothing done and it bothers me, but then I remember that regular schools have days like that, too.
The evenings – wow, having our evenings back has been so nice!!!  After dinner they're out playing with their friends and we have a quiet house, or they're just playing with their toys or a board game or doing a puzzle or whatever they want, no more homework hassles!  (We had no electronics throughout Lent and that was the best idea Kent has ever had.)
The morning snuggles have been wonderful.  Sometimes the bus will be pulling away out front I'll have one snuggling with me on the couch and talking about whatever.  Or other times they'll still be sleeping and I'll have my quiet time with coffee and my bible.
Curriculum updates – what we loved, what we hated:
We love Teaching Textbooks for math, except for the Algebra – that one really needs more repetition built into the program, but we're working through it.  For younger grades, it's AMAZING.  Our 5th grader has been SO successful, where last year she was losing confidence fast in public school math.
Science was drudgery for Kade (8th grade), he thought the book was boring and said that he missed the cool movies they'd watch in science at school.  So a bell went off in my head and I said, "Well, how about for each unit you finish, you can find a YouTube video on that topic that interests you?"  Now he's way ahead and motoring through science, just so he can find more interesting videos.
We hated "Easy" Grammar – yuck.  So I found this editing program that we all LOVE called Editing Adventure.  I write the wrong sentence on our whiteboard in black, then they each have their own color marker for correcting the mistakes — like grammar, punctuation, or spelling errors.  Also built into this program are new vocabulary words which we use for spelling words, along with words we pull from history we've read, or poetry we've memorized, and also finding synonyms.  It's amazing how one switch can take a subject from being the one we all hate to the one we all love doing each day.
I've learned this year what we're not doing well, which is helping me plan things differently for next year and one of the biggies is:  getting Kade to write!  We've tried many different things, but I think he's going to need someone else to give him writing assignments for 9th grade, so we'll put him in a good writing class at our homeschool enrichment building.  (One day a week – a good chance for more friendships to form, too.)  Also, hopefully this will force him to read more. He only likes to read his piloting magazines (which he gets through within an hour of when they come, but I don't know of any more like them) and rarely we can find a good book on planes that he likes.  Believe me, we've tried every week at the library, he's just super picky.  "That one is boring."  So I could use some advice on getting him to LOVE reading like Kent and I do!!!  (Update: read here what we're using for writing now and he actually loves it!)
We all love Story of the World for history – they beg to read more.  Well, the boys do, Kiersty doesn't so much, but I've learned that she's very visual, and I have to make her read along with me otherwise it all goes in one ear and out the other.  But see, it's stuff like that that makes homeschooling so awesome.  Her teachers couldn't figure her out the way sometimes she was right ON and other times nothing was there.  Now I know it's because she's SO visual, so just hearing something meant nothing to her and wouldn't stick in the slightest!
Kent's been an amazing help and support, as usual.  He reads the kids the classics in the evenings.  He also helps Kade with math when needed.  Or, best of all, he makes sure you-know-what hits the fan after a rough day when they were all boogers.  The other thing he's great about is helping me research new things to try with the kids, or we'll have good chats and he'll let me talk through some things to figure out what might work better.
These Faith and Freedom Reader books have been great for the younger two – there are all different grade levels. They have short stories that teach them about the Saints or about the Mass, I love getting the "good stuff" into them in all different ways.
We go to Mass each week on Wednesdays and sometimes visit different churches around town just for fun.  We always have prayer time in the morning, sometimes with memorizing verses or reading different parts of the Catechism and learning why we believe what we do.  (Hey  Catholics, have you seen the new YouCat?  It's the Catechism for youth and we love it!  It's also a great gift for kids being confirmed this spring.)  These are ALL things we were too crazy busy to give much time to until this year.  I see them growing in their faith and that's the best thing of all.  Not that it's always rosy.  Often they complain about getting up for Mass, to which I of course reply, "You're lucky you don't have to get up even earlier every day of the week!"  Or they'll horse around or act all bored when we're praying, but that's normal kid stuff and overall I see them learning a lot.  Kasey, our youngest, blows us away with some of the stuff he says about God and the Faith.  🙂
I love that they're learning Latin and Greek words that will serve them well throughout life.  We've got an easy book and method for how to do this and it's going really well:  English from the Roots Up.
Recently we started "History Links" to see if we want to do more of it for next year, and I really like how it includes many different subjects all rolled together.  My favorite part is that each lesson has a ton of ideas for how to get the points across, so I can pick and choose the activities that sound like they'd fly with everyone.  If it sounds boring or like too much work for me, we skip it.  But there are a lot of fun or simple ideas, too.
The kids have some things they do as part of their independent work each day:  reading, writing, math, chores, thankful journal, and a few other things (while I get my own work done), but we do together work each day, too:  prayers/faith study, history, Latin/Greek, poetry, spelling/vocab, editing/grammar, and my favorite:  read aloud time.  I love that a lot of their learning is done with their siblings.  (When they're not smacking each other or yelling and tattling, that is.  Does this lessen over time or will they always be this way toward each other???)
Kent's thoughts…
Good side:
I like the excitement that they have.  They can't wait to tell me about what they learned, particularly with history.  The program that they are following really has them interested.  Instead of just memorizing dates, they're remembering the stories.
I like the feeling that the whole family is in this together.  Kelly does most of it, but I help out on math when they get stuck, and I get to read them the classics.  That didn't start so well, but they're learning to like it and are asking good questions.  They'll also refer to different books that we've read when we see things happening in our everyday life.
I like that we are starting to see them take some ownership in their education and we're not just trying to cram it in their heads.  Kasey and Kierstyn have been reading quite a bit on their own and Kade has taken a very big interest in science.  He will work through a week's worth of lessons in one day.
I like the fact that schedules can be moved around as needed to make things work.  That is particularly true with everyone's sports schedules.  School and homework are done BEFORE practice starts.  No more having them up late to get their homework done.
Bad side:
I don't like it when they have been over-exposed to each other.  Some days all they want to do is tease and fight.
I don't like the days when they put Kel over the edge.  Strangely, those days seem to line up with the days that the kids are over-exposed to each other.
More stuff:
Do you have your next fall all figured out yet?  I'm still trying to find the time to work through these two books to help me narrow down what I want to do the same or differently next year:

101 Top Picks for Homeschool Curriculum – This book explains what each resource is like and which type of child it would work best with.  The details covered are amazing, so you can really feel like you're making a good choice for your family.  I tried checking it out at the library but ended up just buying it because there's so much info in there and I am an underliner!  I love having an updated version, since it seems like quite a few of the homeschooling curriculum review books out there are really outdated.