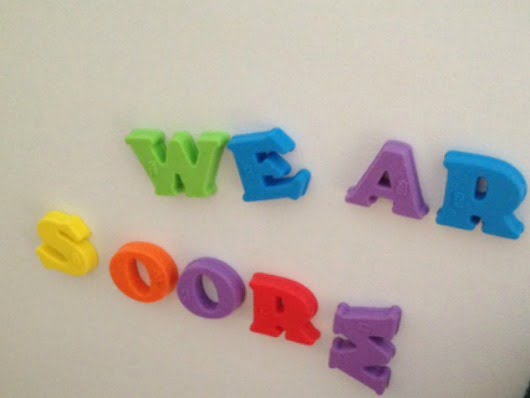 There's so much I want to share with all of you about how our first weeks of homeschooling have gone that I don't know where to start…
I'll begin by telling you about today, our very ugly day…
Behavior-wise the kids started off very well, but as the weeks went on I don't know if I allowed some bad habits to take root or what, but over time I found myself repeating myself more and thinking each day, "I have trouble keeping three kids from distracting each other, how in the world do teachers do it with classrooms full of kids?!"  Their punishment is always to lose electronics — no TV, video games, nothing.  But I wasn't seeing an improvement.  Then today the kids were bickering over nothing and everything, not doing what they were asked, and their annoying little distractions toward each other pushed me over the edge.
I went into our room, shut the door, and bawled my eyes out.  The doubts hit with full force.
I really thought God had called me to do this!  Maybe He did call me, but because kids have free will, if education isn't a priority for them and they don't choose to help make this work, and punishments don't work, what do I do?  I don't want to send them back to school, though!  I love having them home with me where the pressure is off and we can all learn together!  But if they won't cooperate, what do I do?!
Kent is a great support. 
When all this was going down, I texted him and said, "I think other home schooled kids have a better Mom (at disciplining/keeping good boundaries in place, whatever) or maybe the kids are all easy and the tough ones go back to school and just flounder there."  He asked, "Is it the kids not listening and doing what they're supposed to?  If so, I can take care of that one."  I said, "School is just not important to the boys and being respectful to me or each other isn't either.  Grounding from stuff makes no difference to them."  He said, "It will when I'm done."  He followed through when he got home and it looks like the boys are going get nice and bored for a good long while.  🙂  Anyone have some discipline suggestions for me?  Maybe make the boys run around the block next time to work off energy?
Anyway, I feel better now, and know it was just a bad day.  (The picture at the top of the post was what I found on the frig from our 7 year old – we've still got some work to do on spelling, obviously!)  I was surprised that the thought of sending the kids back to school brought on such deep sadness in my soul.  I so badly don't want to go back to how it was.  My sister sent me a cartoon in the mail (funny it came today) that says it all: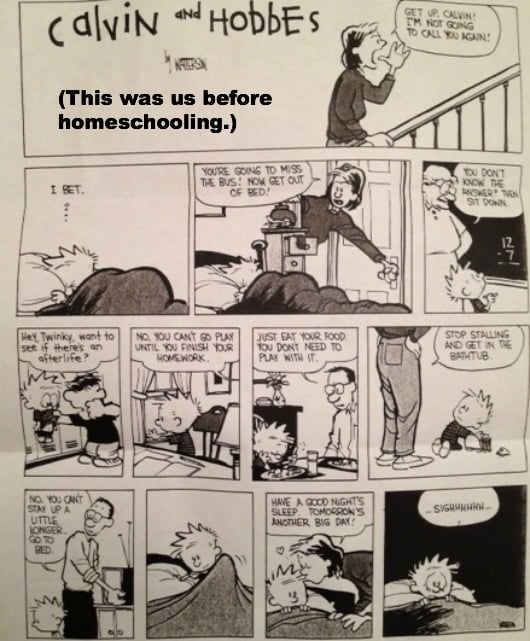 Since I'm not sure when I'll get around to another homeschooling update, I'll just share a few of the good things and not-so-good things with you from our first few weeks of homeschooling so far this fall:
First the not-so-good things:
Seems funny, but I miss the people at our kids' elementary school.  I've told you before that we really like our school district.  The people are great and many are good friends.  From the parents to the teachers and principal on up.  As an example:  our son still goes to band at the middle school and they called to let us know when the band times would be different due to MEAP testing – pretty cool of them, huh?  They also haven't batted an eye at him riding the bus home from school every day.  And when I had some curriculum questions both the middle school and high school counselors were very sweet and helpful.
They haven't said too much about it (and we have regular play dates), but I miss the kids' school friends for them.  Thankfully they're making new friends at their home school enrichment classes on Mondays.  And we have loads of neighbor kids that they play with each day, too.
Prepositions are definitely on the 'bad' list.  The kids were struggling and a friend suggested I start with just having them memorize the list, so that's what we're doing now.  ICK.
It's much trickier when I have to be gone now, obviously.  I've had a business trip, two funerals and other stuff, and my teacher friend joked, "Ha!  You had to make 'sub plans'!"  The flexibility in those situations is great though.  I know I won't come home and find out that there's some big school project due the next day!
All of the above aren't big things at all, but the main issue that's really tough is the same problem I've had for years:  how to get it all done in the 24 hours I've got each day.  That's an ongoing struggle.  I knew that homeschooling and working full time wouldn't be easy, and I have to say that I don't feel any MORE overwhelmed than I did when the kids were all in school and gone for seven hours each day.  So I'm trying to learn that it's all a mindset, and to just balance homeschooling, family/home stuff, work/blogging and friends as best I can, and that's all I can do.   If I didn't need to sleep or exercise, that would help!  Does anyone have suggestions for keeping it all balanced?!
The best for last – all the good things:
I don't have to yell the kids out of their beds in the morning anymore!  I work late and usually sleep in until 8:00 or so and then go climb into their beds to wake them up with snuggles.  A much nicer way to start the day.
I feel like my priorities are right now.  I give the first several hours of every day to our kids.  I love starting out with prayer time, saint stories or memorizing verses or whatever we want to do that day for faith stuff – we have had the BEST conversations and I finally feel like I have the time to help shape them into the people they were meant to be.  I love it when our oldest hasn't left for his college classes yet and he soaks some of this in, too.  Of course he acts like he isn't listening, but sometimes he'll pipe in with something that makes my heart jump for joy.
Our daughter (she's 10) loves to cook and helps me so much now.  The other day, she made these brownies all by herself, and I was just nearby working on something else.
I loooooove their math program, Teaching Textbooks.  Especially for our 13 year old, so he can go at his own pace with no pressure.  Some days he'll say, "I was getting a lot wrong, so I'll just do it tomorrow."  The next day he watches the lecture again and it clicks that time and off he goes.  Sometimes if he's stuck I'll have to watch the lecture so I can help him, and even I have been able to re-learn this stuff.
Kent has been everything I've needed him to be.  He loves talking with me about what we're doing – all the way to Chicago on our 25th anniversary we dreamed of where we want to take the kids with this, how we want to teach them to think, and what if something happened to me.  (Have you read about the Robinson Curriculum?)  He reads all the homeschooling books I want to read but don't have time to and gives me a synopsis.  He asks me to get books from the library that he wants to read the kids before bed, books like Aesop's Fables and Edward Tulane and tonight it was Walden by Henry David Thoreau.  I was out here working and overheard their conversations coming from what they were reading and was filled with thankfulness that he's the kind of Dad who wants to teach them these things about what really matters in life.
We're planning a Florida vacation and driving to save money (only 24 hours or so – ACK!) and I'm excited about doing a special unit study on the United States.  Hopefully that makes the long drive less painful.  It's nice that we can normally vacation when others are in school too!  Note:  we didn't end up doing a unit study, ha!  We just talked a lot about what we were seeing.  🙂
When the kids are being good (which was mostly until recently), it's been a lot of fun seeing how far they've already come.  I used to love playing school as a kid, and some days that's how it feels.  🙂  We've been memorizing all sorts of things like poems and prayers, and it's neat to see what that their brains can absorb fairly quickly.
I also looooove our Story of the World history book.  Each day we all look forward to reading a chapter; it's so well written and really holds our interest.  It's got bible stories mixed in as they fit into the historical timeline.  We also have the activity book and usually pull something fun from there on Fridays.
I still have to fight the urge to not have the kids learn everything all at once that I want them to learn and instead to focus on the basics of reading, writing, and math.  I want them to have some down time and not book up their every minute, but it's difficult because there's so much good stuff out there!
A few things I've learned:
When they need a break, they need a break, send them outside!
If we only get through one or two grammar lessons in a week instead of two or three, it's really not that big a deal.
When our 7 year old really really can't get through writing three whole sentences, let him write only one and be done with it. Hopefully when he's more ready it won't be such a struggle. (As much as radical unschooling isn't for us, some of the things I've learned from the unschoolers helps me to relax!  Now we're trying, "Handwriting Without Tears" and that's better so far.)
Priceless…
Hopping on our bikes for a mid-day ride around the block or just making some strawberry ice cream together:  priceless.  The other day was going to be a gorgeous fall day so we grabbed all our books to do a few things on the way and headed off to a corn maze for a couple hours.
Making my kids a healthy lunch while the three of them happily make a fort together in the woods behind our house:  priceless.
Watching them curl up on the couch after lunch with a good book:  priceless.
Sending them out to play after their friends are home from school so I can get my work done: priceless.
Not dealing with homework battles every night:  priceless.
Watching our youngest snuggle with our oldest before he leaves for his college classes: priceless.
If you're still reading all the way here to the bottom, I'll be surprised!  If so, tell me:  What are your best and worst (or just "good and bad") things about homeschooling?