Do you ever have homemade poppyseed salad dressing at restaurants and wish you could recreate it at home with your own real-food ingredients?  And don't you especially want to get rid of the disgusting vegetable oils that you know they use, like soybean or canola oil? Well now you can, because our daughter and I have been experimenting and do believe we have nailed it!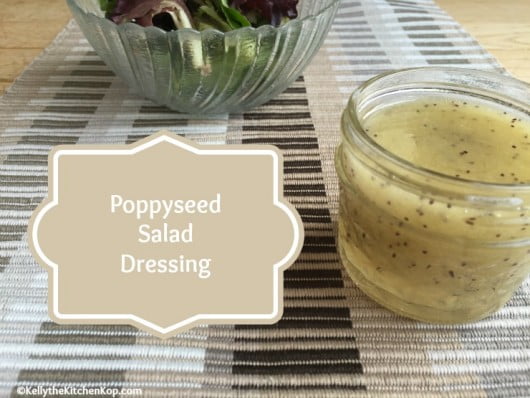 Print
Homemade Poppyseed Salad Dressing
Instructions
Using a food processor or blender (I love the blender on my Bosch and it's still going after more than 8 years now and I use my Bosch a LOT), mix together the first 5 ingredients, then slowly add in the oil and it will thicken.  Stir in the poppyseeds and it's ready to serve.
Did you make a real food recipe?
I want to see it! Tag @KitchenKop on Instagram and hashtag it #KitchenKopRecipes OR share anything you know I'll love by tagging @KitchenKop and hashtag #KitchenKop -- see you over there!
Here are some salad recipes that you could adapt for this dressing.
I like serving it over a variety of greens, organic and local always taste the best, along with more options, depending on what I have on-hand:
Chopped cucumbers
Chopped apples
Oranges peeled and the slices halved or quartered for bite-sized pieces
Shredded fresh Parmesan or cheddar cheese
Crumbled feta cheese or goat cheese
Hard boiled eggs, crumbled and chopped
Let me know what you think!
More posts you may have missed: