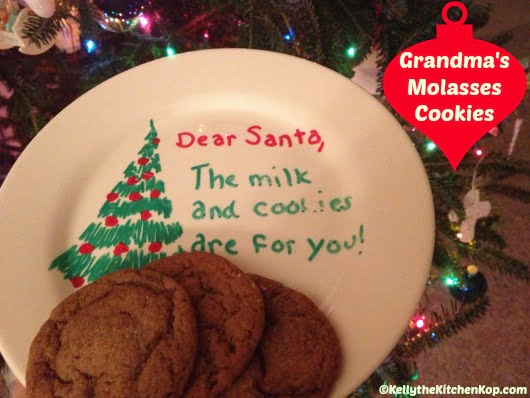 Do you love molasses cookies?
Kent's Mom is the most awesome mother-in-law ever.  She has a constant stream of visitors at her house because everyone loves her and feels welcome there.  Anyone stopping by knows that they'll always find cookies in her cookie jar:  Kent's favorite oatmeal raisin cookie recipe, chocolate chip cookies, and my favorite:  molasses.  She must be making cookies a lot to always have them on hand like this, and she doesn't even like them herself!  When our daughter needed to make a load of cookies for her home-economics class cookie exchange, she chose to make Grandma's molasses cookies.  🙂
Grandma's Old-Fashioned Molasses Cookie Recipe
This recipe is from an old cookbook — I put my own recipe notes next to the ingredients listed.
Ingredients:
Instructions:
Preheat oven to 350*.  Mix butter, sugar, egg and molasses.  (I used my Bosch because I made 4 batches at once!)  Stir the dry ingredients together, and then mix those in.  Roll dough into about 1″ balls, then roll in some sugar and place on a buttered stainless steel baking pan about 2″ apart — if you still have non-stick pans, line them with parchment paper.  Bake about 9-11 minutes, depending on your oven and how crispy you like them.  We like them chewy in the middle, so we only did about 9 minutes.
Makes about 3 dozen.
Need more dessert or appetizer ideas for your Christmas parties?