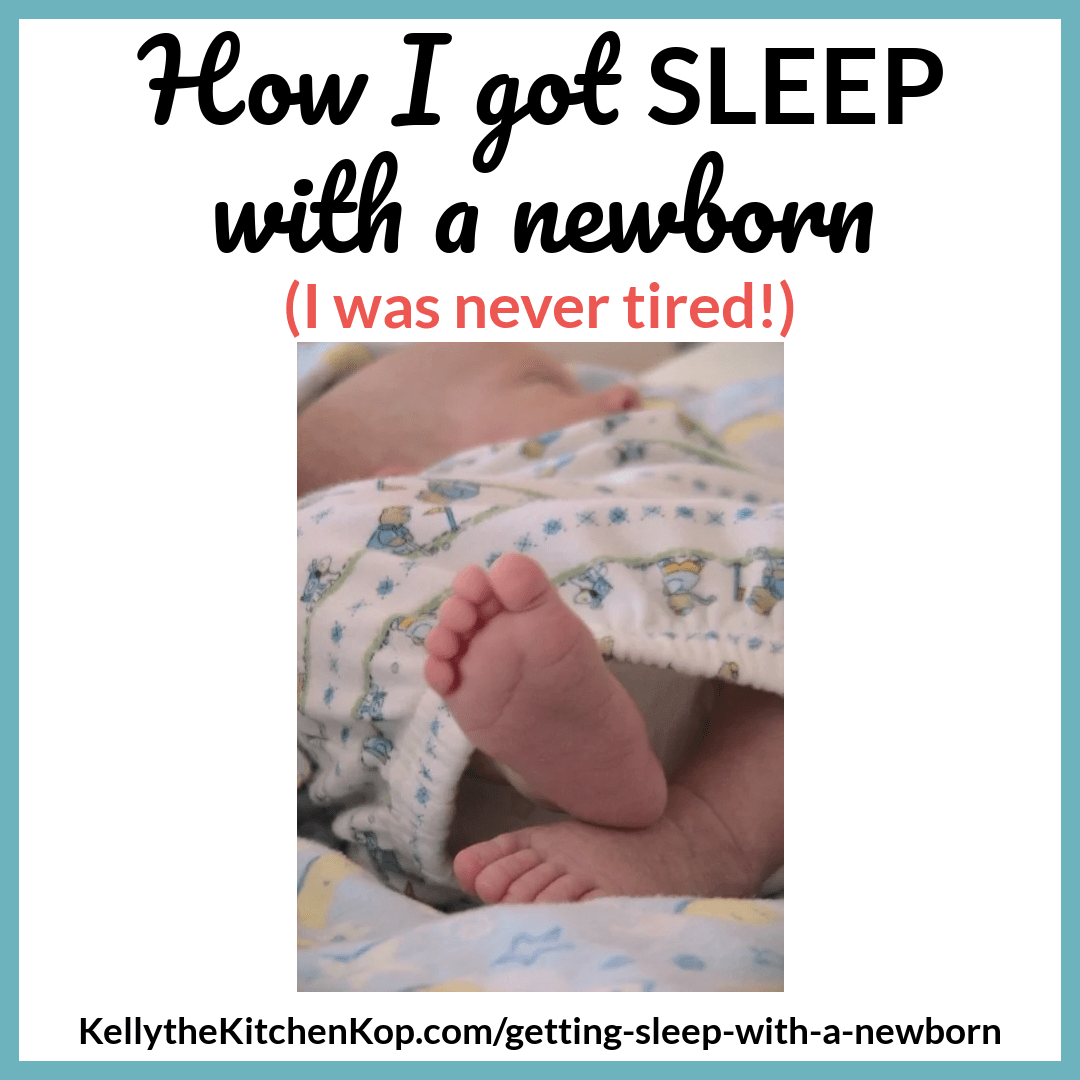 Our youngest "baby" just turned six, yikes!  Obviously it's been a while since we were at the newborn stage, but a couple people we know recently had new babies and it brought to mind those first days of adjustment, so I thought I'd share some advice…
By the way, if there are no infants in your life and this topic really doesn't do it for you, will you forward it to someone who is pregnant or has a baby?  Also, be sure to go check out my archives for posts you may have missed, or take a peek at my recipe pages for some new kitchen inspiration.  🙂
My tips on getting sleep with a newborn…
I'm so thankful that I listened to my instincts.
I didn't know a lot about parenting with our oldest (who just turned 19!), but by the time we were finally able to have our second child, after 6 years of infertility and multiple miscarriages, I was more confident.  I knew that I was going to enjoy this baby to the fullest and do only what I knew in my heart was the right thing for him.  That conviction only grew stronger when our third and fourth babies came along.  (It wasn't until then that I got wiser about vaccine dangers too and realized the risks for learning and behavior issues, autism, and even SIDS–babies don't just die in their sleep for no reason!  Have you seen this sad story about the triplets who were all vaccine injured in the same day?!)
"Babies need to cry, it's good for their lungs."
That's was I was told, but I knew it was bull.  While it doesn't hurt them to cry a bit if you are right in the middle of something, unless I knew the cry I heard was only the "whining right before falling asleep" cry, I'd go comfort them, feed them, or whatever they needed when they began to fuss.  We always had super happy, content babies and I believe it was partly because of the security they felt knowing we were there for them.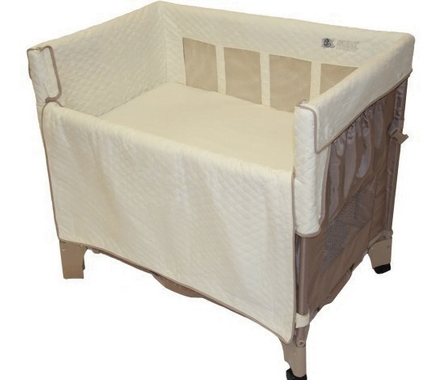 THIS is what made nighttime so simple for us:
It felt so right when our baby would cry in the night and I'd just reach over to pull them next to me from the Co-Sleeper attached to our bed–this doubles as a travel crib/"pack and play" for later and it made ALL the difference.  They'd nurse peacefully and I'd go right back to sleep!
The secret for doing this without rolling onto your baby…
My Mom freaked out when she learned we did this ("haven't you heard those stories of Moms suffocating their babies?!"), but the key to not rolling onto your baby and to being relaxed enough to sleep (so you're not holding yourself up) is this:  proper pillow placement!
I had one pillow doubled and under my head so my neck could relax, one shoved behind my back enough so that it held me up onto my side, and another one between my knees for support and comfort.  So if you can picture this, it was physically impossible to roll onto the baby in this position, and my whole body was relaxed enough to fall back asleep along with the baby.  When he/she woke up to eat again a few hours later (remember how often they eat at that age?), we'd switch sides and drift back off again.  I got really good at doing this while barely waking up!  (Yes, sometimes diapers were really soaked by morning, or we may have needed to do a quick change in the night now and then, but diapers do hold a lot.)
Everyone was happy!
In the morning baby was content and full, I woke up rested and refreshed, and Kent got used to the minimal sleep interruptions, so he barely even woke up after a while.  He knew it was a pretty sweet gig compared to the dads who wake up dead-dog tired after being up for hours in the night holding the pacifier in their newborn's mouth, or the dads who wake up to a Mom tired and ornery from sitting straight up in a chair nursing all night.  (And this is obviously another reason nursing is so sweet, even besides that it is nutritionally far far better for babies, especially if Mom eats nutrient-dense foods, such as pastured meats, plenty of healthy fats like butter, etc.  If you can't nurse for some reason though, skip the sketchy commercial formulas and check into this one!)
Transitioning to their own bed
After all those months in bed with Mommy and Daddy, you'd think they'd never transition into their own crib, but this was pretty easy for us, too.  Right from the beginning, naps were almost always in their crib, so that was a very familiar place.  As they got older and there was the risk that they'd roll off our bed or climb out of the co-sleeper, we'd start the night out with them in their own crib.  When they woke up for a feeding, usually only once a night by then, Kent would bring them to me and we'd get the pillows just right to nurse, and afterward I'd usually take them back to their bed.  Eventually they'd just sleep through the night…  This was always bittersweet, I loved that middle-of-the-night snuggle time!
Some just can't pull this off
One of my friends co-slept with one of her kids, but wasn't able to with the next one–that one just wouldn't nurse with her lying down for some reason.  And some husbands can't get used to this arrangement for whatever reason or maybe they move around too much at night for this to be safe.  It won't work with everyone, but why not give it a shot?
Use common sense
If you don't feel comfortable with this or there is ANY worry that one of you would roll onto the baby (especially if there's anyone drinking or using drugs, or even if one of you is a heavy sleeper or you move around a lot), then use common sense and do NOT try this.  But it worked for us and it might work for you too.
If you have any questions on how we did this, be sure to comment below.
What was it for you?
What were the baby-raising practices that you implemented because you knew they were right for your family, even though others thought you were nuts?  (The comments below are interesting!)
More you might like: