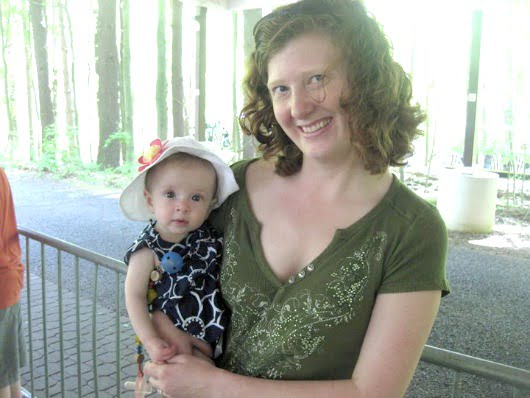 Has a "Failure to Thrive" diagnosis rocked your world?  Keep reading for some hope!
A big thank you to anyone who has sent in a Real Food Success Story, they are so encouraging and such a blast to read.  But I need more!  Please send them via email, because these stories give us all courage and the confidence that real food really is POWERFUL!
If you want to read more about raw milk after this story, here are all my posts on raw milk in one spot, but this one is a great place to start: Raw Milk Benefits and Information: Q & A with Mark McAfee.
Today Erin shares her story about her children and their "Failure to Thrive" diagnosis…
Our story centers mostly around milk and dairy.  All 3 of my kids were small as babies. They were breastfed exclusively for a while and then with each one, we ended up "having to" supplement some with formula (I say it this way because with each baby, I became more and more opposed to supplementing but felt backed into a corner from the doctors).  Even with supplementing, they did not gain weight well.  In fact, both my girls were diagnosed with Failure to Thrive as infants.  My middle child did not gain any weight from about 6 months until about 10.5 months and hovered around 12 lbs. that whole time (born 7 lb 8 oz).  My youngest was born 5 lb 12 oz at 35 weeks.  She gained okay at first, but then drastically slowed around 4 months.  She didn't hit 10 lbs until around 9 months or so.  So to say my babies were small is an understatement.
I should have known something was up when supplementing did not help in the least. 
I swear the pediatrician just thought I was starving the poor kids, and the topic of hospitalization came up more than once for the girls.  I kept a log of everything they took in.  They both were taking in more than enough calories, so it was unclear why they would not gain weight.  Testing for all kinds of things were negative.  After dealing with it for the 3rd time, it became clear to me that milk seemed to be an issue for them.  It now makes sense that when we started supplementing with (milk-based) formula, weight gain actually slowed (vicious cycle of nursing less, less supply, supplementing more).  It also makes sense that at about 9 months to a year, they all mysteriously started gaining weight –they were getting more nutrition from table foods (of which I did make my own, even back then).  My kids have always been huge eaters!
My suspicions were reinforced by looking back at the reactions they had to milk. 
As a toddler, my oldest always had what I assumed was a drool rash around his mouth–red, sometimes bumpy, and just generally irritated looking.  Around age 3, it got significantly worse with two specific incidents that made me more worried about it, and both times involved when he had organic milk.  The rash was much more severe and he was complaining his throat hurt.  Benadryl took care of it, but we had the allergy testing done.  Sure enough, a mild milk allergy.  My youngest had reflux as an infant on top of her difficulty gaining weight.  When she started getting the rash around age one we took her off milk and started rice milk.  She had a similar incident with organic milk as her brother.  We went to the allergist only to find out she did not technically have a milk allergy.  So what was causing this rash (as well as a horrible diaper rash!), digestive issues, and obvious discomfort every time she had milk or dairy?
We started doing a lot of research about milk and I was surprised at what I found. 
Despite everything we have been taught, maybe pasteurized milk (especially skim milk that we used later) is not everything it claims to be.  As a disclaimer, I am obviously not a scientist, doctor, or expert, but what I was reading made sense to me.  I do not believe it is the milk itself that my kids were reacting to, but rather what the milk had become through pasteurization–something their bodies did not recognize as food at all and therefore would not digest properly.  This also makes sense why organic milk–which is generally ultra-pasteurized, caused a more severe reaction.  I found some good sources that many people who cannot tolerate milk normally do fine with raw milk.  We decided to try it.  I was amazed–Grace (who has always been the most sensitive) had her eczema clear up immediately and she was no longer waking up in the middle of the night screaming for no apparent reason.  We had only tried a sample gallon of the milk, so she did start getting bits of regular dairy again.  Eczema came back as did the digestive issues.  A return to raw milk cleared it up again.
It was in careful label reading to eliminate dairy that I came to realize just how much crap we consume. 
For the season of Lent, my family challenged ourselves to not purchase anything from the store that contained more than 6 ingredients.  We started making our own everything.  I figured we would make it through Lent and then pretty much go back to our old ways, maybe trying to be more careful about what Grace ate.  But Lent came and went and we never turned back.  We rarely buy processed foods.  All our meat, dairy, eggs, and as much produce as we can find come from local sources that use natural, sustainable practices.  Grace continues to be able to eat anything I make from raw milk including yogurt, cheese, and baked goods but does not tolerate any commercial dairy.
I call her my little "real food litmus test". 
We have noticed that the mouth rash tends to come with some other highly processed foods as well, so I immediately know when she has gotten something she shouldn't.  We are all happy and healthy!  In fact, I personally have recently weaned off of psych meds (for anxiety and depression) that were not working anyway in favor of a more natural approach.   (A note from Kelly…  You may be interested in this post:  Weaning off Antidepressants.)
I wish I had done more research earlier and changed our eating habits a long time ago. 
I would have saved us a lot of time and money (and a whole lot of frustration!) that went into figuring out what was wrong and trying to fix it.  When I think about what what we were feeding Grace did just to her skin, it makes me so sad to think about what the inside of her digestive tract must have looked like.  No wonder she was such an unhappy baby!  But all we can do is look forward and learn from our mistakes.  We are still pretty new to this, less than a year in, and we are far from perfect, but I know that my family has come a long way and is much healthier for it.
Thank you Erin!