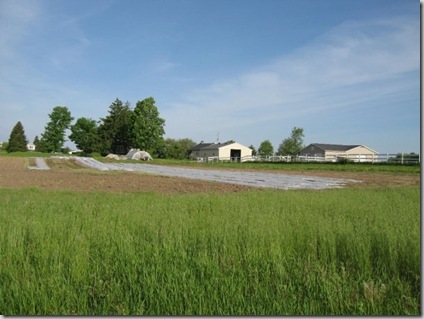 Isn't this a beautiful picture?
It was so nice to see my friends, Andrew & Rachelle, on Saturday at the first farm market of the season!  It felt like home standing there talking to them, sipping my coffee from Frenz (my favorite coffee house), and choosing from the bounty of early produce available – HEAVEN!
Wait until you find out what they're involved in now at their farm!
It's called WWOOF and the website says this, "World-Wide Opportunities on Organic Farms, USA (WWOOF-USA) is part of a world-wide effort to link volunteers with organic farmers, promote an educational exchange, and build a global community conscious of ecological farming practices."
They have had great experiences with this so far.  Andrew told me in an email:
"We currently have a few wwoofers staying with us for various lengths of the summer. They are college students who are traveling from A to B, in need of a summer retreat, or in search of something meaningful. Most wwoofing experiences include some farm work in exchange for basic room and board.  We try to provide healthy living arrangements, fair work schedules, and allow ample free time for exploration and reflection.
We also try to provide an educational experience at Earthkeeper Farm for anyone who may happen to come for a visit. The visitors who do come are WWOOFERS, CSA members, and volunteers. We aim to provide people with our knowledge and ideas to help them understand how we grow our produce and support our farm, as well as how we return to the earth and the community around us.
Tonight at dinner, during a lengthy discussion about GMO's, Kelly, our WWOOFER, exclaimed, "Wow, I have so many questions!" It turns out that her impression of GMO's was quite a bit different then how we think of them."
Do you have favorite vendors at your farm markets?  Tell us who they are and why you love them!
MORE FARMING/GARDENING TYPE-POSTS: