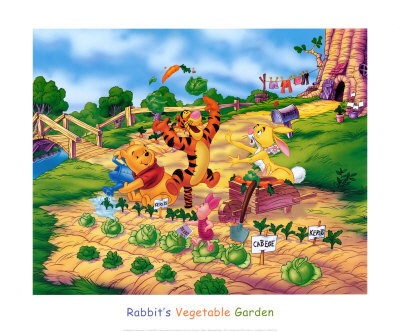 I have some gardening questions today that I need your help with!
Besides discussing the huge connections between healthy soil and nutritious produce, I also need any soccer Moms or Dads out there to answer an important question for me, and all you seasoned gardeners to answer some questions, too.
1.  Deadly Soccer Balls
When figuring out what we have room to plant this spring in our first real garden, we've been limited with our space because the kids play soccer nearby.  Does anyone know how many times a soccer ball can go screaming through a garden before killing everything?
Whatever we don't have room for (or whatever gets annihilated by a soccer ball), will give me a good reason to still go visit my favorite farmers at the farm market and fill in that way.  (They grow organic and sustainably, and are a neat young couple – see below for info on their new CSA!)
2.  Do You Have Good Luck With Container Gardens?
Our container garden on the deck last year was a bomb – we didn't get much and learned that veggies are best when grown in the ground.  So we're planting some herbs there this year instead and hope that turns out better. (I can't wait to cook more with fresh herbs!)
3.  Do You Buy All Organic Seeds?
When it comes to just the seeds, I might not be as stuck on buying organic if not for the GMO concern, but since that IS an issue, it's only organic for us.  I'm curious what your thoughts are on this.
4.  Who does more of the gardening at your house?
My brother keeps telling us how easy a garden is and how little time it takes him to take care of it, but I'm still thankful that Kent is excited about doing this, since I know nothing about gardening. Kent grew up eating straight out of their garden, and he and his four brothers helped their Mom with everything, including canning.  This is a very good thing.  Besides, we have snakes in the yard sometimes…what the heck do I do about THOSE?  (If you wake up someday and don't see a new post from me, now you'll know exactly what happened…)
5.  Do you ever talk to soil specialists or consult with someone about all natural pest control and fertilizers, or do you just wing it?
We are fortunate to have Venman's Landscaping nearby. They know their stuff and are a great resource. Last year John fixed me up with some all natural fertilizer and foliage food for my garden. This year he'll test our soil to see what it needs to be healthy, so we'll grow not only great tasting veggies, but super nutritious ones, too.
Healthy Soil Is Like A Healthy Body
John reinforced what I've heard before and it makes so much sense:  soil is just like our bodies. If we're feeding it what it needs, it can be strong enough to resist disease – healthy soil has few pest problems.  The first article below also talks about Venman's…
For more information on Earthkeeper Farm and their new CSA, call Andrew or Rachelle at 616-403-0526.
Below are more good links that you'll like.