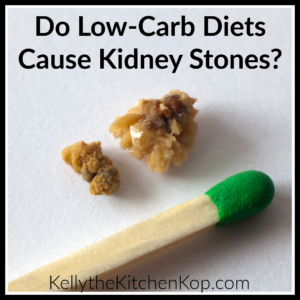 DO Low-Carb Diets Cause Kidney Stones?
Update:  Read about when I had kidney stones!!!
A friend called who is eating low-carb and was concerned because someone told her that she is basically asking for kidney stones.  She wants to know, "Is it true?  Do low-carb diets cause kidney stones?"
After some nosing around I found this article, Dangers of Zero-Carb Diets, IV: Kidney Stones.
Keep a few things in mind:
Zero carb diets and lowering your carbs like I recommend are two VERY different things.
I'm sporadic myself in how well I lower carbs in my own life.  Sometimes I'm on it, otherwise I'm totally not.
And also no, I still haven't figured out how the Taiwanese that my brother-in-law saw on his visit still eat pasta with sweet sauces for almost every meal and show no signs of obesity or health issues like we do here.
All I do know is that there are way too many cases of people lowering their carbs and showing DRASTIC health improvements that it can't be denied:  They lose weight, they go off diabetic meds, they lower their blood pressure, they feel better, and on it goes.  I'm convinced that part of it is because grains and sweets are hard on an already taxed immune system with improper nutrient absorption in the gut, so just lowering carbs/grains/sweets consumption helps a body overall to come back into line.
Others need more than just lowering carbs if they have serious health issues, check out the GAPS Diet to heal from IBS, other digestive issues, ADHD, Autism, anxiety or depression, gluten intolerance or other food allergies, asthma, eczema, and much more.
An important side note about low-carb diets that I don't know if I've stressed enough:  Since you are eating more meat, you owe it to yourself to buy the BEST quality healthy meat you can find and afford.  Also, it goes without saying (if you're a regular reader here anyway), that we should ALL be taking a daily dose of high quality fermented cod liver oil.
Update:  How I lost 22# even after menopause!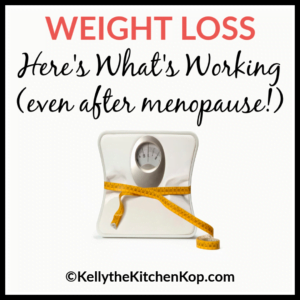 SO, having said all that, I was still concerned about that article, even if it was talking about ZERO carb diets, so I looked around more… 
I found this from Dr. Berg:
He says that fasting or Keto diets COULD create kidney stones because when your body is in ketosis it does get rid of more calcium in the urine than usual, here's his video on how to prevent this!
More you might like: