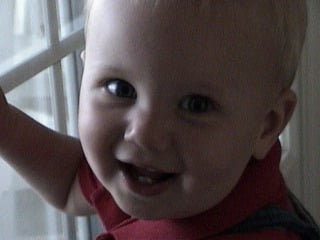 At the risk of sounding like an old fogie, isn't it wild when you really stop to think where we are with technology?  The other day I was telling the kids about film…  How we'd have to buy it at the store, drop it into our cameras, take 24 pictures (and hope you took a good shot because there was no way to know), drop it off at the drugstore to be developed, and go back in a week to get the pictures.  It sounds so archaic now, but it wasn't even that many years ago!  Then the first digital pictures were really grainy (ours was on our video camera in about 1999 – see our now 14 year old on the right?!), but wow, I loved being able to ditch the ones that weren't good and try again!  For years my only digital camera was on my video camera because I didn't like hauling two gadgets with me everywhere.  Well three I guess, because once I left paper calendars behind, I didn't go anywhere without my beloved palm pilot.  (Did anyone else love their palmer?)  I never dreamed that I'd one day have all of that and so much more on my phone.  When did you get your first smart phone?  I got mine in early 2010 and my 'luck' with technical things continued, because switching from a palmer to an iPhone was FULL of glitches.
So that was on my mind and then I saw this:  50 Things Only People Over 50 Understand.  I'm only in my 40's but I 'got' most of those.  One thing mentioned was a coffee percolator, and I'm glad those came back because we love ours.  It tastes so good and this way there's no plastic touching the hot liquid like in most coffee makers.  (Mostly Kent uses it on Saturdays because I also love my one cupper.  Plus I just got these reusable filters for it and so far they're great and will save me $ on the paper ones.)  How many of those 50 things did you remember?  The Brady Bunch one cracks me up because it has become one of our daughter's favorite shows (that and cooking programs) – she's been through season 1 and season 2 many times over, so this year we'll ask Santa to bring season 3.  It's kind of dumb that we didn't just get the complete series and could've saved a ton…  OK I just ordered it, it was still about the same cost as buying the remaining 3rd, 4th, and 5th seasons separate, plus there are a lot of bonus features.  There you go, I just gave you a bunch of Christmas gift ideas.  You're welcome.  🙂
Wow, that was a lot of rambling today, see what it's like inside my brain?  Scary.  On to this week's links!
Consumer power strikes again!  Kraft is removing artificial dyes from *some* of their Macaroni and Cheese varieties–though they claim that the 348,000 petitioners on Change.org didn't influence them to do so.  Yeah right, let's keep up the pressure, guys!  These companies can't sell to people who refuse to buy their crap, and they know it.  Read more here.
Did you sign the petition yet to tell the Heart Foundation to stop giving bogus nutrition advice that causes heart disease?
Maybe you can help this reader:  "My 16 month old daughter has just been diagnosed with a particularly devastating, hard-to-treat epileptic disorder. We are going into the hospital in about a week and a half to start the ketogenic diet. It is a diet of 80% fat that forces the body into ketosis which is helpful in controlling seizures in many children. Right now my husband and I do a lot of producing our own food and buying locally. On this diet everything my daughter eats has to be measured down to the tenth of a gram and I have to know exact calories/fat calories/carb calories, etc.  Anyway, I'm scrambling to find ways to make this diet as nourishing as possible for her."   Go to this Facebook conversation if you can help.
So those of you using reusable menstrual cups, I'd love more input on things like, how long did it take you to get over the ick factor? Do you like them? Are they uncomfortable?  Which brand is the best?  Does it just depend on the one that fits each person best?  I've heard good things about the Diva, the Lunette, and the Keeper.  Thanks for your help!
If you love unique, creative baby pictures, be sure to read the comments and click the links at this Facebook thread!