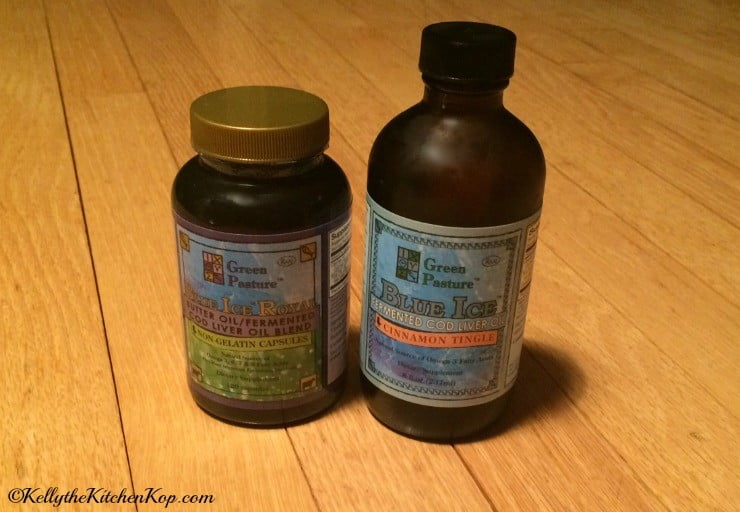 ***Please note that there have been some recent concerns about the below product. Please read more at this post, or click here to find out what were taking nowadays. Do some reading and research, and decide for yourself what is best for your family. Thank you.
Benefits of Fermented Cod Liver Oil
If you've been reading my blog for very long, you know that if there's only one supplement you can afford, I always say that it should be fermented cod liver oil.  (Although it's actually a food and not a supplement.)  The list of benefits is long, and I'll talk more about that below, but first I'll tell you what I love most about it personally.
Why I love the Blue Ice Fermented Cod Liver Oil
I know that the unseen health benefits are probably the most important, but here's how I feel better when I take it, and it's happened too many times to count…  Anytime I'm feeling a little stress in my life (hmmm, like maybe recently, when I've been getting the Real Food for Rookies class ready to launch!), I seem to carry it all in my chest, neck and shoulders and just have that agitated feeling inside.  It's the feeling that I imagine is intensified in those who take anti-anxiety meds.  Whenever I feel this I'll stop and wonder how long it's been since I've taken my fermented cod liver oil…  Sure enough, it has always been a few days. I'm not good about being consistent with it, so then I'll take a big dose and soon I'm feeling more level again.  Things roll off my back easier, I have a higher level of patience with the kids (comes in handy when it's summertime and they like to nit-pick at each other), and I just don't have that tense jittery feeling anymore.  From what I can find, apparently this works because the omega 3's in cod liver oil help to reduce output of the stress hormones.  Interesting, huh?
Here's what Dave from Green Pasture's shared specifically about the fermented CLO when we spoke about it a while back…
Benefits of Fermented Cod Liver Oil:
Fermented fish liver oils are extracted without heat but rather with a natural lacto-fermentation method.
We exclusively select organ tissue as the source of the fermented fish oils (compared to industrial model fish oils) as this is where the nutrients are located. There is much more to fish oil nutrients than EPA and DHA. It is only because of the heavy industrialization of this industry that this field of products has nothing else to discuss but Omega 3, EPA and DHA. These nutrients will occur naturally in all fish oils including the fermented clo/skate liver oil. I think the real story is in the thousands of micro nutrients that are provided in a Fermented fish oil.
Fermented liver oils are a deep rich pigment. Pigments are nutrients.
The oils have a 8-9mg/g total quinone count. Butter oil is in the 23-25 mg/g range. These figures are very high! The complex of the quinones is completely different between the fish liver oils and the butter oil. Even the quinone complex between the different fish oils is unique, variety is complete nutrition. Quinones consist of nutrients such as vitamin K's, vitamin E's, CoQ enzymes and other known and unknown nutrients and components.
Fish oils have historically been fermented for extraction; back in the Roman empire days, the Viking era and all the way up to the Mid 1850's. Rendering was introduced during the mid 1850's as a more efficient fish liver processing method. The livers yielded a much higher total oil volume and the process could be accomplished in several hours rather than several months. What they did not understand is the effects that heat had on the nutrients (their science was not ready to address this question) . As with all industrial models, the focus was on profitability, speed or turns and, marketability (taste).
Lacto-fermentation transforms natural vitamin A into different metabolites that are easily absorbed into our bodies (just as in your gut if your gut is working properly). I have found reference to at least 15 different natural forms of Vitamin A that nature provides. Not just the 2-3 that are commonly discussed.
There are over 3000 derivatives of vitamin D. Many are natural and others are produced in laboratories. Not much of the vitamin D topic is understood or discussed in main stream science. Current discussions are just scratching the surface of the topic. Reminder, vitamin D is more accurately categorized as a hormone not a vitamin.
Economical:  FCLO has substantially more nutrients (including A/D) per ml or teaspoon compared to other brands.
More about the importance of Fermented CLO from the Weston Price website — read an excerpt:
"Once a standard supplement in traditional European societies, cod liver oil provides fat-soluble vitamins A and D, which Dr. Price found present in the diet of primitives in amounts ten times higher than in modernized diets. Cod liver oil supplements are a must for women and their male partners, to be taken for several months before conception, and for women during pregnancy. Growing children will also benefit greatly from a small daily dose.
Cod liver oil is also rich in eicosapentaenoic acid (EPA) and docasahexaenoic acid (DHA). The body makes these fatty acids from omega-3 linolenic acid. EPA is as an important link in the chain of fatty acids that ultimately results in prostaglandins, localized tissue hormones while DHA is very important for the proper function of the brain and nervous system. Those individuals who have consumed large amounts of polyunsaturated oils, especially partially hydrogenated oils, who are suffering from certain nutrient deficiencies, or who have impaired pancreatic function, such as diabetics, may not be able to produce EPA and DHA and will, therefore, lack important prostaglandins and necessary fats for the brain unless they consume oily fish or take a cod liver oil supplement."