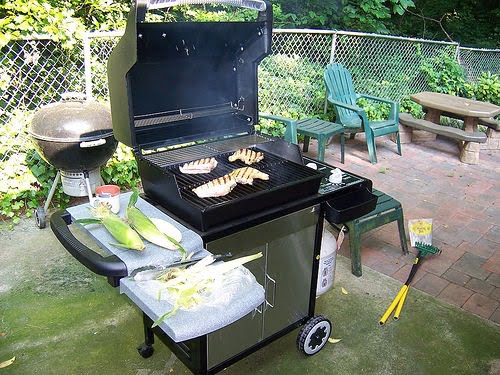 Today I've got another question for you from a reader. Kim asks:
We are looking for a new gas BBQ grill. In fact we bought one last night and were planning on picking it up tonight. We chose one with a cast iron grill to avoid having the porcelain painted grill and all those toxins in our food. My husband just called me and said he was thinking and he is pretty sure the entire inside of the BBQ is painted! This cant be safe, right? We can upgrade to the all stainless steel BBQ for a few hundred more…we don't want to spend the extra money if it is a non-issue, but I have a feeling that the stainless steel one is the only safe way to go. Any thoughts? And I guess I am wondering too if it is safe to even cook food on a gas BBQ! Thanks in advance!"
My reply:
Hmmmm, this is a good question….I don't know the answer so I'll do what I always do, I'll post it and ask my super smart readers!"
We've got a gas grill that we use fairly often in the summer and believe it or not, I hadn't thought much yet about whether or not the interior is safe to cook with.  I can't wait to hear from those of you who might know more about this, let us know in the comments!