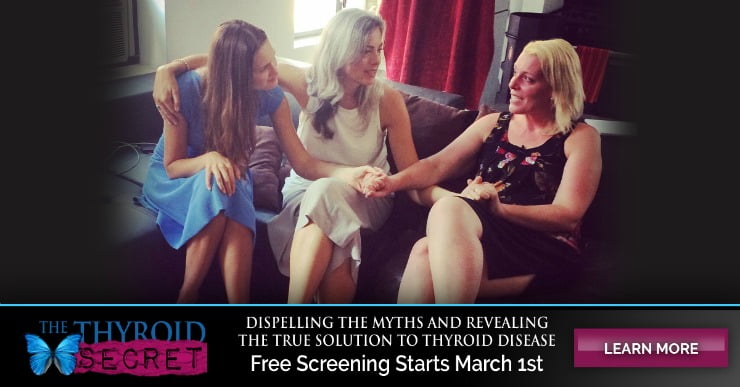 They don't call it a "Silent Epidemic" for nothing.  See if you have any of these mostly unknown signs that your thyroid is messed up:
(Guest post by my friend, Susan, who has struggled with thyroid issues herself.)
Do you have plantar fasciitis and often wondered why you can't get any relief from it?
Or do you catch every cold and flu bug going around even though you eat well and take care of yourself?
Maybe you wonder why you always have so much earwax?
Do you have dry, gritty eyes?
Or have you ever felt like all of your friends seem to be aging better than you are?
If any of those sound familiar, you may have undiagnosed thyroid disease.  
According to the American Thyroid Association, an estimated 20 million Americans have thyroid disease, and up to 60 percent of them are completely unaware that their thyroid is the root of their problems.
So often when people hear about the thyroid, they think of the symptoms that are typically tied to hypothyroidism:
Weight gain
Fatigue
Brain fog
Malaise (Defined as, "a general feeling of discomfort, illness, or uneasiness whose exact cause is difficult to identify.")
Although those are the most common signs that your thyroid is messed up, what scientists are finding now is that there is a myriad of symptoms (up to 300!) that can be blamed on our thyroids that most doctors never really associated with the thyroid before.
(Click here to register for a free documentary to help HEAL your thyroid issues.)
Some scientists also express concern that the number of those afflicted with thyroid issues are growing like we've never seen before, and they fear an explosion of this silent epidemic.
Silent because people simply aren't aware enough of the symptoms of thyroid disease in order to push their doctors for further testing.
Sadly, one in eight women will develop a thyroid condition in her life, and the risk increases with age. But as we all know from first-hand experience, from either ourselves or our friends, she may never get her much needed diagnosis because if she went to the doctor with malaise, weight gain, dry eyes and achy feet, the doctor would most likely just brush her off, tell her to have a hysterectomy, or prescribe an antidepressant.  (Did you know that antidepressants are terribly addicting and have very common and unpleasant side-effects — instead click here to learn how to fight anxiety and depression naturally.)  She may even be labeled as "hysterical", "irrational", or "dim-witted".  Sure, the doctor may run some bloodwork, but if the patient falls in the "normal" parameters, then the problems must be in her head, and out the door she'll go to suffer in silence.  This undiagnosed disease will ultimately put her at a higher risk of heart disease, kidney disease, cancer and Alzheimer's.
Uninformed doctors…
To further exacerbate the problem, most doctors who are ill-informed themselves, will often only run one rudimentary test on the thyroid, and unfortunately this is usually the worst indicator of failing (or excessive) thyroid production.  The Thyroid Stimulating Hormone (TSH) lab test has been around since the 1970s and has been touted as the most reliable way to determine if a patient is suffering.  But what many forward-thinking doctors are finding now is that when they only relied on the results of the TSH, patients were still experiencing debilitating symptoms, and that's because TSH really is better suited to test your pituitary function.
Dana, from HypothyroidMom.com explains why the TSH can leave so many struggling:
"When the pituitary gland in the brain releases TSH, TSH stimulates the butterfly-shaped thyroid gland at the base of our necks to produce the thyroid hormones T4 and T3. The majority of thyroid hormones produced by the thyroid are T4, however T3 is the most active useable form of thyroid hormone that can be used in the cells of the body. The conversion of T4 to T3 is a critical element in this puzzle. By testing TSH and T4 alone, doctors are assuming that our bodies are properly converting the T4 to active T3. For many hypothyroid sufferers like me, our bodies don't convert T4 to T3 properly".
She goes on to explain that for true insight into how well your thyroid is functioning, your doctor should be performing these tests: TSH, Free T4, Free T3, Reverse T3, Thyroid Peroxidase Antibodies, and Thyroglobulin Antibodies.  Unfortunately, most doctors won't run all of these tests because they were taught in medical school that the TSH alone is sufficient enough to diagnose a thyroid condition.
It becomes a question of where the larger amount of suffering lies for thyroid patients:
Is it the debilitating symptoms of thyroid disease, or the uphill struggle of trying to find a doctor to help you?  My heart goes out to those who are fighting this battle when they feel so poorly to begin with.
So I was very happy to hear that Izabella Wentz was hosting this new documentary.  She understands the frustrations of thyroid disease, and has healed herself from Hashimoto's thyroiditis.  She's been there: she gets how difficult it is to live with these symptoms, she understands how hard it is to find a doctor to help, and she knows what it's like to do research for yourself when you are in such a dark place physically and mentally.
The documentary is filled with information on how to HEAL:
Underground information on how to recover your health
How toxicity robs us every day- plus what to do about it
Why food can be your best friend or worst enemy
The connection between stress, trauma, and autoimmunity
Finding hope in the midst of fertility issues
Countless success stories that will have you tearing up and smiling at the same time!
She's done all the research for you, interviewed forward-thinking, cutting-edge doctors, and has gathered everything you need to know in order to guide you through the maze and help you get your life back.
Whether you think your thyroid is messed up, or already know it is, or are simply curious because thyroid issues affect so many people, you need to see this documentary.
If you're married, have your husband join you, because although not as common, men can suffer from thyroid issues as well.  Or it will give him a deeper understanding on why you live in your pajamas, or why you always seem so out of it, or why you're no longer as patient with the kids, and why you don't feel like going out anymore.
Having a partner who understands is critical during a time like this.
More you might like: