A few years back in a moment of clarity, my husband and I made a decision to vote with our food budget for a more humane planet. We only buy meat from local farmers after personally investigating their farming practices.
We have learned from being members of the Weston A. Price Foundation that nutrient levels in our food are directly correlated to the diet of the animals and their living conditions.
By getting acquainted with the producers of our food, we can choose our food more carefully. Our farmers teach us that there is a species appropriate habitat and diet for each farm animal. Cows and chickens natural habitat is a sunny pasture; a pig's natural environ is the forest. Cows eat grass and hay, chickens eat bugs and worms, pigs eat nuts, roots, grubs and small mammals.
In contrast, the agribusiness factories confine these poor creatures in cages or barns with concrete floors and florescent lighting. They are force-fed diets inappropriate to their kind.  Often they live in crowded, dirty conditions and show signs of distress, such as a pigs chewing off the tail of their crate mates or chickens poking each other with their beaks. Usually the poor pigs have their tails amputated, and the chickens are de-beaked to prevent injury.  As someone who refused to de-claw my cat for humane reasons, learning these facts was really alarming.
Garbage In, Garbage Out Applies to the Food we Eat
As to the dietary injustices done by modern industrial scale producers, here are a few examples. In the case of dairy cows, they are fed grain, citrus and chocolate waste, even ethanol plant waste (some dairies are located beside ethanol plants, and their milk cows are the resident "clean-up" crew). Beef cattle may be started on pasture, but spend the end of their lives in confined animal feeding operations (CAFOs) where they often don't see a blade of grass, and are fed tons of grain. Grain ferments in the cow's digestive system, which makes them produce lots of gas, and makes them ill. Antibiotics are mixed in with their feed or hoses shoved down their throats, to counteract these negative effects. How can we expect these unhealthy animals to provide healthy food for our families?
Create a Safer Food Supply with Your Buying Power
We have also discovered that animals have rights and their caretakers have a responsibility to care for them with respect. In our modern age, animal husbandry has devolved into brutal animal "science". A farmer from England on a visit to America toured an American dairy farm, a factory farm. He was disturbed and couldn't believe it had come to this. "Animals are no longer treated like animals." He was so shamed by what he saw, to this day he refuses to show his daughter the photos he took on the "farm tour".
The unsafe and unsanitary living conditions in factory "farms" are a breeding ground for foodborne illness. It is not possible for our government to safeguard our food supply, short of outlawing most of today's conventional farming practices. So it is up to us, as consumers, to build an alternative food system to ensure our own community's food is safely produced in pristine conditions with pure, wholesome and loving care by the shepherd's of every flock and herd.  Familiarity with a farm's animal husbandry practices gives us confidence. We enthusiastically share with our friends, neighbors and family the kindness our farmer shows to his livestock.
Famous farmer, Joel Salatin's email handle is "husbandman", which tells you how seriously he takes his role as guardian of his herd. This conscious choice to reach for high standards in husbandry has made Joel's Polyface Farm world famous. Farmers from many nations attend Joel's classes to learn from the master husbandman.
Eating Humane Preserves our Farming Heritage
Some people say we should reduce meat in our diet for the environment and our health, which is a "NO" vote on factory farming. We feel that a "YES" vote for humane producers is a more persuasive strategy. A vote for humane farming is both a vote for good health and a vote for better stewardship of the ecology and it doesn't require a denial of the dietary needs of humans. It may be easier to run a negative campaign, but a positive campaign will attract more support.
I feel that our family's support of humane animal producers is patronage of traditional farming, the way it used to be before techno-farming came to dominate agriculture. Heritage farming is nearly a lost art, but one that can be revived by the will and conscious choice of informed consumers.
(Note from Kelly:  is anyone else CHEERING right now?  Thanks, Kimberly!)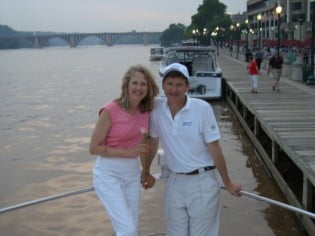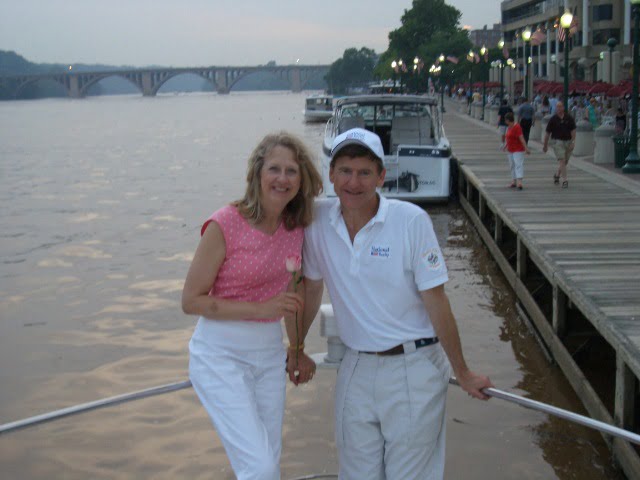 Kimberly and Keith Hartke now buy 95% of their groceries directly from local farms. Kimberly serves as a volunteer chapter leader for the Weston A. Price Foundation, and is an assistant organizer of the Northern Virginia Whole Foods Nutrition group on meetup.com. She is also the publicist for Sally Fallon Morell, author of the bestselling cookbook, Nourishing Traditions and President of the Weston A. Price Foundation, an international nutrition education non-profit organization. Kimberly blogs about raw milk, real food and home remedies. Follow Kimberly's blog at www.hartkeisonline.com.
Your turn:  have you been able to make the switch with your food dollars yet? If not, just do what you can, you'll get there.