Why and Where to Get Fresh Cinnamon
Did you know that U.S. food regulations allow ground nut husk to be scented with cinnamon bark oil and sold as ground cinnamon?  It also allows the addition of flour to prevent this "cinnamon" from caking!
Don't you wonder if those who are sensitive to grains are aware of this?!
I've been learning a lot about cinnamon since getting to know Rupert, who owns a company selling fresh REAL cinnamon sticks from Sri Lanka and Vietnam, along with a cool looking, specially designed cinnamon grater.
I asked Rupert to explain why else fresh is better, besides that it's not FAKE and it doesn't have flour added, as if that's not enough…
There is no research to prove that it's better, for the simple reason that none of the big food companies want to commission it because it would expose how rubbish their "cinnamon" is.  The main health benefits of cinnamon are generally thought to come from the volatile oil, cinnamaldehyde, which cinnamon naturally contains and which, as a matter of fact, is its most dominant pharmaceutical characteristic.  We have thought to measure the cinnamaldehyde levels in fresh as opposed to stale cinnamon, but even that is a very expensive undertaking – several thousand dollars, way beyond our budget – and it wouldn't really prove anything until it were demonstrated that it is indeed cinnamaldehyde that provides the health benefit.  So we are left with a natural intuition – surely a no-brainer for Kitchen Kop readers – that anything fresh is better for you than its old and stale equivalent.  And for sure, if you leave a cinnamon stick lying around in the back of your cupboard for long enough you will just end up with a piece of completely tasteless wood, useful only for kindling.

The point that I emphasise is that ground cinnamon available in health food shops and spice stores could be absolutely anything, ground long ago, sitting on a shelf for years, quite possibly not even cinnamon at all, just smelling of it.  And goodness only knows what is in those cinnamon capsules they sell.  The only way you can be sure you have real cinnamon, and better still the only way you can be sure you have real FRESH cinnamon, is by buying it soon after the harvest (we record the harvest date on the cinnamon) and grating it yourself, at the table.
Of course this small town Michigan girl was fascinated and wanted to know the story of how someone ends up owning a cinnamon plantation in Sri Lanka!  (If you're a foodie too and that interests you, listen to the short audio recording at this link where Rupert shares their story.)  So one day when we were emailing I asked him what it was like there…
Well, the sun has just set out here and the remaining light casts a pink glow on the clouds and distant rooftops across the valley, and brings out the deep green of the cinnamon plants on the slopes around me. It's very beautiful. That's why we're here.
I asked him to send pictures: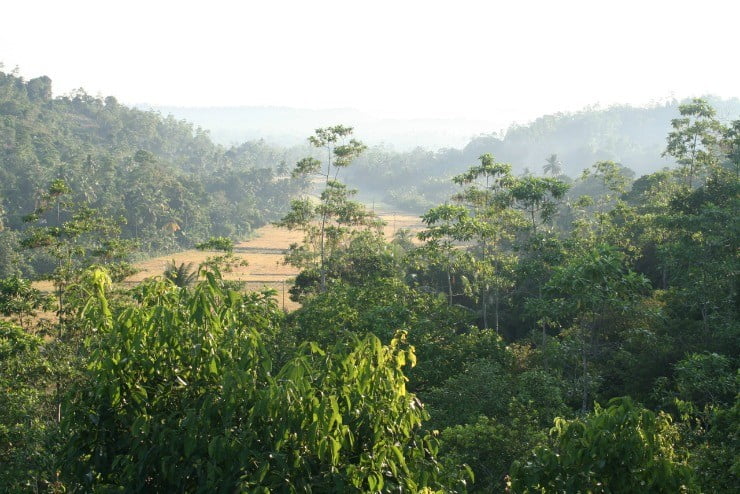 Here's a picture of the view at sunrise this morning.  Cinnamon plants in the near view and paddy fields in the distant view.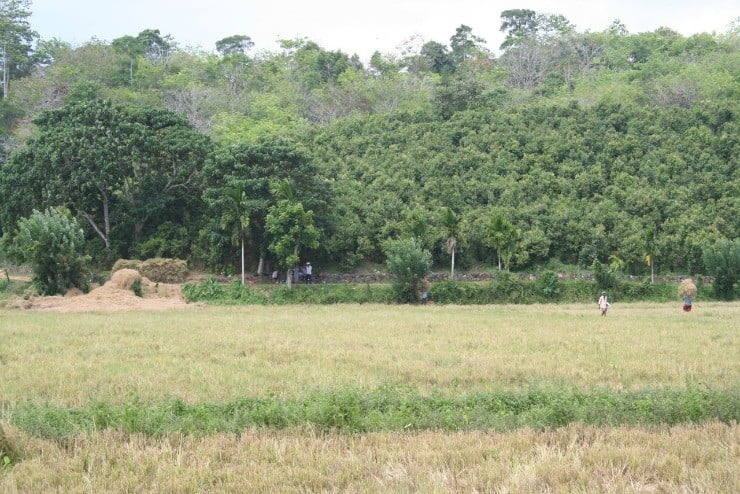 Here's another picture of the paddy fields this afternoon – the families are out harvesting the rice.  See the cinnamon plants growing up the hill behind them and the rubber trees at the top.
And here's a neat video showing how the cinnamon is peeled:
We've been having fun with this cinnamon!
Rupert sent us some and it's been fun to see how much better everything tastes with the real thing.  The kids love grating it onto their toast or oatmeal.  I tried making stuffed French toast after watching Bobby Flay do it on the Food Network, and it was amazing — I'll share the recipe one of these days if anyone wants it (I made up my own instead of using Bobby's), but it's definitely more a dessert than a breakfast.  This time of year, if you can get your hands on some organic apples that don't come from too far away, you've got to try what else we used our fresh cinnamon for…  We made the homemade applesauce you see pictured above and it was SO tasty.  Sometimes we leave the peels on like in this homemade applesauce recipe, but this time we peeled the apples and snacked on the peels with cinnamon grated on top.  I actually intended to grate the cinnamon on them and dry in the dehydrator, but they were so good, there were none left.  (Wouldn't dried cinnamon apple peels be a yummy snack, though?)
Other cinnamon ideas:
What a great gift idea for a foodie — send them the real cinnamon and the grater, it'll be a unique gift for sure.  🙂
Add it to your Superfood Organic Oatmeal Recipe
Or in this make-ahead Baked Oatmeal Recipe
It's yummy on good ol' butter and cinnamon toast
On any fruit!