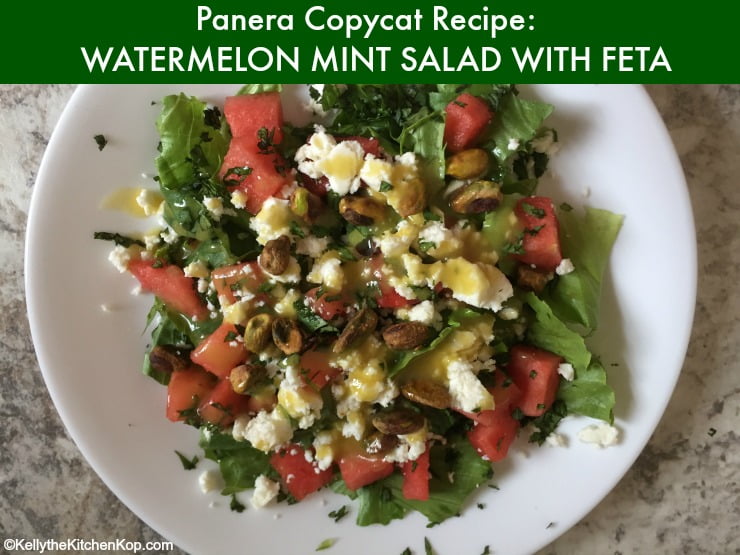 I've told you before that Panera is one "fast-food" restaurant that I'll take the kids to now and then.  They're not perfect, but they're MUCH better than the other places and at least they're trying to get rid of the junky ingredients, you know?
So earlier this summer I had their watermelon mint salad with feta (SO good) and wanted to make my own version here at home with better oils for the dressing, organic salad ingredients, you know the drill by now.  🙂
Here's their picture: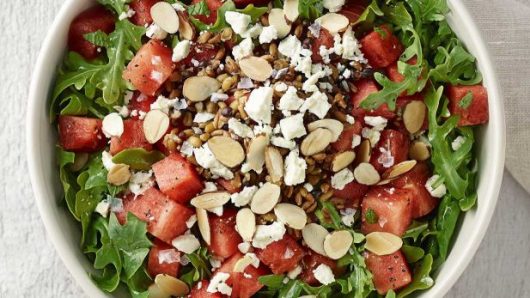 My picture at the top looks pretty close, right?
Here's how they describe their Watermelon Mint Salad online:
"Fresh watermelon, arugula and mint drizzled with champagne Dijon vinegar and extra-virgin olive oil and topped with feta, ancient grain blend, toasted almonds and salt and pepper. "
The only differences in my salad:  
I used the nuts I had on hand, which were pistachios instead of almonds; I added cucumbers; and I was fresh out of "ancient grains".  Although I could've used some cracked wheat like I use in this yummy tabouli recipe.
Here's how I made it: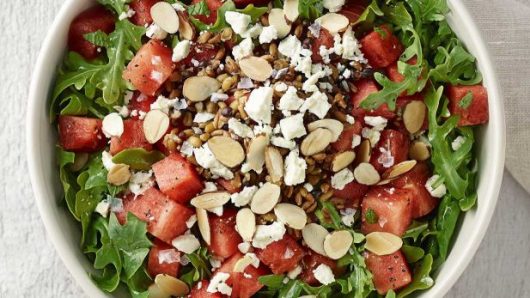 Print
Panera Copycat Recipe:  Watermelon Mint Salad with Feta Cheese
Ingredients
Chopped greens of your choice, arugula, romaine, whatever you'd like — I use organic to avoid chemicals
Chopped watermelon pieces
Chopped cucumber
Crumbled feta cheese
Cilantro and mint leaves, chopped small — we have mint in our back yard but can't grow cilantro no matter how many times I try!
Almonds, pistachios, or any nut you'd like to add for a nice crunch — use crispy nuts like in this recipe for better nutrition
Fresh cracked pepper to taste
Sweet Dijon Vinaigrette Dressing Ingredients:
Instructions
Plate the salad ingredients.  Toss the dressing ingredients together and mix or shake well and drizzle over the salad.  Enjoy
Did you make a real food recipe?
I want to see it! Tag @KitchenKop on Instagram and hashtag it #KitchenKopRecipes OR share anything you know I'll love by tagging @KitchenKop and hashtag #KitchenKop -- see you over there!
Watch the video I made here:
More you might like: