Thank you to Elizabeth, who is guest-posting today on a topic that gets me STEAMED:  our right to decide what to feed our families!  Are you steamed, too?  Let's DO something then!  If you can't go to Washington, D.C. tomorrow, then at least send in a donation (see info below), big or small, as I'm sure anything is greatly appreciated and it shows you care enough to take that step from complaining to helping.  I just sent my own donation – for now it's what I can do, because they may come after MY beloved raw milk farmer next.  This fight belongs to all of us!  Learn more about why raw milk is the best milk for us: Raw Milk Benefits and Information: Q & A with Mark McAfee.
Milk.  Who thought it would be so controversial?  Or even illegal to obtain in certain states?
Over the past 2 years, my family and I have enjoyed grass fed raw milk from Rainbow Acres.  This is a farm run by an Amish farmeRaw Milk Benefits and Information: Q & A with Mark McAfeer, Dan Allgyer, and his family.  He has about 35 cows, and their milk is truly nourishing and delicious.  My daughter thrives on it.  When we moved to the area and my daughter started drinking it at about 16 months old, she finally started growing hair- the extra nutrients from the grass fed raw milk were apparent!  My stomach aches from conventional 2% milk went away because I was drinking REAL milk, with all its intact and unheated enzymes.
Having access to this grass fed raw milk has been like having dessert everyday for 2 years. It's delicious to drink, and extremely satisfying. I enjoy seeing the cream line in spring and summer- half way up the milk jug!
What rich, creamy, raw glory – nature at it's finest.
Grass Fed on the Hill is the buying group that supports this farm and his family. We are 1000 members strong. We have members throughout Maryland and the Washington D.C. Metro area – the area where it is illegal to sell raw milk. We all work together to obtain access to raw milk from our Pennsylvania farmer, a state where it is legal to sell raw milk.  As members, we are in private contract with the farmer.  We seek out raw milk for various reasons.  Many members report health benefits and the desire to feed their family healthy foods, free from industrial processing or added chemicals and hormones.
The milk from the Amish farm, Rainbow Acres, is all these things and more, it's "beyond organic."
Last year on April 20th, 2010 at 5:00 am, FDA agents raided Dan Allgyers farm, Rainbow Acres, waking his small children, keeping him from milking his cows, and caring for his farm.  The next day, group members heard of these events on OUR farm, where we get our food, and we were torn to pieces.  I remember reading the account from our farmer, and cried as I read the words of his young child filled with fear, asking his mom, "Is daddy going to jail?"    (Read the full account here.)
There is NO reason that this small farm, or other small farms like it, should face harassment from FDA agents.  There have been NO reported illnesses, and the consumers seek out this food of their own free will.  One year later, this past April, the FDA has put into court for permanent injunction of Rainbow Acres.
As members of the buying group we are irate.
This is our food, and we have the inalienable right to choose where we get our food, especially in private contract with a farmer.
Recently, the Farm to Consumer Legal Defense Fund made this statement:
What Dan Allgyer does is as much a right as breathing. He has done nothing unlawful in conducting direct private trade with other individuals.  He is not engaged in interstate commerce as the FDA accuses. Aside from the Constitutional guarantees of right to contract, food sovereignty, of which Dan's trade is a perfect example, is a God-given inalienable right.  No state has the right to proscribe the food choice of an individual. It might have the power through enforcement agents to hinder it, but it does not have the right."
For the past year, there have been FDA spies in our ordering group.
They have been using alias names and it's now known that there have been 23 orders from the alias name.  The FDA spy has picked up at various pickup locations – which are at group member's private residences.  It's bone-chilling to think that they've gone to so much trouble, and wasted so many American's tax dollars, going to people's PRIVATE residences, to obtain milk from this private ordering club.  This is a small farm with only 35 cows!  (What about all the large food industries that are actually making people sick?  Isn't that where they should be spending their time and our tax dollars?!)  Many group members have fridge's and coolers on their private property, maybe in a driveway or a garage, and to think that an FDA agent was on their property makes my skin crawl.
Read David Gumpert's report on the recent FDA covert ops in the backyards of Maryland and DC residents:  "I'm from the government and I'm here to take away your milk."
We need to work together as Americans to tell the FDA to stop harassing our small farmers and OUR personal food choices.
Would you like an FDA agent in your backyard, on your property, going through your coolers or your fridge to find evidence to be used against a farmer that you rely on for the nourishing foods you give your family?
STAND up for the freedom to choose your food, your farms and protect your farmer!
The Grass Fed On the Hill Ordering Group is planning to create a court case against the FDA.  From the GrassFedOnTheHill.com website:
"Currently we are working with our legal counsel Emord & Associates to determine the specifics of our case against the FDA. There are many options at this point, intervening in Dan Allgyer's case (which we are short on time and funds to begin) and our ultimate goal to create a court case against the FDA that we can win. We need to build public support for our/your fight against the FDA to encourage our local and federal appointed officials to be concerned with FDA's law on interstate commerce which has a clause regarding Food Safety of Raw milk. "
This type of court case needs funding and large amounts of support!  Here are 3 ACTION ITEMS to STAND UP for FOOD FREEDOM:
Attend and spread the word on the FOOD FREEDOM RALLY in WASHINGTON DC.   Monday May 16th, 10am-1pm.  The FDA will be counting bodies to see if we mean business! Speakers include:  Jonathan Emord, Attorney, Sally Fallon Morell, President, Weston A. Price Foundation, David Gumpert, Author and Real Food Blogger, Mark McAfee, Founder and Owner, Organic Pastures Dairy, and Baylen Linnekin, Executive Director, Keep Food Legal.
DONATE!  Taking on the FDA in Court requires the best legal counsel, and that requires funding.  If you want real food and small farms protected from FDA harassment, this case will be influential in opening the doors for access to raw milk all over the United states. Please donate here!
"Like" Grass Fed on the Hill on Facebook and stay tuned for updates and action items.  Visit the website and follow via RSS feed.  This is a nationwide issue, and affects all farmers in America. We need the numbers and the support to show the FDA we mean it when we say, "Stay out of our fridges, our backyards, and off our small farms!"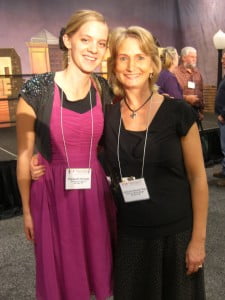 Elizabeth Grange is a member of the Grass Fed on the Hill group.  She is a Health Promotion Specialist and Real Food Nutritionist. She is a mother of one toddler, and seeks out the most nourishing foods, including raw milk, for her child and family. She blogs regularly at www.NourishingCreations.com.
Here's Elizabeth & I when we first met at the Weston Price conference in November.  Who is joining us in Dallas this fall?

More you might like: