While it's easy enough to make some homemade chocolate syrup for you or the kids to stir into your raw milk once in a while, if you don't have some on hand, now there's something even easier.  I don't know why I didn't think of this myself…
Recently we started going to a new farm to pick up milk from our own cows as part of a herd share program, which is the only way to obtain raw milk here in Michigan.  We love having raw milk again!  Our past two dairies had to shut down their raw milk operations due to insurance reasons or family dynamics.  For a few weeks we bought the very expensive, local, grass fed, low-temp pasteurized milk, but I didn't love the taste and it had a heavy 'mouth-feel' in my opinion; besides, we really wanted all the benefits of raw milk for our family again.  We're very thankful to have found a new option that we are so happy with!  (At the conference last weekend I stopped at one of my favorite booths, the Farm to Consumer Legal Defense Fund, and got our new farmers these cool t-shirts.)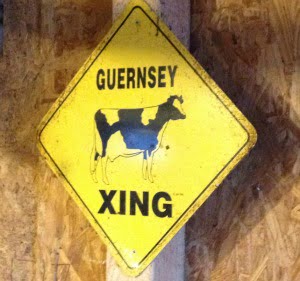 So after our son and I and another friend toured their farm, the sweet couple took us into their kitchen to try some.  We were blown away at how light, sweet and fresh it tasted.  They said that it's partly because of their breed of cows (read more:  Guernsey Milk full of A2 Goodness) and also because of their cooling set up and how quickly they can get the milk cold.
Just for fun they wanted our son to try something.  They pulled out their maple syrup and stirred a teaspoon (maybe 1 1/2?) into his glass of milk.  He said, "Wow, it tastes like vanilla ice cream!"  We've made our homemade vanilla ice cream for years with maple syrup, so I don't know why I didn't think of this, but it's a nice switch from plain milk or milk with the chocolate syrup once in a while, AND you're getting all the raw milk nutrients as well as some nutrients from the maple syrup, too, as long as you use real maple syrup.
Let me know if you try it and what you think!