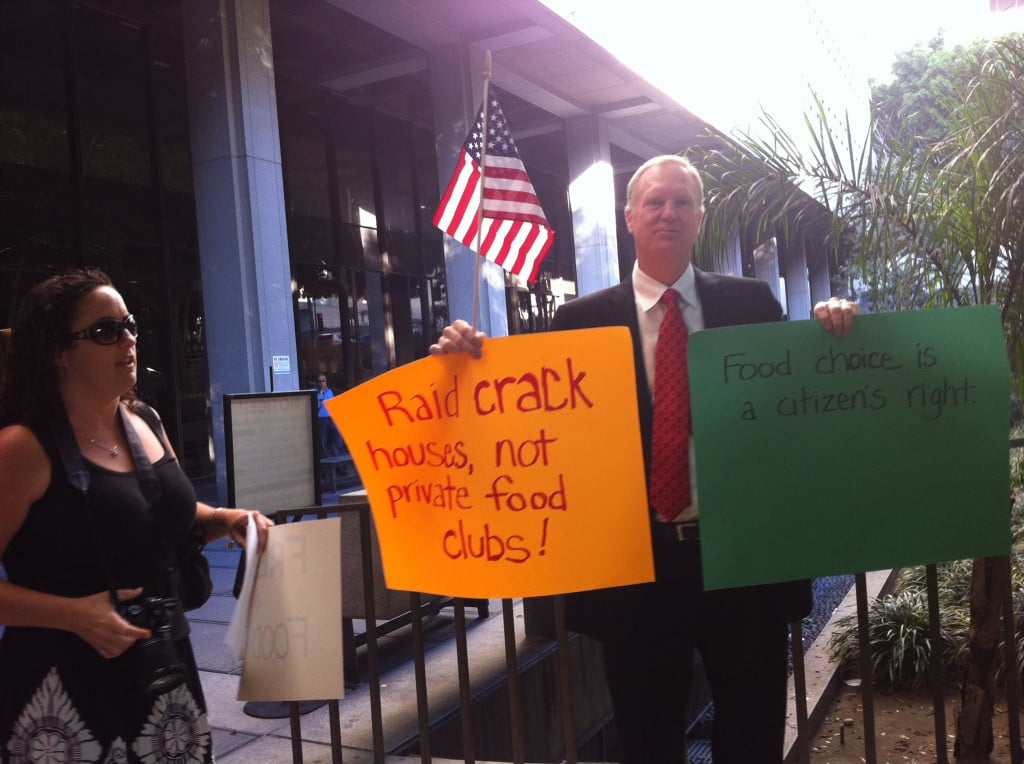 You may already realize how our food rights and food choices are being threatened, but do you really?
Last weekend at the 2011 Wise Traditions conference in Dallas, Texas, I became even more passionate about fighting for our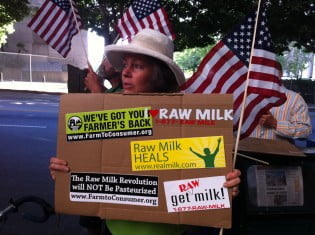 food rights.  I got to hug Michael Schmidt who recently went on a hunger strike in protest of Canadian raw milk laws that have him in hot water.  I also spoke with Victoria, the chapter leader from L.A. who went to jail over raw milk a few months ago.  (Both cases are still pending, please pray for them.)  The more you learn about this issue, the more you'll realize that it could be you protesting with bright signs someday, standing up for your farmer and shouting from the rooftops to the media and social media to regain the right to feed your family what you choose.  I came home and drank some raw milk and was even more thankful for our beloved farmers that provide these whole foods to nourish our bodies.  (Learn why raw milk is the best milk choice here: Raw Milk Benefits and Information: Q & A with Mark McAfee).
Have you seen this video from the Rawesome raid in California last year?  Is this America?  Really?
In addition to fighting the fight everywhere we can, we also need to do more to be proactive toward stopping this madness, and Mark McAfee is doing just that.  He introduced the new Raw Milk Institute last week at the Wise Traditions conference.
What will the Raw Milk Institute do?
The Raw Milk Institute (RAWMI) uses and promotes science-based food safety principles to help create a secure foundation for the growing raw-milk movement. To do this, we take a three-pronged approach:
Education & Outreach – RAWMI serves as an information resource, both for the dairy industry and for consumers looking to make an informed decision about the safety and benefits of raw milk.
Training – RAWMI facilitates best practices in the raw milk industry through the evaluation of research findings and "in the field" experience, helping to create individualized food safety plans for each raw milk dairy in our listing.
Research – RAWMI encourages, promotes, and undertakes research, using approved scientific methods, to inform and enhance our education, outreach, and training programs.
Hear what others are saying about the new Raw Milk Institute:
Sally Fallon Morell:  "The Raw Milk Institute will provide consistent standards for raw milk production and will provide legitimacy for the raw milk movement."
Chris Kerston from *Chaffin Family Orchards:  "The Raw Milk Institute is about bringing transparency to the raw dairy industry and building a level of safety standards agreed upon by consumers, farmers, and legislators.  It brings raw milk out of the shadows with the goal of making it a viable recognized legal farming occupation and make it available for consumers in all states throughout the U.S. and Canada.  Right now each state has different raw milk laws, which means there are 50 different permutations for producers and customers to contend with.  By standardizing protocols we can form a united front, while still maintaining our liberties and freedoms as both farmers and consumers."  (*By the way, Chaffin Family Orchards does not produce raw milk.)
David Gumpert:  "I think the greatest potential benefit of the Raw Milk Institute is that it demonstrates to the public and the regulator community that raw milk producers are serious about safety standards. There's been a perception that raw milk producers don't place a high priority on safety considerations. RAWMI should change that."
Max Kane:  "I think the greatest benefit of the new Raw Milk Institute will be helping the common main stream individual break the chains of fear by experiencing raw milk for the first time.  After an individual tries raw milk, the experience opens their eyes to a whole new paradigm."
Mark A. Kastel, Senior Farm Policy Analyst at The Cornucopia Institute:  "Entrepreneurial farmers who wish to meet consumer demand by supplying raw milk and other dairy products would be well served to maximize their knowledge base in terms of producing a safe, quality product.  We hope the Raw Milk Institute will contribute to that process."
I've joined and donated to the Raw Milk Institute and hope you will, too.  We can't just complain about the government involvement in our food choices, we have to support those who are doing more.
In the meantime, are you ready if it's YOU or your farmer/buying club friends who are raided next?
Stay tuned for an upcoming post on just how you should be preparing…
Pictures from Cheeseslave