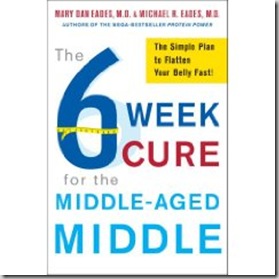 I can't wait to read this new book by one of my favorite bloggers, Dr. Mike Eades and his wife, Mary Dan:  "The 6 Week Cure for the Middle-Aged Middle: The Simple Plan to Flatten Your Belly Fast!
"
Belly flab and sweets…
While I'm thankful that I've been able to stay in the same size jeans through the years, I still struggle with belly flab (even when I was super consistent with my running, which was very frustrating…it's all those tempting carbs I tell ya…), so I can't wait to read this new book for some hints.  I'm sure these hints will include eating less sweets, darn it, even though I'm leaps and bounds ahead of where I was even a year ago.  It's funny that I just don't crave sugary stuff like I used to now that I'm eating more and more healthy fats like butter, cream, bacon fat, tallow, etc.  Keep in mind, this doesn't mean I never crave it, I just crave it much less.
Don't be messing with my coffee
What has me really worried were hints at Dr. Eades blog about the book's recommendation of limiting (cutting???) caffeine consumption.  Come ON, I don't even put anything in it!  No sugar, nothing.  So I think I should still get a cup a few days a week, don't you?  When I met Sally Fallon last year, she said the same thing:  "It's not good for your adrenals."  (Picture me plugging my ears and humming loudly.)
Here's an excerpt from Dr. Eades' blog about their new book:
"We've spent the majority of our medical careers helping people of every description with just this battle, combating overweight and weight-related health issues.  Although some were in their teens and twenties and some were in their seventies and eighties, the vast bulk of the many thousands of patients we guided to better health and lower weights were in middle age.  What we learned from these many years in the diet trenches is that middle-aged weight is stubborn; it's different to deal with; it doesn't respond readily to modest dietary changes or the incremental increases in exercise usually recommended by the purveyors of received medical and nutritional wisdom.  The factors driving middle-aged weight gain—which really does go straight to the middle—are like a perfect storm, metabolically speaking.  A confluence of changes in hormones, stress, lack of sleep, alcohol intake, medications, fat and cholesterol phobias, and a mountain of other nutritional misinformation combines to create a mid-life tsunami that seems to swamp the metabolism and fill every nook and cranny of the middle of the body with fat."
If you read it, let us know what you think:  "The 6-Week Cure for the Middle-Aged Middle: The Simple Plan to Flatten Your Belly Fast!
"