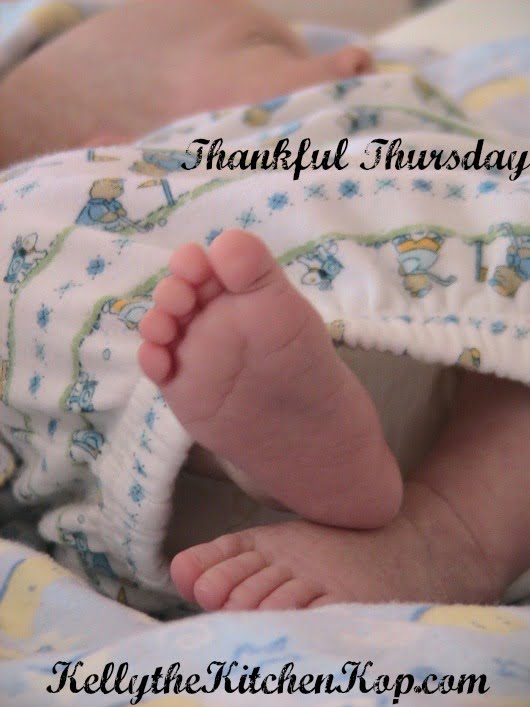 Since the post here on the blog the other day was Ticked Off Tuesday I knew that today needed to be Thankful Thursday, because life is precious and we don't want to go around complaining too much, right?  (Even when we do have valid stuff to whine about.)  SO, today we'll lighten things up a bit.  I hope you'll share what you're thankful for today?
Remember the rule, though…
It can't be a big thing like saying, "My children".  It has to be something more specific to keep it interesting.
(On the last Thankful Thursday, we shared "What small insignificant thing brings you great joy" – there were some interesting comments there.  You'll think I'm a nut when you read mine, though…)
Here are some on my list – I'm thankful…
For a freezer full of bone broth, crispy nuts, and pastured meats.  Doesn't a stocked freezer feel great?
When I hop into the van on a cold day and remember that I forgot to get gas and I'm too low to get far, but I'm running late as always…  Then I look and see that Kent already filled it up for me.  🙂
For quiet time in the morning  before the kids get up, with coffee in-hand.  I need it a lot more these days now that we're homeschooling.  If I don't get this time for praying and getting my day's list in order, I really notice a big difference in my level of sanity. 
For the fresh rain smell this morning and the deer in our woods.
That all four of our kids are still home with us and we're able to eat dinner together almost every night.  Our oldest is still living at home to save money, but he graduates from college next year so our days are numbered.  Yes, I know this is a normal, good thing.  We want him independent and to do well, etc.  But for now I'm savoring this time, and I'm sure you Moms know exactly what I'm talkin' about.
For our 98 year old friend, Eva, who we went to visit this week.  I want to be like her as I age.  She's still in her own home, her mind is sharper than mine, she reads her bible, visits with friends, and is very content.  She's thankful always and for everything.  (Especially for my Mom and step-Dad who make sure she has all she needs.)
Kent told me one of his the other day…
For Saturday mornings when he wakes up to a sink NOT full of dirty dishes, so he can make his coffee and eggs without having to unload and reload first.  (And yes, since he told me that, I'll try even harder to make sure that gets done…)
Your turn!  Tell Us:  What are some specific things you're thankful for?