Should you consider Testosterone Replacement Therapy?

Last week I posted about bioidentical hormones for women, and included comments from Elizabeth, who has been trained in bioidentical hormone replacement therapy (BHRT).  Click here to read that post:  Is Bioidentical Hormone Replacement Therapy Safe? Plus My Menopause Update and Breast Cancer Rants.
Actually, what you really should do is read the post that came before that one:  Are Extreme Menopause Symptoms Normal? Should We Embrace Our Muffin Top?
(One more you might like:  The Pain of Low Libido.)
Today Elizabeth shares her thoughts on BHRT for men.
Also, as in last week's post, she has agreed to answer the questions that come in via the comments.  So feel free to share your comments or ask questions below, and in a week or two I'm going to compile the Q & A's from both posts into one new post.
My typical but very necessary disclaimer: 
Don't blindly follow what you read here or anywhere, do your own research, talk to your own trusted health professional, and use common sense. 
As with every issue, there are always those who say whatever it is is safe, or at least that the benefits outweigh the risks, and others who say NOPE, the risks are too great.  I'll let you hear from Elizabeth and you can decide how you will move forward.
Andropause
Andropause is male menopause, characterized by a drop in testosterone.  There are specific indicators that this hormone is beginning to decline, I'm sure you can guess what some of them are…
This part of the conversation began when I asked Elizabeth a question: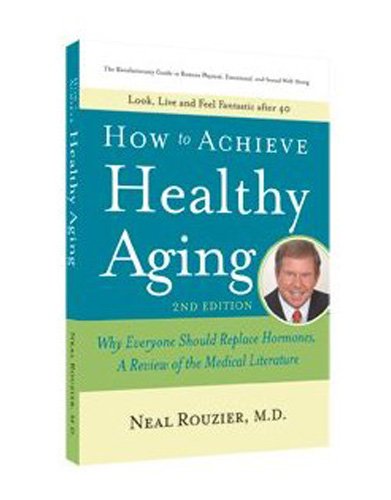 Me:  I know you recommend BHRT for women, do you also recommend men being checked for hormone deficiencies, as Rouzier suggested in the book, How to Achieve Healthy Aging by Dr. Rouzier, to guard against chronic disease, and if so, when?
My Hubs shows no signs of dropping testosterone (thankfully!), but obviously I assume that will happen eventually, and is THAT the time that he should be checked, or could there be stuff going on before that which could mean he's at increased risk for chronic disease?
Elizabeth:  Yes, men also lose hormones around the same age as women and when that happens they are at increased risk for most of the degenerative diseases .  We check hormone levels in men as well and replace accordingly.  By the time a man is no longer having morning erections or is experiencing erectile dysfunction, his testosterone is already quite low – it is a good idea to start checking the male hormones well before that time, it's also good to get baseline levels while hormones are still normal (around age 30 — after 30 hormones start to decline), otherwise testing can begin anytime he starts feeling increased fatigue, weakness, depression, decreased energy, or a lowered sex drive – usually sometime in their 40s.
Me:  Sadly, from what I hear from friends and readers, this issue is fairly common, and I would think it would be a big challenge in a marriage.  Not just for the obvious reasons, but because for Kent and I, since this aspect of our relationship is so healthy, it really does bring us closer (as God designed it to) and smooths out a lot of other bumps — like when he's on my nerves, or vice versa, it gets us over things more quickly!  It just makes everything else seem like not that big a deal and we can laugh things off easier.  It makes me sad for couples who don't have this connection.
Elizabeth:  The truth is, sexual intimacy in marriage is an extremely important aspect of the relationship for both parties and should not be neglected and allowed to wither and die.  Unfortunately that's what happens far too frequently.  Having inadequate levels of hormones is one thing that doesn't need to be a complicating factor in a marriage. 
Me:  My theory is that this problem is increasing in men nowadays (and at younger ages!), due to the massive amounts of soda, processed/boxed foods, fast food, etc., that most men are consuming (not just men, obviously) — all of that can't be good for libido.
Elizabeth:  One study showed a 17% decline in average testosterone levels in men between 1987 and 2004.  It is likely that environmental factors like diet and exposure to toxins are resulting in this serious decline in men's hormones.
As with women's hormones, we replace men's hormones to optimal (youthful) levels according to the blood tests.  It is important to distinguish between "optimal" levels and "normal" levels in hormone replacement therapy.  For example, a 50 year old man can have a free testosterone level that is "normal" for a 50 year old male and yet have many symptoms of low testosterone or andropause.  When we replace his testosterone to "optimal" youthful levels those symptoms disappear, and his risk for many of the degenerative diseases of aging is also markedly decreased.
Me:  I do wonder, though, for the average guy with a fairly good diet, is it NOT just "normal" for a man's testosterone levels to decline with age?  Isn't that just part of natural aging?
Elizabeth:  Yes, it is "normal" for hormone levels of men (and women) to decline with age – it is also "normal"  to get the degenerative diseases of aging and die after we lose our fertility.  Since we are living well past our age of fertility (or our usefulness from a biological perspective), then presumably we want to remain as healthy as possible for our remaining years, which is the whole point of maintaining youthful levels of hormones. 
The notion that we should age "naturally" is a different subject entirely and is a philosophical discussion rather than a medical one.  I don't think anyone is trying to live forever, but we are certainly trying to have good health for as long as possible.  It's about adding life to our years rather than years to our life.  
For example, I have a very strong family history of severe osteoporosis.  By the time my mother was my age (62) she had already lost 2 inches of height and had a compression fracture of one of the vertebrae in her back.  She is now 86 and can no longer stand up straight and has lost 5 inches of height due to osteoporosis, it is a very debilitating disease.  I have been doing BHRT for over 10 years and have no signs of osteoporosis at this point, my quality of life has improved tremendously and for that I am very thankful. I will never be without hormones!
Me:  Have you seen this NYT article?  Weighing Testosterone's Benefits and Risks — this shows more of the riskier side of testosterone, however it was obvious they weren't talking here about bioidentical hormones!
Elizabeth:  Yes, here is an article Dr.Rouzier wrote in response to some recent negative publicity about testosterone therapy as a result of a widely reported study showing negative cardiovascular consequences, and as mentioned in the NYT article you linked to.
There are 40  years of studies (find the links in the above article) and solid scientific evidence supporting the use of hormone replacement therapy for men to improve long-term health, quality of life and sense of well-being.
This is a really important subject for men's health – they need to know the facts about hormone replacement and specifically testosterone.
The world's leading experts in field, including Rouzier and Morgentaler, have been concerned that the now discredited study is doing to men's HRT what the WHI did to women's hormone replacement, which caused millions of women to suddenly stop taking their hormones (instead of switching from synthetic hormones to bioidentical ones).  This is why they have come out so strongly against the study and its findings, in the hope of shedding some rational scientific light on the matter.
Okay readers, what do you think?
More information for you to ponder:
The main risks related to testosterone replacement are mostly related to prostate cancer, but according to the How to Achieve Healthy Aging by Dr. Rouzier book, it doesn't cause it, but could exacerbate it if you already have it.
Note this chart (from this study) with Testosterone Levels by Age and a visual picture of the normal steady decline: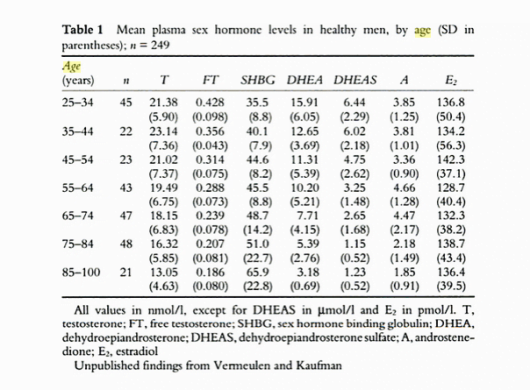 THANK you all who like and share this post with others to hopefully help them on their journey through menopause OR andropause!
And don't forget to leave your comments and questions below.  🙂
So you can hear another side, and from someone I trust:  Click here to read what Joette thinks of bio-identical hormones.   Elizabeth's comments on Joette's article: "My response to homeopathy is the same as my response to any other therapy – check the hormone levels!  If they are optimal, then the therapy is fine, if they are not, then you are not receiving proper protection even though there might be some symptomatic relief."
Check out my FAVORITE gadget to help my HOT FLASHES!!!
And here's one more:  a wireless remote control that I use for flipping on my fan at night so I don't have to get up when I'm having another flash!
Complete index of natural remedies — look to see if there's help for whatever YOU are struggling with.