This is a unique sweet and red potato salad recipe that is served cold OR warm and all the flavors are delicious together! It came from my friend, Amy.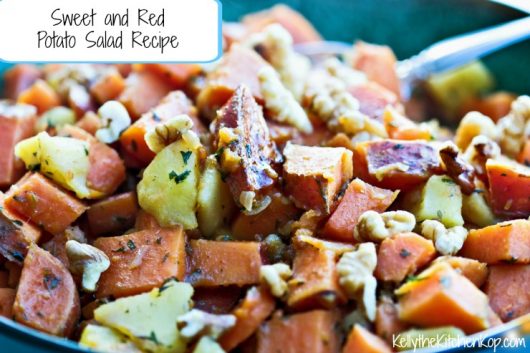 Print
Sweet and Red Potato Salad
Ingredients
1 pound red skin potatoes ("red bliss" are a good, low starch potato), cut into 1 1/2″ cubes (about 4 medium sized potatoes)
1 pound sweet potatoes, peeled and cut into 1 1/2″ cubes (about 4 medium, or I used 2 huge)
4 teaspoons olive oil
1-2 onions, chopped
6 Tablespoons mayonnaise (Homemade mayo is best to avoid the nasty oils in store-bought!)
3 Tablespoons chopped, fresh cilantro
1 teaspoons grated lemon zest
1/2 teaspoons sea salt (I used more)
1/2 teaspoons ground cumin
1/4 teaspoons ground coriander
1/8 teaspoons cayenne (I added a little more for extra flavor)
Instructions
Preheat the oven to 425* F. In a 9×13 pan (no Teflon or aluminum), toss the potatoes, onions and olive oil together. Roast until well-browned and tender, 35-40 minutes. (I cook them longer so they're a little crispy.) Transfer to a large bowl, let cool a few minutes.
Combine the mayo, cilantro, lemon zest, sea salt, cumin, coriander, and cayenne in a small bowl. (I made a little extra of this, but didn't figure exact amounts.) Add to potato mixture and mix well. Serve warm or at room temperature.
Did you make a real food recipe?
I want to see it! Tag @KitchenKop on Instagram and hashtag it #KitchenKopRecipes OR share anything you know I'll love by tagging @KitchenKop and hashtag #KitchenKop -- see you over there!
Summer is close! Ideas for getting exercise in your life