We all want to get our family eating more superfoods, and when switching them over to a better-for-you diet, sometimes that's easy, and sometimes, not so much.  Butter and bone broth?  Simple, because who doesn't love those?  Raw milk?  No problem, because it tastes the same (or better) than store-bought.  Liver and organ meats?  Now those are a bit trickier.  (Although I got this beef liver recipe by my teenager once and he hadn't a clue.)  There's another superfood, though, that's really easiest of all to get into your family:  beef gelatin and beef collagen peptides!
First, what are they and why are they good for us?
Collagen protein (beef gelatin) and the collagen peptides both contain collagen.  Collagen is a protein and a building block for our skin, and is protective against signs of aging by preserving elasticity and regeneration.  It also supports bone and joint health and muscle restoration (so athletes love it), and can even help to manage your weight and boost your metabolism.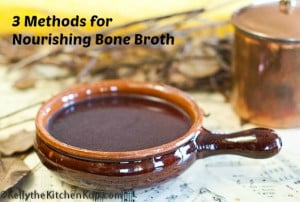 You've heard about all these benefits from making bone broth, well this is a way to boost those benefits, or add these nutrients to other foods, too!
So now you see why I've been slipping it into our foods anywhere I can.
I asked Craig at Vital Proteins how they are different from other popular brands (which I don't promote anymore because they are not from pasture-raised cows)…
We single-source our gelatin and collagen in Brazil, where the cattle industry is based on perennial tropical grass pasture systems.  (Other brands source from Argentina — read more about that here.)  We have also taken great care to ensure the pasture size for each animal is at least 2.67 acres. These standards are in alignment with the Global Animal Partnership's 5-step Animal Welfare Rating Standards. Thus, we proudly commit to the 'pasture-raised' statement and note such on each of our canisters unlike other brands.  Also, our collagen is derived from the hides of the Nelore breed of cattle, which are non-dairy cows, and since the cattle were pasture-raised and grass-fed, this eliminates the risk of rBGH in their feed. Brazil also has a law which prohibits the addition of hormones to feed.

For packaging, we do not use cardboard canisters, instead we use HDPE, Non-BPA, air-tight canisters alongside an hermetic sealing process to ensure the quality, freshness, and integrity of our product. Collagen is very hygroscopic and absorbs moisture. Without this protection, the collagen will start to degrade due to bacteria. 
How to get more into your diet:
As I said, it's so simple!  The Vital Proteins Beef Gelatin (green lid) has 17 grams of protein per serving and here are my favorite uses:
The Vital Proteins Collagen Peptides (blue lid) have 18 grams of protein per serving and these cold-water soluble, so you can use it in any of the above and also the below to boost protein content:
Note that this one is a better choice for foods that you wouldn't want to "gel" — it won't change the texture, or thicken liquids like the gelatin will.
Add it to Superfood Smoothies to make them even MORE nutritious.
Flavored waters, coffee, or tea
They both can be used for a much better version of those protein shakes you see people drinking, you know that those brands aren't from pastured animals!
More recipe ideas can be found on the Vital Proteins blog.  (Watch the video below on how to make superfood tacos!)
Now for fun, watch this video on how to make superfood tacos; warning:  it'll make you hungry:

This was a sponsored post paid for by Vital Proteins and there also may be some affiliate links in this post to Amazon or other online shops, but there is no price difference for you.  I'm happy to let you know about products I use and believe in.  Thanks for your support.  🙂