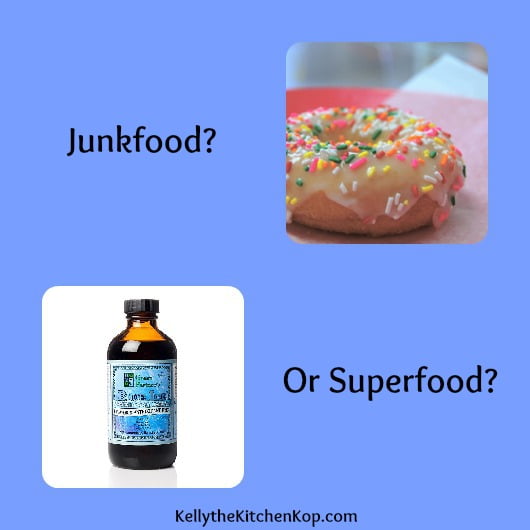 What are the most healthy foods to eat?  What is the least healthy food?
For something different today, I'm hoping you'll answer those questions in the comments and then all the Real Food rookies out there can learn from your responses!
Be sure to tell us WHY you love it or hate it and WHY you think it's a Superfood or Junkfood.  THANKS!
Here is my top answer for each category:
Top superfood (for our family anyway):  cod liver oil.  It's what we use to level out my hormones when needed, which the whole family appreciates (read about my all natural 'chill pill' for anxiety), and it's why I believe we rarely get sick, and if so it's short-lived.  (Where to buy quality cod liver oil and more info including how to get it down.)  It was a toss up between that, bone broth, pastured eggs, and raw milk though!
Top junkfood:  I'd have to say donuts (or is it 'doughnuts'?).  They're not just loaded with sugar, but they're also fried in who knows what type of fake, rancid, trans fat and acrylamide laden nasty vegetable oil.  Once every couple years or so I'll make homemade donuts here at home because I'll fry them in a healthy cooking oil which redeems them at least a little.  (Read more about that here:  Deep Fried Heaven.)  All this isn't to say that we don't let the kids get one once in a great while in the cafeteria after church, but we discourage is as often as we can get away with!  (This one was a toss up with soda pop, which is no more than a chemical cocktail if you ask me.)
By the way…
Your turn, what do you think?!  I'm sure I missed some doozies.