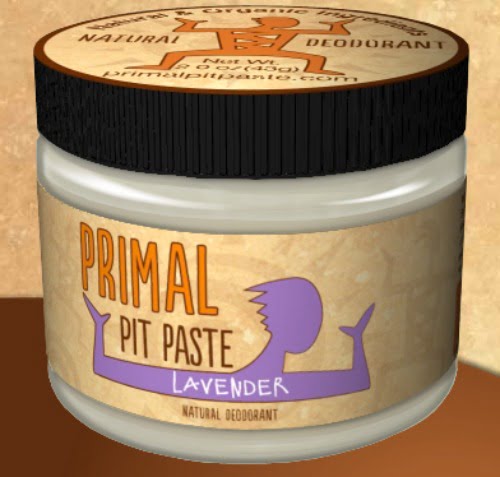 Have you been looking for the best all natural, safe deodorant?
Have you had only stinky armpits, burning armpits, or drippy armpits to show for it? No more of that for you!
Once you start learning more about the scary stuff in our food supply and what you're putting in your body, you'll get to the point in your journey where it will also become important to you to look at what's going on your body.  For most of us, we learned looooong ago to avoid ingredients like high fructose corn syrup or trans fats, those obvious no no's are old news to us now.  Well once you start to research personal care products, you'll find out that there are some ingredients in those that should be just as obvious to us, too!
This hits close to home…
Alzheimers took Kent's Dad way too soon (read about his beautiful legacy here), and when he was diagnosed a few years back, the first glaring neon sign we found in researching it was that Kent should avoid exposure to aluminum.  Since then he's tried many aluminum-free deodorants, and therefore has dealt with stinky armpits, burning armpits, and drippy armpits.  When our Primal Pit Paste package came, he was hopeful…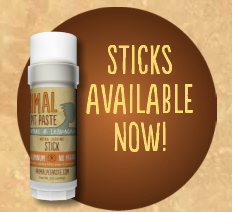 When it actually worked, he was a happy man!  I really liked it too.  No stink, no greasy feeling at all, and no drips because it's a creamy paste that rubs in nicely.  (I'm going to order the sticks to try next!)  I'm a freak about essential oils these days and loved the hint of lavender scent.  I can't stand overpoweringly scented deodorants, especially when it's from the fake fragrances in most regular deodorants.
More reasons to pay attention to the ingredients in your deodorant: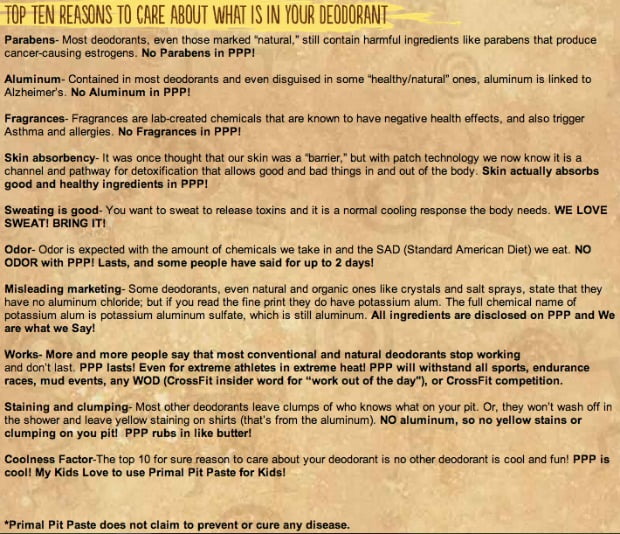 Related posts: