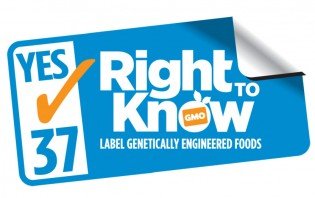 At yesterday's chapter leader meeting out here in California at the annual Wise Traditions conference there was a lot of talk about the defeat of Prop 37. One person said this has taught us that we can't expect to win just because we're on the side of what's right and good.
(Before you read the post below, you may first want to read a basic GMO definition here.)
Pamm Larry shared some campaign afterthoughts with us – see the video below.  She acknowledged that we need to have a mourning period over this, yes, but everyone she's worked with on this, the first thing they said to her after the election was, "What's next?"  Many good things came out of this campaign and 30 more states are working on putting similar proposals on their ballots.  People who didn't even know what a GMO is are now talking about GMOs and learning more.  Even several celebrities jumped onto this issue!!  So it's only a matter of time.
We can't forget for a second how powerful the other side is, though. 
They spent forty-five million dollars on this.  Why would they do that?  Because they knew how much more it would cost them to have to tell people what's in their food, and they knew that if they have to tell us, we wouldn't like it; any quick Google search for "GMO dangers" is enough to scare you and make you want to avoid GMOs, especially when there are other good options.  And then they'd have to change how they do everything or risk losing even more money.  Money money money, for them it's only about the money.  But of course that's not how they played their game in order to win in California.  They used a bunch of lies, one being the "we're trying to end world hunger" issue.  Last night a bunch of us were chatting in the bar and Mark McAfee shared what he thinks of that bull in the second video below.
So yes, we're all still sad about the outcome, but you'll see how the movement's founder is staying so positive, how can we do any less?!  She shares many reasons for us to have great hope and confidence.  While we've lost the battle, we will certainly win the fight.
Pamm Larry Prop 37 Afterthoughts (plays after ad):
This next video with Mark McAfee has a twist at the end unrelated to the main topic of the video on feeding the world, but it was an interesting response to a question he was asked, so I left it in, knowing you'd find it interesting, too.
Watch the video here, it'll play after the ad: