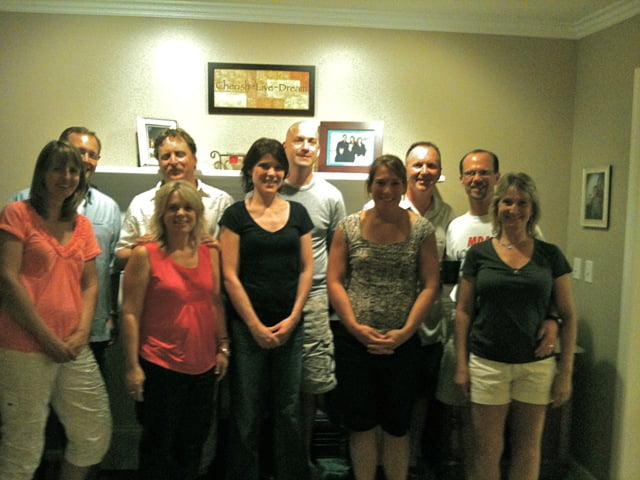 Sonia invited us to do a progressive dinner last month with some neighbor friends, and I'm finally getting this post up so I can share the pictures with you.  Pictured above from left to right:  Bill & Susan, Stephan & Jeanne, Bob & Sonia, Joe & Meg, Kent & I.  (This group shot looks bad because my iPhone is rotten in poor lighting. Of course just months after I get my iPhone they have to come out with the better one, which now has a stinkin' flash. You'd really think that would be a no-brainer on a camera from the get-go wouldn't you?!)
Everything was so delicious, I'll show you what we had at each home…
Our first course at Bob & Sonia's:  Gournay cheese and perfectly steamed asparagus (so it still had a light crisp) wrapped with prosciutto, and also bacon-wrapped shrimp.  Such great flavors all came together so nicely!
We actually had the next three courses at Stephan & Jeanne's.  Ours was there because Kal was babysitting all the kids at our house, and the side dish and main dish just go together.  I started us off with this Caprese salad, and I forgot to take a picture, so here's one from my post.
Stephan made his famous spätzle, it was so so goooood with the caramelized onions and dreamy cream sauce…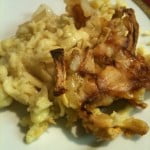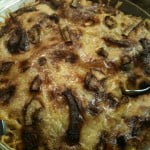 Also, here's a picture of Jeanne holding the doohickey they use to make the homemade noodles: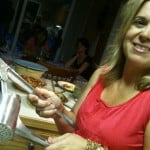 Joe & Meg brought the fresh green beans and also the filet mignon (which we all pitched in on) and the crazy delicious bearnaise sauce to go with it.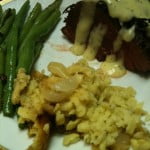 They were mocking me for one of the cheap wines I love.  I buy it in a nice big economy-sized jug (I never said I was a class-act!):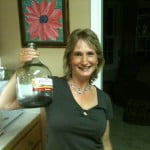 Dessert was at Bill & Susan's, and by the way, we're all so sad that they're leaving us – they're moving soon.  Only to the other side of town but still, it won't be the same.  🙁  This chocolate cake with raspberry sorbet was divine: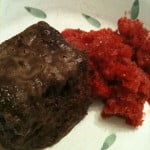 More random pictures.  Susan & Sonia: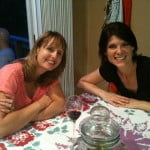 Meg, Kent & Joe getting everything just right: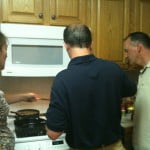 Wine with dinner: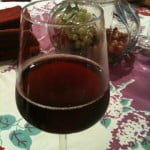 Jeanne, Bill, Stephan & Bob hanging on the deck: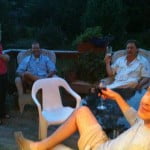 After dinner coffee: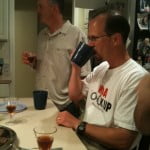 What a fun evening we had.  Have you ever done a progressive dinner? Tell us what yours was like!
Have you seen these posts?
The rest of you friends/neighbors, if you ever feel inspired to do this, please send your answers to me!  Same for any of you, reader friends – if you have an interesting story to share, we'd LOVE to hear about it.  Feel free to send me your answers, too.  🙂