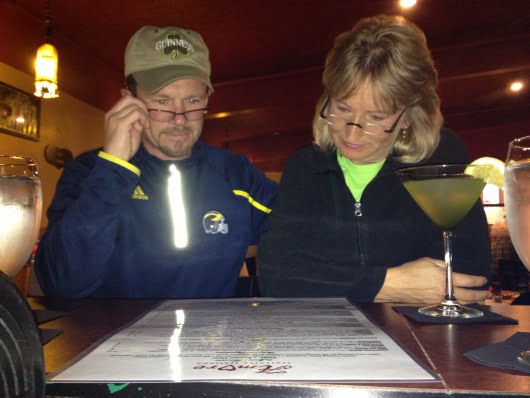 Kent and I went out Saturday to celebrate our 26th wedding anniversary.  We had the waitress take this picture of us because we were so pathetic reading the menu, him looking over the top of his glasses, me putting on my cheaters.  (This past year has definitely been the year for my farsightedness to get worse.  If I don't have my contacts in I'm fine, but I need those for my nearsightedness, ha!)  Oh well, we're growing old together, and that's what counts, right?  🙂
We got married on the same day my parents did, and if my Dad was still alive it would've been their 60th anniversary!  Dad passed away 15 years ago, God bless his soul.  Here's a picture of all of us on our wedding day and on Mom & Dad's 34th anniversary: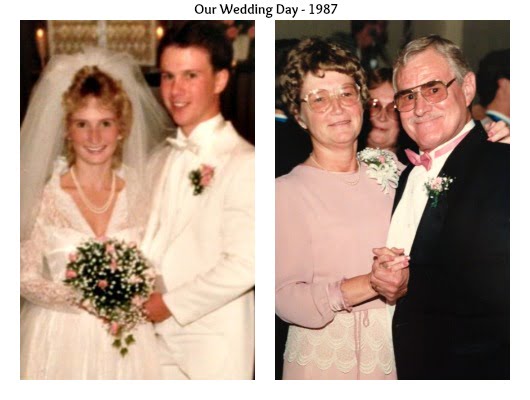 (Those are both a picture of a picture so don't ask me why we are so blurry and they aren't.)  Mom has since remarried Carl, who we all absolutely adore, and by the way, he's the best clock repairman and garage-sale-deal-finder anywhere.  It's rare to go there when he doesn't have a new treasure for one or all of us.  He found me a used Miehl vacuum over 10 years ago and it's so FUN to use (yep, I said it), because it can suck from across the ROOM, that I thank God for Carl everytime I pull it out.   🙂
Aaaaanyway…
One of my favorite things about Kent is that he is a foodie, too, so we always enjoy our dinners out more than you can imagine.  To celebrate we had the most amazing dinner at one of our favorite restaurants here in Grand Rapids, Amore.  The owner there, Jenna, mills around and chats so much that you feel like you know her.  (Like them on Facebook here.)
They didn't have Riesling and I didn't want something as sweet as a Moscato, so I tried their lemon martini.  Oh. My. Gosh.  I'd go back TODAY just for that, it was the perfect blend of light, refreshing, tangy, and sweet, but not too sweet.  It also didn't have an outloud liquor taste like most martinis.  Kent loved their beer on tap, he had a Peroni, but was bummed when we were done to realize that they had one of his favorites, the grapefruit IPA from Perrin, and he hadn't seen it.  (Normally he's faaar from a fruity-beer kind of guy, but he loves this stuff.  I even like that one.)
It gets even better…
Be warned, the pics I snapped weren't great because the lighting is so low there, but I figured you'd still like a peek.  As usual, I forgot to take a shot of a couple of our courses, because I was too busy enjoying it.
It was obvious early on that there were a LOT of things on the menu that we wanted to try, which is pretty common for us, so we decided to just share a bunch of stuff and keep the courses coming.
For our appetizer, we had this crispy spicy shrimp that I don't remember the name of, but it was, how do I even explain it…  It was perfect.  The batter was light (for once I didn't ask what kind of oil they fried in, but I wasn't sick afterward, so that's a good sign) and the sauce was sweet with a little bite.
The waitress brought us a sample of the garlic soup and there was no way we could NOT have that after the little teaser.  I'm going to try it at home, but I doubt I'll be able to nail the amazing flavor.  There were chunks of garlic and little pieces of potatoes; the sauce was just a white sauce, but lighter than mine.  I'll work on it.
We chose a beet salad, because Jenna always makes a dreamy beet salad, and sure enough, it was still great even though it was different than the other one of hers that we love, the one that comes in a martini glass.  The beets were a little bit pickled and it had a light, tasty dressing.  YUM.
For our main dish we split a steak (not grass-fed, unfortunately) with a gorgonzola sauce, and some perfectly seasoned potatoes and zucchini on the side.  We loved how well the cheese sauce complimented the flavors of the steak.
For dessert, we had their complimentary chocolate liqueur that comes after every meal, and also the to-die-for chocolate truffles:
If you haven't been there, you'll have to try it out – it's like food and entertainment all rolled together.
Have a great weekend everyone!