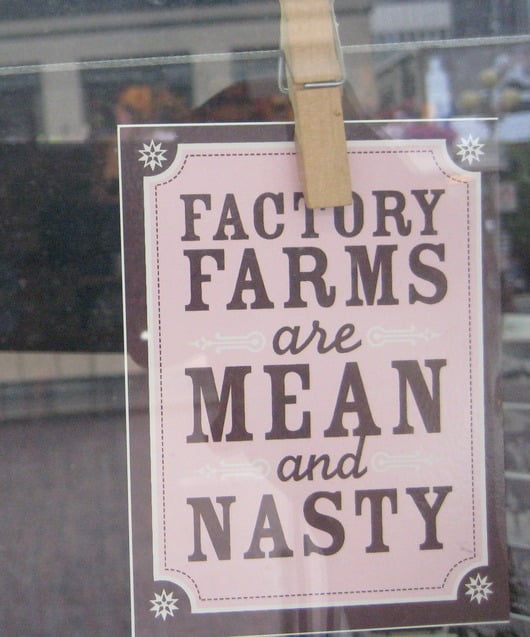 No chicken recalls, seriously?!
Does factory-farmed meat scare you, too?  Stories like this one are the main reason we don't buy meat from the grocery store…
Foster Farms chicken plant opens after 10-day shutdown:  U.S. Department of Agriculture food safety officials had shuttered the plant on Jan. 8 after finding live cockroaches for the fifth time in five months.  Three Foster Farms sites in California were under federal scrutiny after two outbreaks of salmonella tied to the firm's chicken last year, including one that sickened 430 people, according to the Centers for Disease Control and Prevention.  Foster Farms issued no recalls.  CDC said the outbreak appears to be over.   (Source)
Read more about the farm:
Though the privately held operation was tight-lipped about its sales figures, Foster Farms did announce that its 1996 sales had topped $900 million.  By then, the company had become the largest poultry producer on the entire West Coast, and the eighth largest in the nation, ranking 231st among all Fortune 500 companies.  Moreover, the Livingston plant was the largest slaughterhouse in the world, processing 480,000 chickens each day.  (Source)
Factory farmed meat really grosses me out. 
Even if not for stories like this one that make you question its safety, I still hate the way the animals are treated, and the meat is not the same as the nutrient-dense food that comes from animals raised the way God intended, not even close.  The opposite of a CAFO ("concentrated animal feeding operation") is this:   When the animals are treated humanely, fed what they were meant to eat, and raised roaming around on pasture, that meat is not just safe, but it's also very good for us!  If we didn't have a source for local meat, we'd get our meat from online sources we trust.  And it's not just a matter of avoiding antibiotics and hormones, or buying organic to avoid the chemical pesticides in the feed, although those things are important.  We also should want to know our farmer if we have a local source, or at least find out if they're passionate about raising healthy animals who eat off pasture that is managed properly, so that it provides the most nutrients possible.
Read this:  How I Got Lazy and the 5 Ways I Have Recommitted to Real Food and Healthy Eating!
Need help?  Ask your local chapter!