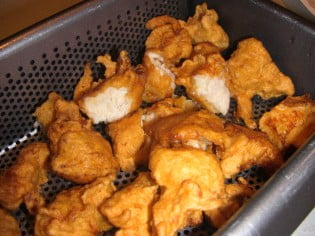 Good morning!  What did you do this weekend?  We hung around here and enjoyed food fried in healthy fats:  homemade chicken nuggets and real French fries, delicious!  Have you seen my post called, Deep Fried Heaven?
I got an email from my friend, Jo-Lynne last week asking, "

So, if you got sick from raw milk, would you keep drinking it?

"  She and her kids actually got sick from their raw milk.  Scary, huh?  But I'm telling you about it for the same reason she posted her story – we all need to be aware of the risks.  As I said in my raw milk safety post, though, there is always a chance that you could get ill, JUST like you could if you eat any uncooked foods, like raw vegetables. I have a much bigger chance of getting into a car accident, but I still ride in cars!  I'd rather take that small risk of getting ill from raw milk, for the 100% chance of getting all the amazing nutritional benefits every single time I drink it.  Having said that, I'll repeat what I wrote in the comments at that post (which have gone crazy, by the way):  if I went through what they just did, I'd likely stop drinking it at least for a short time, too — to re-evaluate my farmers cleanliness and safe-farming practices, and to wait for it to even sound good again…  But I hope I would go back to it soon.  Let me know what you think?
Here in America, most of us are so removed from the poor in our everyday lives that when we're hit in the face with it, it's almost unreal.  People really live in mud huts?  There are schools in the world that don't even have books and are mostly empty anyway because the children are needed to work at home?  If they do get to go, it's often where they get their only meal that day?  When many of us are researching what water filtering systems we should invest in, other people in the world walk miles for their water.  Will you do me a favor and just click over to my other site to read my post on this?  How Dare I Whine?
This article is very disturbing!!!  The Organic Elite Surrender to Monsanto:   "In the wake of a 12-year battle to keep Monsanto's Genetically Engineered (GE) crops from contaminating the nation's 25,000 organic farms and ranches, America's organic consumers and producers are facing betrayal. A self-appointed cabal of the Organic Elite, spearheaded by Whole Foods Market, Organic Valley, and Stonyfield Farm, has decided it's time to surrender to Monsanto. Top executives from these companies have publicly admitted that they no longer oppose the mass commercialization of GE crops, such as Monsanto's controversial Roundup Ready alfalfa, and are prepared to sit down and cut a deal for "coexistence" with Monsanto and USDA biotech cheerleader Tom Vilsack."  Further into the article, it becomes even more sickening:  "They apparently believe that the battle against GMOs has been lost, and that it's time to reach for the consolation prize. The consolation prize they seek is a so-called "coexistence" between the biotech Behemoth and the organic community that will lull the public to sleep and greenwash the unpleasant fact that Monsanto's unlabeled and unregulated genetically engineered crops are now spreading their toxic genes on 1/3 of U.S. (and 1/10 of global) crop land."  PLEASE use the links at the bottom of the article to send a letter to the top grocery stores AND to Whole Foods!  It takes about 20 seconds each!  (Thank you to everyone who sent this link to me.)
Warning:  next up is a video totally unrelated to health or nutrition.  Remember how much I love watching jets scream over my head?  Check this out!  (Another warning:  the guy in the first clip from Top Gun swears with the Lord's name, I hate that…I'd much rather hear the F-bomb, you know?)