Good morning, reader friends.  🙂  I hope you had a fun weekend.  I got to take a little scrapbooking get-away with my Mom, aunts, sisters, & cousin up at my Aunt & Uncle's in Traverse City, MI.  Check out the gorgeous fall view of the Grand Traverse Bay from their home: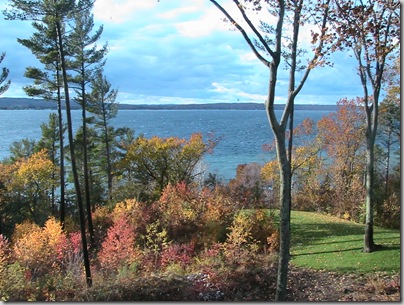 And in case you're wondering, no, I'm not much of a scrapbooker.  I do like to do it, but only get to about once a year when we do this annual trip.  (Hmmm, maybe I'd have more time for that if I didn't write a blog, eh?!)
Here's what I've got for you this week…
Check out my other new post today for this super easy Kettle Corn recipe!
Have you signed up yet for the Urban Homemaker Giveaway?  There's still time and the item has a $59.95 value!
UPDATE – I had an article up about the dangers of microwave use, but it's not there right now.  For now, have you seen my original post on microwave dangers? Don't freak out, just read it and let it slowly enter your radar.
Have you heard about the nastiness going on down in GA?  Here's one blogger's excellent response to that.  (Thank you, Elaine, for keeping me up on all this!)
Find out some great news about a couple of Real Food Media bloggers at this post from Augie!
Have a great week!