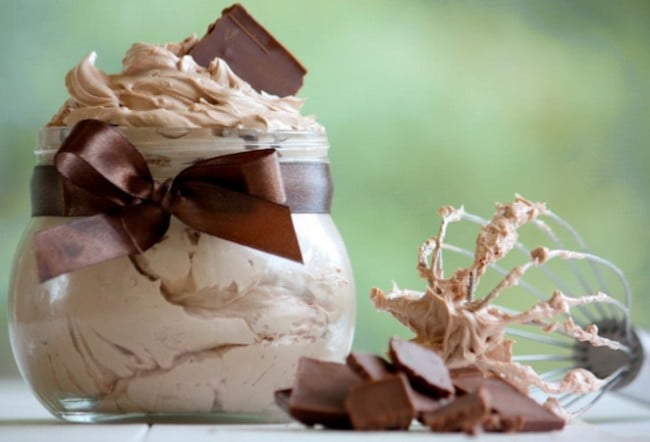 Homemade Christmas Gifts
Would you like a homemade Christmas gift that doesn't come off cheesy?  Or maybe just a sensual gift for yourself?!
I finally got a look at this book today and knew I had to tell you about it fast, because the ideas in here would be PERFECT to make and give out as homemade Christmas gifts!  And these aren't the same old "cookie ingredients in a bag" homemade gifts that you've seen around for years.  Look at that picture above of the Mint Chocolate Whipped Body Butter.  Who wouldn't want that for a gift?
Below you can watch and see how easy it is to make, and then don't miss the full written recipe below.  Isn't it cool that you could eat this stuff if you wanted to?  That's how safe it is; I don't think it would taste as good as it looks, though.
Remember if you get this e-book, you'll also have access to more bonus video tutorials like the one you'll watch here!
Learn more or get the e-book here:  DIY Organic Beauty Recipes: 50+ All-Natural, Toxin-Free Recipes That Really Work!
Watch Heather make the Mint Chocolate Whipped Body Butter:
There's more to love about this homemade (and organic!) recipe:
The oils and butters in this recipe have been selected because they are naturally antimicrobial.  (Cold-pressed, high quality oils are recommended as lower quality oils can go rancid quickly.)
Assuming quality oils are used this body butter can be expected to stay fresh at room temp between 3-6 months without the optional Vitamin E. With the Vitamin E it can stay fresh for up to a year.
It's formulated with cacao powder to diminish the oily finish associated with many body butters.
THE BEST THING:  This mint chocolate treat also serves as a light bronzer. Slather it on during the blah winter months or when shorts season hits for a little sun-kissed glow!  I love giving my skin a little color boost in the middle of the winter, and this will be much better than those chemical laden lotions on the market!!!
Ingredients:
1/2 cup of cocoa butter, grated
1/2 cup mango or shea butter (you can also substitute another 1/2 cup cocoa butter. It will be a smidge less "light" when whipped up, but it is amazing!)
1/2 cup coconut oil – where to get good coconut oil
1/2 cup of jojoba or a mild olive oil – where to get good olive oil (almond oil can also be used but it will decrease shelf life because it is more vulnerable to oxidation)
1-2 teaspoons peppermint essential oil (depending on preference)
2 tablespoons pure cocoa powder (if you would prefer a "white chocolate" version that is not a bronzer, substitute arrowroot powder or non-GMO cornstarch)
2 teaspoons naturally derived vitamin E (optional)
Instructions:
1. Prepare an ice bath by filling a large bowl with ice and fitting a smaller bowl inside. The inside bowl needs to be able to hold at least 4-5 cups of liquid.
2. Using a double boiler or a pot of boiling water with a smaller pot fitted inside, melt cocoa butter and mango butter over a low simmer.
3. Add coconut oil and melt until completely liquid.
4. Remove cocoa butter/coconut oil mixture from heat.
5. Measure 2 tablespoons of cocoa powder into a small bowl and gradually add several tablespoons of jojoba/almond/olive oil. Mix thoroughly and then add to cocoa butter/coconut oil mixture along with remaining jojoba/almond/olive oil.
6. Place mixture in chilled bowl (which should still be resting above the ice bowl) and allow to cool for 10 minutes.
7. Add essential oil and optional Vitamin E once mixture has cooled, then remove mixture from ice bath and whip on medium/high until stiff peaks form. If after a few minutes it does not seem to be thickening return the bowl to the ice bath and whip there.
Store in an airtight jar – amber or cobalt are best but a clear jar is fine if kept out of direct sunlight (which promotes oxidation).
See notes above on shelf life.  Always use clean hands when scooping out a little whipped decadence!  If this butter is stored in a very warm environment it will melt. No fear, though, just chill and re-whip into decadent body care goodness.
Get the e-book here:  DIY Organic Beauty Recipes: 50+ All-Natural, Toxin-Free Recipes That Really Work!
More Goodies:
I've always wanted to learn to color my lips with beets like women used to – there's a recipe in here for Beet Root Lip and Cheek Tint!! (Pictured at right.) Heather also has a recipe for homemade hair spray, shampoo, conditioner, facial scrubs and all those other everyday products that cost a fortune!
I loved what I learned about the benefits of beef tallow topically, too, and how it is THE most perfect "food" for our skin!  So I'm going to buy more tallow here.  Heather also shows you how to make your own Orange Vanilla Dream Lip Balm with beef tallow: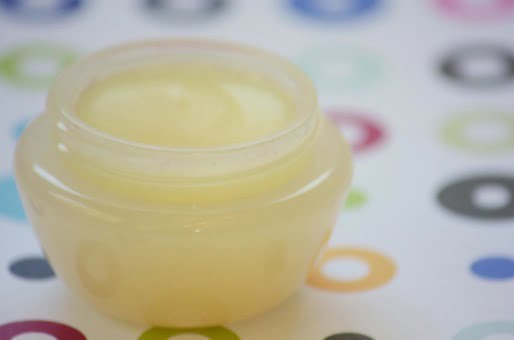 I'm so jealous of her pictures – look how stinkin' cute this White Chocolate and Peppermint Lotion Bar is!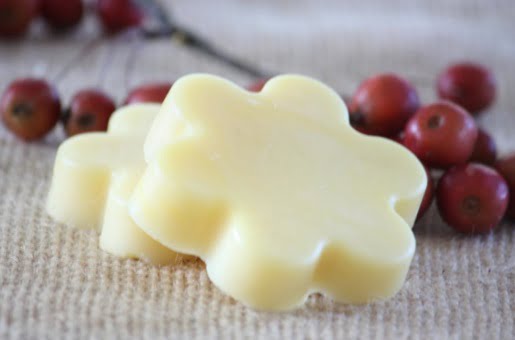 Have brown spots on your skin you'd like to fade?  Try the Lemon Salve For Even Skin Tone!
That's just the beginning!
Get these and over 50 more recipes here:  DIY Organic Beauty Recipes: 50+ All-Natural, Toxin-Free Recipes That Really Work!
Have you ever made your own skin care or beauty recipes before?  Let us know how it went!