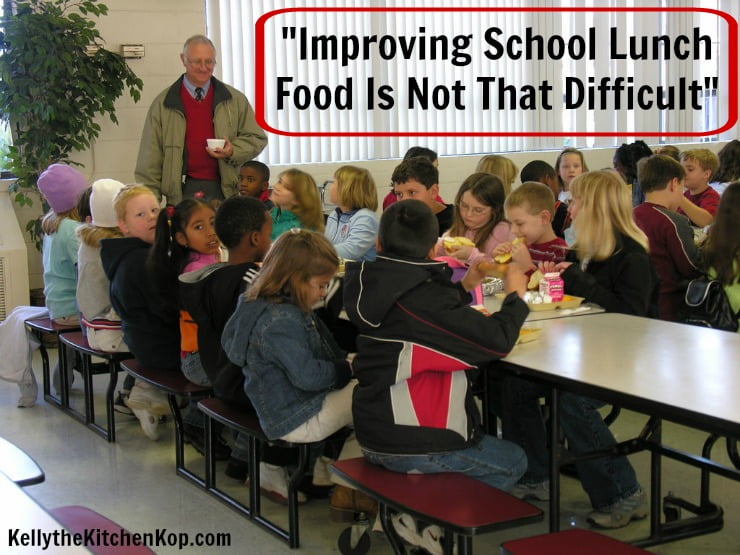 School Lunch Food Needs HELP!
Did you watch the school lunch series with Jamie Oliver last spring?  Were you left feeling more frustrated than ever about school lunch food when it was done?
Recently Jenna gave us a good look at what's going on with school lunches here in the U.S., and shared the awesome work she's doing in her district – she is only one person and is still making a huge impact.  ("Eat to Learn – Real Food Compromises in the School Food Revolution".)  My hope today in continuing our discussion on school lunches, is that this interview with Jane Hersey of the Feingold Association, will motivate you to make a difference, too.
Jane shows HOW to transform school lunch food and says that it's NOT difficult!
You will love Jane Hersey.  She takes what many have made seem complicated and simplifies it into something DOABLE.  She shows what baby steps to work on in your district first, what you can do next, and so on, until you have transformed what kids are putting into their bodies every day!
Sorry I didn't get this up before Halloween, as Jane gave great advice on which candy to buy; and then she elaborates on why she's giving any advice at all on WHICH sugar to buy, instead of saying NO sugar.  Anyway, be sure to note her advice in your calendar for early October next year so you know what to buy.
Who is Jane Hersey?
Jane is the director of the Feingold Association, an organization that helps families find foods that won't make their kids (and them) sick.  In teaching how to avoid fake foods with fake chemical colors, flavors, preservatives, etc., they have helped many many families get their kids back again.  Children can then concentrate, behave, and grow properly!
The interview ended up being a little over an hour, but Jane is so interesting to listen to, you'll want to download it to your MP3 or iPhone and take it with you on a nice fall walk (early winter walk?), or on a car ride.  🙂
Download the audio interview with Jane Hersey on school lunch food.
Here are some of the points Jane made, beginning with the different baby steps each district can take to improve school lunch food.
—First level:  At very least, if a school wants to keep using convenience food from distributors, they can get it with natural ingredients if you ask and make them look for it, and chances are it won't cost any more money.  (Tell them for example that you want a fruit drink actually made with fruit.)

—Second level:  Do the above, but figure out where they're spending a lot of money, and just encourage them to start making a few things homemade.  (Such as salad dressings to start.)

—Third level:  Some schools are doing a lot of food prep from scratch and finding that it saves them big dollars!

—Fourth level:  Some schools even have school gardens!  (Can you imagine how cool that would be?!  Teachers would have a blast incorporating it into their lessons!)

HOW CAN THIS SAVE THE SCHOOL DISTRICT MONEY?

The school that does go to super healthy foods are going to save a lot of money because of the enormous cost to educate a child who is reacting to all the junky foods, or diagnosed with ADD, etc.  (Not all kids issues are due to diet, but an awful lot of them are.)  When a school has a child who needs special education services, the cost to educate that child can be double.  If a school can move ONE child from special education to mainstream, that's around $10,000/year, and they can EASILY move more than one child by feeding them better foods!  (Just changing school foods has increased test scores significantly, even when their food at home didn't change!)  We're talking about billions of dollars that could be saved…

If school administrators see you can actually SAVE money, and it tastes better (Real Food always does), there's no reason NOT to do it!

Asthma, ear infections, childhood diabetes, depression, and obesity were not always the health epidemics they are today.  There have always been difficult or naughty kids, but not like teachers deal with now, and we didn't have the number of kids diagnosed with hyperactivity disorders that we have today, either.

Food Matters

Maybe food isn't the whole answer, maybe there are other things too, but we know that eating petroleum in place of food is bad for humans.  Feingold has been helping parents since 1976 and have decades of experiences of children being sick for no reason and smart kids who are failing in school, who get better when they go off the really bad foods.  MAYBE food really does have something to do with it?!

People today understand that good food is connected to good health. 
Here are the links Jane mentioned in the interview:
www.school-lunch.org – For more on how to transform the food in your school district.  Hint:  never go to your food service director first.  Find out more ways to avoid the mistakes others have made when trying to change things in their school food program.
www.ADHDDiet.org – Learn more about becoming a Feingold member and getting the list Jane mentioned, which tells all the foods on their "OK" list.
I'd love to hear what you think about the interview and Jane's plan?
More you might like: