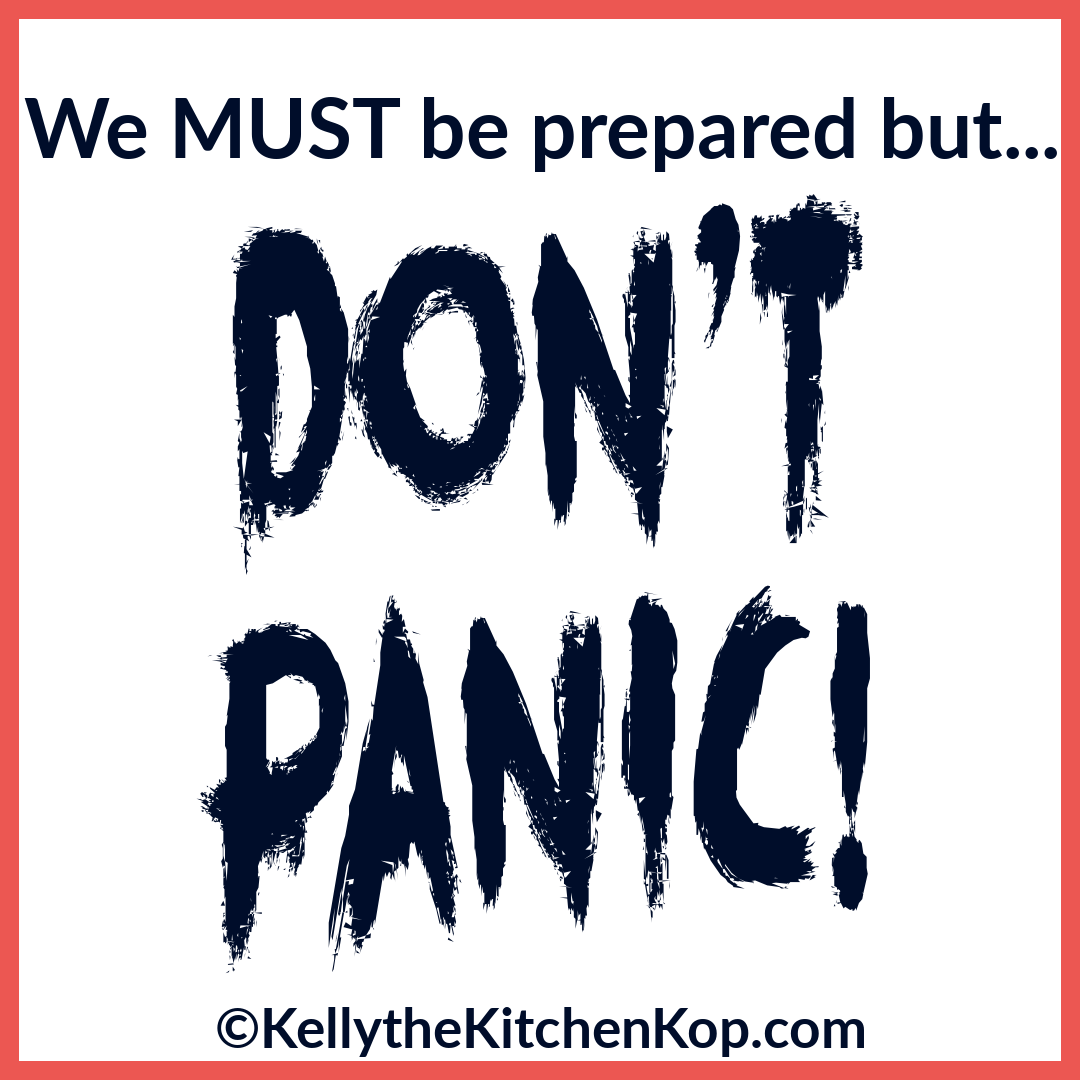 It's not an option, and especially after the recent hurricanes, wildfires, and other scary stuff going on:  we MUST be prepared for natural disasters.
Hey friends, today you'll hear from a dear friend and one of my sweet blog assistants, Susan.  I can't believe everything she thought of in this one post!!  Also, if you want to stock up on homeopathy remedies, here's where I shop because you get more for your money than other brands plus they have glass bottles.  Okay here's Susan…
Oftentimes, when people hear the word prepper, they think of some loon they saw on National Geographic or a nut who wears a tinfoil hat.  Nothing could be further from the truth, because even if the world doesn't come to an end or the economy doesn't collapse, nature always happens.  Hurricanes, tornados, snowstorms, wild fires, and earthquakes can knock out your power and other utilities for days.
We watch it every year on the news during some catastrophic event of nature, and just recently with Hurricane Harvey and Irma, where overnight the store shelves are empty, water is gone, and people are frantic.
Wouldn't you rather prepare now, so when you find out a storm is coming, you can calmly get your family and home ready, knowing you have plenty of food, water and supplies?
Who wouldn't want one less thing to worry about in times like that?
If you are new to "prepping", or maybe you simply find it all too overwhelming and don't know where to begin, I've compiled a list so you can get started prepping your family today.
***Here's one thing you MUST have:  
a homeopathy kit
that you can grab and have what you need fast, whether it's first aid remedies, help for an injury or an illness!
What you should have on hand to be prepared for natural disasters:
1.  Water, water, water.
I once read where a woman said (on a Facebook prepping page no less) that she only stored enough water for 3 days because 'after that, the government would bring her more'!!!  This type of thinking could leave your family in a very dangerous situation.  According to FEMA, you should have 1 gallon of water a day per person on hand, which is a good suggested amount, however, they also only recommend you need to have enough for 3 days.
This is just so unrealistic.
What's going to happen in 3 days?  Is the government going to ride in on white horses and bring you more?  Don't count on it. History has shown that sometimes several days go by before government assistance arrives.  Prepare your food and water supplies as if you can depend on no one, because chances are, it just may turn out that way.
Water options to consider:
Every time you do your shopping pick up a couple more gallons of water to keep on hand.
Consider getting a gravity fed water purifier like this one. Should your water stash start to diminish, a gravity fed water purifier would continue to provide you clean water without electricity. It would also allow you to purify any of the toxic stuff out of the plastic bottles you have on reserve, and from other sources, as well.  Remember: most of us already have 50 gallons of water in your water heater that, once purified, would be a lifesaver.
For less than $35, you should consider buying a waterBOB.  (Hopefully these are back in stock now!) If you aren't familiar with it, imagine a great big water balloon that you fit into your bathtub.  Once you realize you may not have water for an extended amount of time, you place the waterBOB in your tub, fill it up, and you will have an extra 100 gallons on hand.  It even comes with a pump so you can dispense water from it as needed.  It is made from food-grade plastic and is BPA-free.  You can't even buy 100 gallons of water for less than $35!  It takes no room to store it until you need it, so we'd all be silly not to have one on hand.  And if the thought of drinking water out of plastic, even though it is food-grade plastic, concerns you, then running through a gravity fed purifier will clean out anything questionable.
Although some states are getting stickier about this (because apparently they own the rainwater), you could look into rainwater storage containers.  Or into 50 gallon (or larger) water storage containers.
2.  Food
As with most emergencies, we have no idea how long power might be out, how many people will be affected, and how many towns will be involved. The best way to keep your family prepared for natural disasters (or whatever) is to make sure you are well stocked. The internet is filled with suggestions on the best way to stock an emergency pantry, so I'll just touch on a few ideas here:
Canned goods can be a lifesaver.  (I'm talking metal cans here, not items you canned yourself. More on that in a minute).  One of the biggest mistakes people make when prepping for an emergency is going to the store and buying 43 cans of green beans because they are on sale, and they don't even like green beans. This is no way to prep.  While it's true that if you were truly hungry, you'd probably eat anything, buying cans of food you don't like is not economical.  Emergency food storage is no different than any other food you buy for everyday life.  At some point your canned goods have to be rotated out and eaten, and then replenished with newer cans.  If you buy something you hate, then in a year when it comes time to eat that can of stuff, you'll end up tossing it because you hate green beans.  Buy foods you like now.  Having an emergency food storage is not only about eating through a hurricane, but for some it can mean having a stockpile to fall back on because of job loss or drop in income.  Trust me, you want to be stockpiled with foods that you find tasty.
If you are a canner, then you have it made.  Although a metal can of food is certainly better than nothing in an emergency, having items you've canned yourself is truly a nourishing blessing.  Just make sure you have more than vegetables on hand; you'll also need things that will be rib-sticking and keep you full for hours.
I'm not a canner (at least not yet), so I'm slowly building my stockpile, but here are some suggestions I've read online: cans of pre-soaked beans, Einkorn pasta (high in protein and easier to digest) jarred organic pasta sauce, canned salmon, sardines,  organic dried fruits, nuts (make sure they are soaked and dried. This is no time to let those anti-nutrients rob you of any much needed vitamins and minerals), organic nut butter (same goes for the nut butter as with the nuts; make sure it's made with nuts that have been soaked), power bars,  raw honey (local to where you live is best, but if that's not an option, then the choices at that honey link are good) coconut oil, apple cider vinegar (so many uses for both the inside and outside of your body — get that whole list of uses by signing up here),  black strap molasses (a spoonful of molasses is a great way to get a plethora of vitamins and minerals), dried beans and rice.  Remember: think filling, nutritious and somewhat tasty.  (Here's a post about the pre-soaked beans we love.)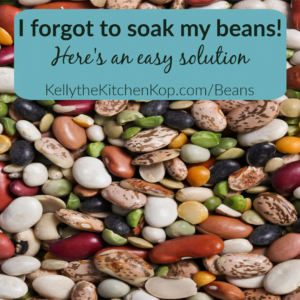 These grass-fed meat sticks are shelf-stable and have no gross ingredients. (FYI:  "Our 100% Grass Fed Beef Sticks are shelf-stable at room temperature for between 4 month to 6 months. They do not need to be refrigerated but will last even longer if you keep them refrigerated.")
Consider buying pre-packaged MREs (Meals Ready to Eat).  Life is busy, and not everyone has time to can up or package a bunch of food. Granted MREs won't be as healthy as items you canned or prepared yourself, but if you can supplement it with other things you have on hand, MREs can really be a blessing.  I like this brand because its GMO-Free and Gluten-Free.
Remember to always have extra food on hand for your furry friends.  Even if you typically feed your pets a raw diet, having a few cans or a bag of the best food you can find will keep you from having to share your own stash with them.  Although I know you would if you had to! 🙂
If you have a BBQ, then make sure you always have plenty of propane tanks filled and ready.  It's suggested having 2 or 3 on hand is ideal.  If the electricity is out, your BBQ will be your new best friend helping you heat water for pasta, water for coffee, and heating up your canned goodies.  Do research online and see the best ways to cook for the environment you're in.  Getting to your BBQ may be difficult if there's 10 feet of snow out your door, so perhaps something like a portable butane stove will fit your needs. And remember, be mindful of what pots and pans you'll be using.  Now might be a good time to add some cast iron to use specifically for the situations mentioned above.
3.  Medicines and Supplements
Most insurance companies will only allow you to get your prescriptions filled in 30 day increments. I know some offer more days than that, but my point is, what if a storm comes on day 25 and you haven't refilled yet?  What if you have no way to get more in the middle of the chaos?  If your life depends on your medication, then perhaps your doctor will write you an extra prescription for extra pills.  Your insurance may not pay for the extras, but imagine the peace of mind you'll have knowing you'll have plenty of medicine on hand until you can get further help.  You should also learn what natural items may help you in a situation where your medications won't be available, and stock up on those.  I realize there are some ailments this suggestion won't work for, but it may be a good option for those without life threatening situations.  (Here's Kelly's list of natural remedies.)
Make sure you always have plenty of your favorite supplements on hand.  Even though the situation you're in may not be catastrophic, and power may be on soon, it is no less stressful on you and your body.  Make sure you have your magnesium to keep you calm, your Vitamin C to keep you strong and your B vitamins and CLO to assist your stressed out mind.  Also your probiotics to keep your gut healthy.
First aid kit.  I like to have a pre-packaged kit as well as having an empty container (like this) that includes hydrogen peroxide, alcohol prep pads, neosporin, calamine lotion, Benadryl, plenty of different size bandages and gauze, cloth tape, scissors, tweezers, pain relievers and instant cold packs.  Don't forget a couple of ACE bandages, as well, for sprains or serious injuries.
Arnica is something we should all have on hand for injuries, bruising and sprains.  Also Aconite for those experiencing shock, and let's face it, most people living through a catostrophic event are experiencing some level of shock or another.   If you are new to homeopathy, check out all of Kelly's homeopathy posts here.
Essential oils. This kit is the perfect place to start if you're new to essential oils; it not only carries basic oils we should all keep on hand, but synergistic blends that fight germs and soothe jittery nerves.  This book on the use of essential oils during a crisis seems like something we should also have in our first aid kit.
4.  More Items to Consider to be Prepared for Natural Disasters:
Now that everyone's tummies are full, with no electricity, days will seem long.  Especially to kids who are addicted to their electronic toys.  Make sure you have games, coloring books, crayons, puzzles, and other things to help kids (of all ages) pass the time.  If you can get outside then frisbees and other outdoor activity games would be great, too.
Flashlights. One for everybody in the house.  Make sure you have extra batteries on hand.  If your house is anything like mine, you have plenty of flashlights, but they are all dead. Having enough batteries on hand is an absolute necessity.
Having a headlamp can be super handy.  If your main source of heat is firewood, then having a headlamp will allow you to gather wood, make repairs, or do a variety of other things hands-free.
Always keep tarps of various sizes on hand.  These are staples for preppers because they can be used for so many things: as tents, to cover leaky roofs, or to catch rain if you are low on water supplies.
A hand-cranked radio will save your batteries for other things, yet allow you to get updates in your area. This one is a radio, flashlight and smart phone charger that can be hand-cranked or solar charged.  (Note from Kelly:  I also got this solar cell phone charger.)
Always keep bathroom supplies well stocked.  Don't buy toilet paper in 6 packs, buy them in 24. Don't buy one pack of sanitary napkins, buy 2 or 3.  Same with diapers and wipes.  Think of prepping like preparing for a vacation: what would you hate to be without if you couldn't get to a store?
As we've seen in past catastophies, looting happens.  Do you have means to protect your family and home?  Although firearms can be a touchy subject to venture into, I just want to make a simple suggestion to do research on the best way to protect yourself in the manner you deem best.  If you already are a gun owner, make sure to keep plenty of ammo on hand.  Some preppers stock it in large quantities to use as a bartering tool should times become difficult enough to warrant it.
Giving to charity is a wonderful thing, but don't give away every single blanket or jacket.  If an emergency happens during colder weather, those old coats and blankets will be a huge help.
Keep younger kids calm by staying calm yourself.  Kids know when we're upset, so try and make the situation fun.  Tell them you will be camping in the family room in front of the fireplace.  They'll think it's the greatest thing ever without realizing you are utilizing body heat to keep everyone warm.  Tell stories, roast marshmallows, have a light show with your flashlights.
Always keep some cash on hand (smaller bills are best).  If electricity goes out for the entire town, using a credit or debit card will be impossible, and forget stopping by the ATM.  Access to cash at home may mean you can buy some extra firewood from a neighbor (therefore helping him out because he has no cash on-hand), or other supplies you may need in a pinch.
Get gas!  If the weatherman has told you something big is coming and it's going to be bad, then fill up all your cars now….even if you plan to stay put through the storm.  As we learned with our recent hurricanes, gas stations run out of gas in emergency situations, so filling up before the chaos guarantees two things: should you be evacuated, you'll have plenty of gas to get out, and even if you aren't evacuated, you'll have plenty of gas once the storm passes while the rest of the town is completely dry.
Do laundry before the storm hits.  Yes, seriously.  I realize it's the last thing you'll want to do, but you'll have plenty of time to do it because you will be so well prepared for everything else after reading these suggestions!  If you end up losing power for several days, you'll be glad there is plenty of fresh socks and undies for everyone.
Last, but certainly not least, take pictures.  No, not selfies!  Take pictures of your home….inside and out.  Even though insurance companies suggest we do this before an emergency actually happens, let's face it: most of us haven't.  Take pictures of your valuables, expensive equipment and anything else of value, and email them to at least two family members.  Don't rely on your phone alone to store them, just in case something happens to your phone.
Bug Out Bags (BOB)
Again, when you think of a Bug Out Bag, you may envision some guy in fatigues, living in the forest, cooking bugs over the fire he lit with his magnifying glass, while trying to hide himself from zombies.  And while there are some people who will use a BOB for that, a BOB can also just be a bag with the things you'll need to stay comfortably in a shelter or evacuation center.  Not every BOB has to be made for survival in the forest.  Think of it as the first thing you'll grab should you be forced to evacuate; and the thing that will bring you peace-of-mind knowing all your important paperwork is with you in one safe place.
Recently, on one prepper site, I saw someone ask where to get a good BOB.  Unless you've decided to prep like the guy in the forest I just mentioned (and if you do, here's a very thorough list of what to pack), there is no need to buy a particular bag.  One of your kid's old backpacks, a small duffle, or the free tote you got with that makeup purchase will do.
My husband and I keep our paperwork together in a water resistant plastic bag in our safe where we can grab it quickly and know everything is there we will need.  Prepper sites often recommend having your passports, homeowners insurance info, mortgage info (and numbers to contact those places), vaccine records, copy of will/trust, pet info and their vax records, and any other documents you'll need to have to show who you are, what you own, and who belongs to whom.  ***Another important idea:  have an index card (laminated?) in your purse and in the car with contact numbers for family members or close friends to call in case your cell phone isn't working and you may not remember them!  Maybe also print out your passwords for important websites?
My husband and I each have our own BOB because let's face it: men and women think differently. His is all about survival; it's loaded with tools, a tarp, flashlights, duct tape, etc.  Mine is all about nurturing ourselves with first aid items, hand sanitizing wipes, snacks, water, etc.  We also keep a large storage bin full of camping-type supplies should we need to leave our property quickly.
I've also read where some families take the entire clan out to buy stuff for their own BOB.  One mom took the kids to the dollar store and let them pick out coloring books, crayons, pens, games, etc., to their own taste, and then let them pack their own BOB.
Things to consider for your BOB:  Portable water filtration straw, water, snacks, extra clothing (think layers), rain poncho, flashlight, batteries, small hand tools/knives, working gloves, small first aid kit, toilet paper, etc.  Again, the needs of a BOB may vary from situation to situation.  If you are bugging out to hide, then you'll need camping gear-type equipment.  If you are bugging out to a community shelter, then having blow-up bath pillows and the kids' favorite blankets may be a good idea to get comfy on a cot or floor.
A good prepper also always has a BOB and/or supplies in their car for a variety of situations.  Does it snow where you live?  Then flashlights and blankets would be wise to always have with you. Power bars, pre-wrapped (healthy) snacks, tools, an umbrella.  Think back on your scouting days and pack things that would be appropriate for your weather conditions.
This list, while long, truly just scratches the surface.  I highly recommend you do a search online and dig deeper for further information on how to be prepared for natural disasters, and about prepping your home and tips to pack a well-equipped BOB.
A couple hours of prep and knowledge now may save you a lot of grief later.
Some of you may need tips on staying safe in the Minnesota snow, while others may need tips on surviving the Arizona heat.  Some may want to only prepare for a natural disaster or event, and some of you may want to prep for an economic collapse, or (sad we have to think of this now), a terrorist attack wherever you might be.
Start researching all sorts of prepping sites and don't shy away from the ones hosted by people who have prepped for an apocalypse, or any other thing you think is silly. Even if you don't agree with their stance on how the world will end, they can be a valuable source of all types of information that will help get you prepared; even if only for the year's biggest snow storm.
Consider making a binder that contains all of the info you've gathered on what you need to know to be prepared for natural disasters, printed out in hard copy.  
While the internet is the greatest resource ever, all those pages you marked as favorites won't do you a darn bit of good if there is no electricity.  If an article on building your own stove intrigues you, or guidelines on assisting someone with a sprain seems helpful, then print it out and put it into your emergency info binder.  Also, when buying books to help you prepare for an emergency, buy the physical book, not an ebook.  How frustrating would it be to have an emergency situation and realize the extremely relevant information you need is located on a device you can no longer access?  Some info is just better to have in physical form.
Being a prepper doesn't necessarily mean you think the zombie apocalypse is around the corner!  It means that should any event happen that shuts down your community, you will be prepared to keep your family fed, hydrated, and safe.  Now get going!!
Books You May Find Helpful to learn more about how to be prepared for natural disasters (or for whatever):
Wow Susan, thank you for all of those great tips and ideas on how to be prepared for natural disasters or whatever scary event may come our way. I will probably start stocking up now and keep adding more to my stash a little at a time, since there is a LOT here!  
More you might like: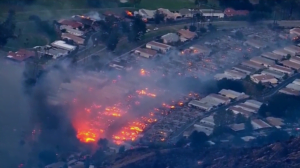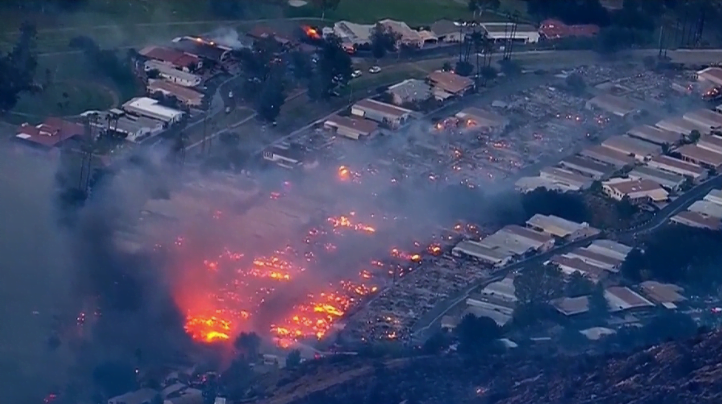 About Susan:  I live in Fallbrook, CA (Avocado Capital of the World!) with my handyman husband and our 2 dogs.  I am the mother of one, but a mom to many.  I love that my daughter's friends come to me for advice, support, love and laughs.  And when they do, I always try to feed them something nutritious or get some cod liver oil in them!  Nothing makes me happier than when any of the kids I've preached to call me from the grocery store wanting to know which choice is better or what a certain ingredient is!  I've worked as a medical assistant, an interior designer, and most recently, as a freelance writer for a local paper.  I've also guided and mentored students through their college application essays. I love learning and reading about all things real food, nutrition, and natural healing, so it is a real blessing and treat to help Kelly around the Kitchen Kop site.