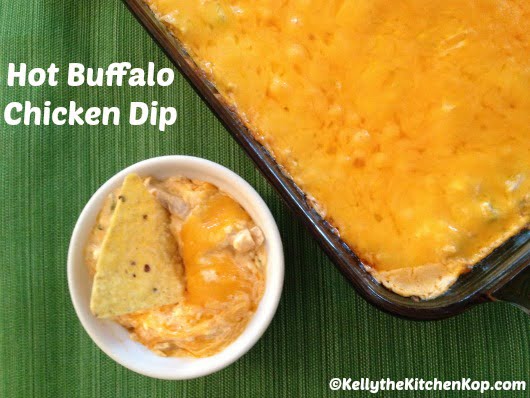 I'm on this big buffalo chicken kick lately.  I'm not big on chicken wings (too much work for very little meat), but love the flavors and the spicy bite.  This is easier and so good!
I've also made several batches of this at once in the past, for those busy months when you need to take a dish to pass to a lot of different places.  Just make it ahead and throw the extra pans into the freezer until you need them.  A special thanks to my sister-in-law, Leigh, for this recipe!
(If you do like chicken wings, check out my nephew's chicken wings recipe.)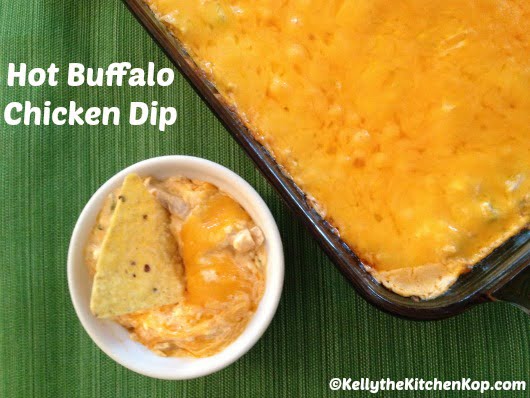 Print
Hot Buffalo Chicken Dip
Yield 9 x 13 baking dish
Serve with crackers, pita chips, nacho chips, celery sticks, or on its own. It's that yummy!
**PARTY TIP***  Take it in a small crock pot so it stays warm.  🙂
Ingredients
2 large chicken breasts, cooked and shredded (If you don't have a local source, get safe, pastured chicken online here.)
3/4 cup celery, chopped
1/2 onion, chopped
3 Tablespoons pastured butter or ghee
16 ounces cream cheese, softened
1 cup ranch dressing (Try my homemade ranch dressing – it's easy!)
1/2 cup – 1.5 cup of your favorite hot sauce , taste-test before adding all of it to make sure it's not too spicy for you.  Some use Franks, but I love a Sriracha sauce I found that has a pretty good ingredient label.
1 cup cheddar cheese, shredded
optional:  bacon chopped into small pieces!
Instructions
Sauté onion and celery in butter 'til they're a little softer but still crunchy.  Mix cream cheese, ranch dressing, and hot sauce together until creamy -- I use a hand-held blender.  Then stir everything together, pour into a 9×13 glass baking dish and top with cheese. Bake until hot.
Did you make a real food recipe?
I want to see it! Tag @KitchenKop on Instagram and hashtag it #KitchenKopRecipes OR share anything you know I'll love by tagging @KitchenKop and hashtag #KitchenKop -- see you over there!
Click here to see all of my appetizer recipes.