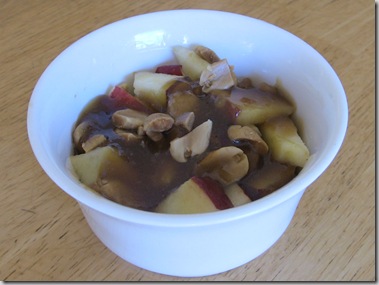 It's time to get this post up before all the local apples are gone!  Do you love caramel apples this time of year?  Me too, but I rarely eat them because of the mess.  I came up with something today completely by accident and it was crazy delicious.
Skip down to the recipe if you'd rather not read my rambling about the disaster in my kitchen today…
It all started because I was taking dinner to a neighbor who has been ill and I wanted a nice fall-ish fruit dish to go with the beef stroganoff.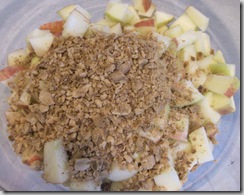 My sisters make a delicious "Caramel Apple Salad" (which is actually more of a dessert), and I decided to play with the recipe some and see if I could make it without the butterscotch pudding mix, Cool Whip, and marshmallows.  So I whipped some real cream and made a yummy caramel sauce to mix with it (see below).  It did have a really good flavor, but as I mixed it together, I watched it curdle before my eyes into a disgusting blob, all over my crispy peanuts and my nice, local apples from the farm market.
Maybe I whipped the cream too long, which I've done before…  So I gave it another go.
Crappy Carumba!
It flopped again.  That's TWO batches of ingredients wasted. I decided to bag that idea, but in the process I found something better, although solidly in the dessert category (so don't make this a lot – too much sugar).
Print
NO MESS Homemade Caramel Apples
Ingredients
1/2 cup (1 stick) of butter
1  1/2 cups sugar, preferably a natural sugar
1/2 cup cream (whipping cream, NOT ultra-pasteurized)
Optional:  1 teaspoon sea salt for a salty caramel taste
Apples, about 1/2-1 per person, chopped
Instructions
Melt butter in saucepan over medium heat.  Add sugar and cream  (add salt at this point if you want a salty caramel taste).  Stir until sugar dissolves and it starts to bubble, thicken and a brown a little.  Then assemble in this order:
Chop apples into a serving bowl (preferably local & organic)
Sprinkle chopped crispy nuts over the apples
Spoon homemade caramel on top
Add a dollop of real whipped cream, if desired
Did you make a real food recipe?
I want to see it! Tag @KitchenKop on Instagram and hashtag it #KitchenKopRecipes OR share anything you know I'll love by tagging @KitchenKop and hashtag #KitchenKop -- see you over there!
Enjoy!  By the way, this doesn't make a lot, but it's very sweet so each person only needs a little bit.  Let me know what you think. 🙂