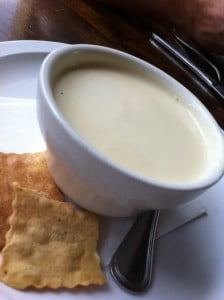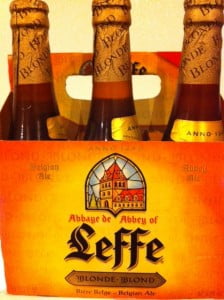 Well I just spent hours in the kitchen working on my latest Friday Food Flop, a smoked Gouda blonde ale soup.  Yes, I was doing a few (thousand) other things, too, but most of that time I was messing around with this dumb recipe.
It started with our Colorado Springs trip last month when we went to a brewery and had an amazing Blonde ale smoked Gouda soup.  I said what I always say to myself when I try something yummy, "I could make that…"
WRONG.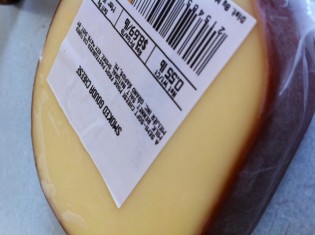 I started out with a basic white sauce like the one in this 'ketchup soup' recipe, and then added the only "blonde ale" I could find at the store, along with the only "smoked Gouda" I could find there.  I was almost done and started taste-testing like I always do and it had this nasty bitter bite to it, it was no where near as dreamy as the soup in Colorado Springs.  It wasn't even OK in my opinion but Kent said it wasn't bad.  I tried adding a little palm or coconut sugar, and that helped a little, and then I tried adding a little Parmesan, thinking that maybe the gouda was just too strong for me.  Nope, it was still icky.  Of course Kent had two helpings since he's such a great guy, and maybe because he loves anything that has beer in it, but I knew the kids weren't going to go for it and I was right.
Kent thinks maybe it was the blonde ale ("because it was a Belgian beer"), but I'm pretty sure it was just a matter of the quality of Gouda cheese.  I'm guessing that some have a sharp bite to them and others, like the one we had in Colorado, have a nice smooth flavor.  My first tip-off
should've been when it said on the front that it was a "processed" cheese, but I thought that was just because it was smoked.  It wouldn't irritate me quite so much if I hadn't spent so long working on this stupid recipe and if I hadn't dropped so much cash on all the ingredients, too.
At right is a picture of the soup we loved in Colorado.
Oh well.  Anyone out there have a good recipe for beer cheese soup?  Or maybe you have your own recent food flop to share so I'm not feeling like the only loser in the kitchen right now?!