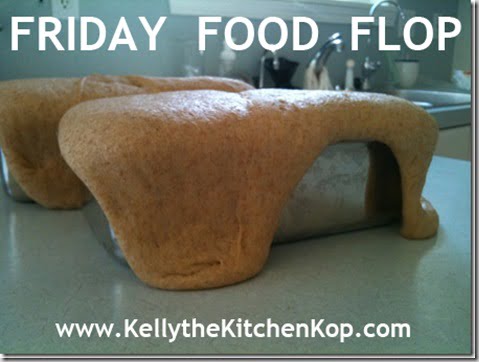 I have another doozie to share with you this week…
Here's my Friday Food Flop for today:
This one isn't actually a food flop, but more just a kitchen flop.  Years ago when I started hanging my homemade yogurt to drain out the whey and use the cheese in recipes, I went to the store for cheesecloth.  The gal showed me where to go and I quickly found what I wanted and was on my way.  These worked fine for years.
Then one day a couple weeks ago we had extra raw milk, so I added some yogurt from a previous batch and gave it to Sonia so she could make some cheese, too.  She couldn't find her cheesecloth so I brought her one of mine.  She looked at it and asked, "Is that cheesecloth?"  I said, "Yeah, why?"  A couple days later she found hers and showed me.  So I found out that apparently I've been straining my cheese for years with a dishcloth.
Here's how they look…
Straining yogurt with a dish cloth: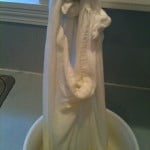 Straining yogurt with a cheesecloth, it's got bigger holes so more whey will drain out:
This just shows how far some of us are from the traditional food lifestyle (myself included), since we didn't grow up knowing any of this stuff!
I wrote all of the above before my cheese finished draining, and now that it's done, I might just like the dishcloth better.  The whey is more clear with a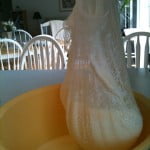 dishcloth (not that it really matters), and it's much less messy to deal with because it's thicker and not so flippy floppy all over the place when I'm pouring the yogurt in or taking the cheese out.  The cheesecloth is just so much like a thin gauze that it almost feels like it's a one-time-use disposable cloth.  I'll see how it washes.
I'm assuming cheesecloth is what all of you use, right?  Maybe my kitchen flop wasn't really a kitchen flop all these years after all?!
Now be sure to share YOUR flops with us!