I'm going to tell you all about the food in Southern California!
For more pictures and scoop about my trip to L.A., check out Ann Marie's new post today, too. (I wasn't thrilled with her choice of post title!)
Do you have a picky palate?
I came to L.A. to see my friend Ann Marie this week and she's on a mission to mature my palate, but I'm not usually willing to try new foods that have already been filed into the "yuck" category in my brain. However, how often do I come all the way to California? Wait 'til you hear what a big girl I was!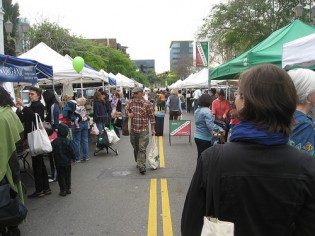 She couldn't believe I'd never tried oysters, so after my delayed flight we raced over to Hollywood before the farm market closed. All around me were raw oyster lovers going ga-ga over what looked to me like a shell with dark spots and slime inside. I still wanted to do it. First I got detailed instructions from Ann Marie: slurp them into your mouth, don't chew, savor the flavor for a bit, and swallow. When she squeezed fresh lemon and some yummy cocktail sauce on it I got more courage. I tipped it back…and nothing came out. She had to scoop it out for me like she does for her two year old.
Then I did it. I really did it!
If I didn't think about the slimy insides, I really liked the salty, fresh flavor. I'm actually looking forward to trying more when we go to the Santa Monica farm market on Wednesday before I leave. I love knowing how good it is for me (lots of minerals, omega-3's, vitamins A, D & B12!), and I didn't hate it, yippee!
It was fun talking to Jack, the sourdough guy. He's got flyers and signs all around his booth with information to teach his customers why his sourdough bread is so good for us. He's very passionate about his healthy bread – my kind of guy!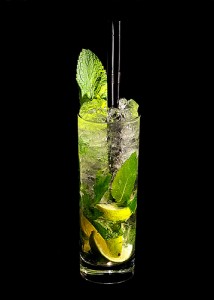 For dinner we went to one of Ann Marie's favorite LA restaurants, Grace. Beforehand I gave her a good laugh when I told her that my favorite wine (OK, the only wine I drink) is a cheap table wine that I get for $10 in a gallon jug. So she got wine, and guess what I got instead? I ordered the best mojito I've ever had! They add thyme along with the mint and oh my they were good.
She insisted that I'd love their foie gras.
But I'm just a small-town Michigan girl, and didn't know what that even was, or how to pronounce it! When I learned that it's duck liver, my mind scrambled for reasons why I shouldn't try it. But since I tried the oysters, I had to try this, too.
Guess what? It was really delicious with NO liver flavor at all! It was tender, with a great flavor seared in along with a little seared pineapple served on the side.
Our other appetizer? Raw fish: Sashimi.
When I blocked it out of my brain that it was raw, I loved the mild, tender fish with a light flavorful sweet and sour sauce.
Our main dish was phenomenal, although it sounded odd to my uncultured palate: wild boar tenderloin over roasted brussel sprouts, on a bed of potato spaetzle, with a mustard reduction sauce. You wouldn't believe how good this was. I wish I had a picture to show you.
For dessert I had sticky toffee "pudding", which apparently means a toffee dessert, because there was no pudding. It was a chocolate cake, crispy on the outside, warm and soft on the inside, served with a scoop of some divine toffee ice cream.
Life is good. I miss Kent & the kids, but we're having a blast!
(It's funny reading this post many years later, I love all of this stuff now and I've "grown up" in the wine department too!)
No more about food, now I'll just show you some neat pictures of our trip to Malibu the next day. Here was the gorgeous view along the Pacific Coast Highway: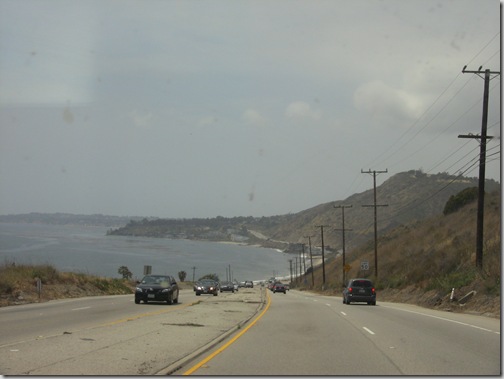 Check out this neat place we went to: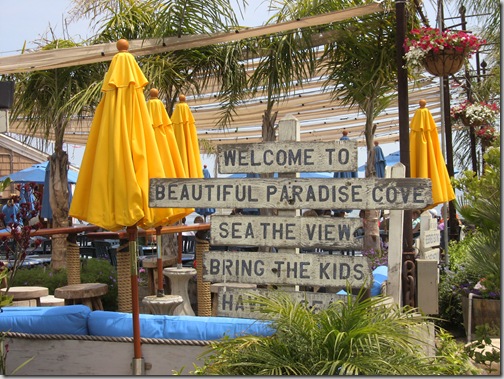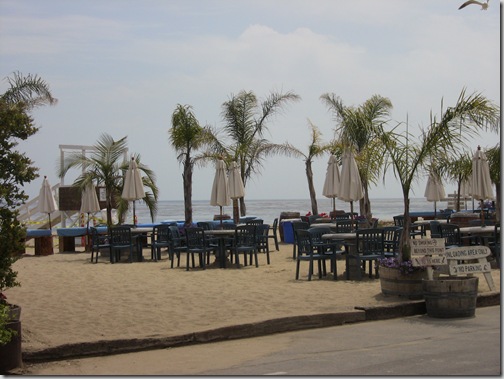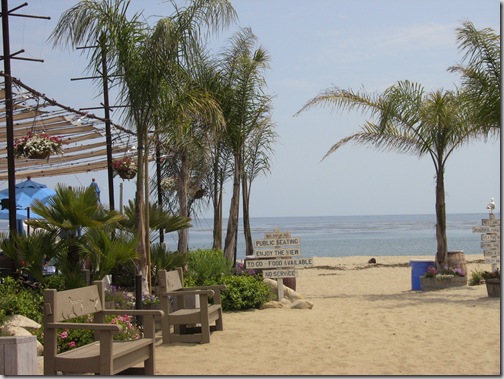 Here's a picture of how we both like to relax, believe it or not… sitting on the beach, reading our latest issues of Wise Traditions, gathering more post ideas!  🙂