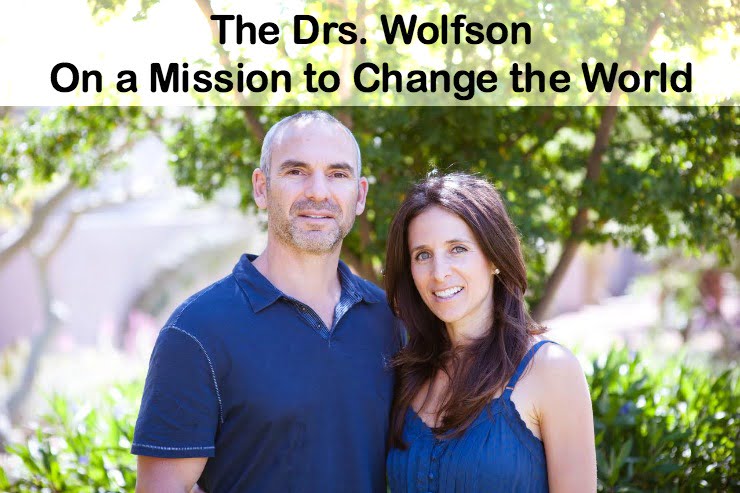 The Drs. Wolfson: On a Mission to Change the World
By Jill Boman
My husband and I first heard of holistic cardiologist, Dr. Jack Wolfson, when he boldly spoke out against the media's Disneyland measles hysteria-fest back in January of 2015. We were instant fans.
But his bravery nearly cost him his medical license.
The Arizona Board of Osteopathic Examiners received 38 formal complaints from the public who opened fire against Jack for daring to speak the truth (absurd, isn't it?), launching him into the public spotlight: a villain in the eyes of the mainstream medical community, but a hero to those of us who have dug below the surface on issues of vaccine safety and effectiveness and the history of disease.  The Wolfsons ended up having to hire a First Amendment lawyer and fortunately, the medical board dismissed the case against him, concluding (very reasonably) that expressing his opinion is not only his right, but that it bears no threat to his patients.
Kelly was as wowed as we were and shared his brilliant response to all the hate mail he received for calling out the measles hysterics and the dangers of vaccines on their local news station, NBC Phoenix. His response went viral, which quickly landed him on CNN where he held his own like a boss despite being thrown to the dogs.
Recently Dr. Jack Wolfson and his wife, Chiropractor, Dr. Heather Wolfson, spoke at The Truth About Cancer Live Symposium in Dallas, and also at a chiropractic conference hosted by Parker University, where my husband is currently enrolled as a chiropractic student.
You can imagine my excitement when my "connections" allowed me the chance to hear them speak in person!
We knew Jack was a revolutionary, but Heather is every bit as much of a force to be reckoned with. This dynamic duo is on a mission to change the world and I can tell you they absolutely captivated that lecture hall full of students who are surely more awake now to the incredible healing power of a real food, Paleo diet and natural lifestyle, combined with chiropractic care. They also got a better idea of the limitations and often dire misguidance of the conventional medical system.
Honestly I think some of the students were blown away. 
My husband and I are "older" and have seen first hand the underbelly of the healthcare system and the desperate need for more effective, natural alternatives for preventive care and healing chronic diseases. But most of the students in attendance were closer to our kids' ages and hearing some of these concepts for the first time. My husband worked as an occupational therapist and healthcare administrator for 23 years before flu vaccine mandates drove him out of the industry and into chiropractic school for a career change, but that's another story.
If you ever have an opportunity to hear this power couple in person, don't miss it!
In the meantime, here are some highlights from my notes taken of their talk, which they carried out tag team style, alternating between each other. (All images except my grainy iPhone photos were generously shared by the Wolfsons):
Jack:

  
The United States ranks #45 in the world for life expectancy, even with our advanced medical technology and millions of medical procedures.
We are the #1 consumer of pharmaceuticals, and not surprisingly, spend more on healthcare than any other country.
Clearly our current approach to health isn't working.
While Dr. (Jack) Wolfson recognizes the value of emergency trauma care and the necessity of some surgeries, he told the students that most procedures are preventable and unnecessary. He believes that we don't need to inject toxic chemicals to boost immunity and that in a perfect world a chiropractor would work in all emergency rooms to provide a first line of treatment for most patients. An example he gave of how chiropractic could benefit emergency care is that the majority of the emergency room visits for chest pain are actually due to musculoskeletal issues, for which chiropractic adjustments usually provide instant relief.
The real cause of heart disease, according to Dr. Wolfson, is poor nutrition and environmental toxins, neither of which are addressed (at least not accurately) by conventional cardiology. Of course, true to his renegade style, his definition of good nutrition stands in stark contrast to that of the American Heart Association.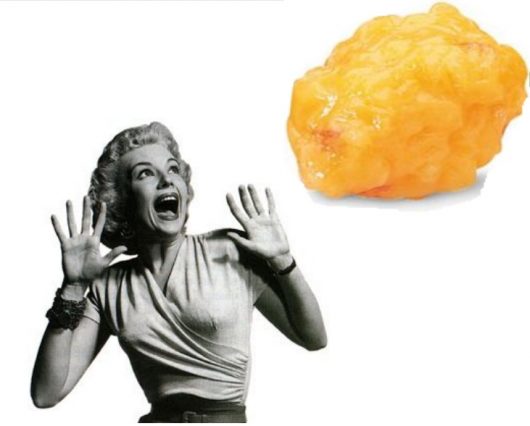 "Cholesterol is King"
Cholesterol makes up a major structural component of every cell membrane.
It is required for the production of bile, used to digest dietary fats.
The more cholesterol in your brain, the lower the risk for dementia, depression, and other neurological diseases (from The Paleo Cardiologist).
The body uses cholesterol to manufacturer all steroid hormones: estrogen, testosterone, progesterone, cortisol, aldosterone, etc. Fatigued, depressed, hormonally imbalanced (PMS, fertility issues, hot flashes), or concerned about low testosterone or libido? Then you'd better love your cholesterol.
The sun converts cholesterol into vitamin D.
Low vitamin D —> higher risk of cancer, multiple sclerosis and other autoimmune diseases, heart disease, stroke, osteoporosis, high blood pressure, diabetes, dementia and Alzheimers. You name it, and low vitamin D is linked.
Higher vitamin D —> longer telomeres (part of a chromosome), which is associated with longer life
Vitamin D receptors are found everywhere in the body: heart, immune system, reproductive system, liver, kidneys, lungs, G.I. tract, brain, endocrine glands, neuromuscular system, and connective tissues. It's needed everywhere.
Statin drugs not only cause vitamin D deficiency by artificially lowering cholesterol (required to make vitamin D), but they lead to osteoporosis as well.
People who live at higher latitudes (further away from the sun) tend to have higher cholesterol, whereas people who live closer to the equator tend to have lower cholesterol and lower risk of cardiac death. Jack recommends daily sun exposure (without sunscreen). As far as cholesterol levels go, keep in mind the all-cause mortality rate is the same for people with cholesterol levels between 150-250, so defining "high cholesterol" (and "good" and "bad" cholesterol) is a whole other topic you can read more about in Dr. Wolfson's book.
There is no evidence that dietary saturated fat and cholesterol cause heart disease or stroke.
Heather:
The Wolfsons strongly endorse eating a Paleo diet. Their Amazon best-selling book, The Paleo Cardiologist, goes into detail on how living a non-toxic, healthy lifestyle and eating a clean Paleo diet prevents heart disease (among other things). But that means more than just avoiding grains, dairy, legumes, and processed food. Heather talked about practicing "responsible paleo", which means carefully sourcing Paleo food categories: meats/poultry/wild seafood/eggs, vegetables, healthy traditional fats, nuts and seeds, fruits.
Responsibly sourced animal foods only come from animals raised on pasture, never from CAFOs (concentrated animal feeding operations, AKA factory farms). Eating sick animals will not only make us sick, it's inhumane because it supports an unethical system that mistreats both animals and the planet. As a matter of fact, if Heather couldn't access responsibly sourced animal foods she says she wouldn't eat them at all.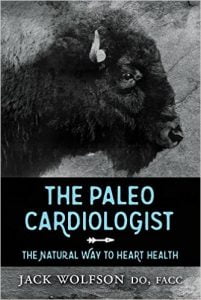 Look for meats, poultry, and eggs that are:
Organic (Heather actually prefers to support farmers that farm responsibly but are not USDA Certified Organic because she would rather not support the corrupt USDA!)
According to Heather, organic food should just be called "food" and everything else should be called "toxic food". She'd like to see everyone's front and back yards growing food and edible flowers.
The Drs. Wolfson Paleo Food Pyramid
Compare their Paleo food pyramid pictured here with the commodity grain-based pyramid and the newer My Plate of the USDA. Besides the obvious differences in what makes up the pyramid and the recommended proportions, the Wolfsons emphasize the issue of sourcing. There is a world of difference between a factory farmed chicken (or pig or other meat animal) that's been fed genetically modified, Roundup sprayed corn and soy in a crowded, filthy warehouse and never seen the light of day and a healthy chicken that lived its days in the open on pasture, enjoying a natural diet of bugs, weeds, and grasses. Happy, healthy chickens produce the best, most nutritious and delicious eggs too.  Heather and Jack also raised backyard chickens.
While the Wolfsons are committed to a Paleo diet, they do occasionally consume dairy from grass-fed cows, but ONLY from dairies that do not separate mama cows from their calves. I thought that was an interesting and very thoughtful consideration. Heather pointed out the fact that in the wild, anyone foolish enough to attempt separating a nursing baby from a mother animal would get violently attacked and even killed.
Natural Parenting
The Wolfsons approach parenting very naturally: drug-free home births, very clean Paleo diet, co-sleeping, and vaccine and pharmaceutical-free kids (their kids have never taken a drug of any kind because, as Heather said, they don't need it).
Heather is also a strong proponent of breastfeeding. She is currently still breastfeeding her 4 1/2 year old son and has a lot to say about breastfeeding in public. She wants to set a good example and help to normalize breastfeeding so she says she just "whips it out" and feeds her son in public without covering up, even if people stare. Living in Arizona, she pointed out that no one would want to eat with a blanket over their head! When she sees other mothers breastfeeding in public she always praises them, but if they're covering up she'll tell them to "drop the cover". (Don't you just love her?)  She also mentioned that breastfeeding reduces the risk of breast cancer in both the mother and child, and longer breastfeeding duration reduces risk of midlife cardiac disease (for the breastfeeding mother).
Heather has a dream of opening an organic eco-school that welcomes unvaccinated children with open arms. She actually kept her own kids home at the beginning of the school year to avoid exposure to vaccine strain viral shedding from all the freshly vaccinated kids. She values the health benefits (such as cancer protection) of wild strain used-to-be-common, benign childhood infections like measles, mumps, rubella, and chickenpox, but steers clear of the vaccine strains.
Her eco-school will be chemical-free, a pesticide and herbicide-free campus, no fluorescent lights, microwaves, or wifi, and all the water will be filtered of fluoride and other toxins. The children will participate in growing their own organic food in school gardens—99% of the plants grown on campus will be edible. Students will raise chickens and collect their own eggs and most of their time will be spent outdoors. How many parents dream of sending their children to such a wonderful and healthy school?
Jack:
Beware of coffee: Not necessarily because of the caffeine, but because it's the 3rd most heavily pesticide sprayed crop per acre in the world, after cotton and tobacco. Organic coffee actually has some health benefits though, as long as you're not a slow caffeine metabolizer. CYP1A2 is a liver enzyme necessary for metabolizing caffeine and if you're a slow metabolizer (with a "slow" genetic variation of CYP1A2), you have an increased risk of heart attack with heavy coffee consumption: 4 cups per day = 400% increased risk of heart attack for slow caffeine metabolizers. Chances are you would easily feel "caffeinated" with coffee consumption if you fit in that category, but genetic testing can tell you for sure.
Leaky Gut:  Whether you follow a Paleo diet or not, consider this—all of Jack's patients get lab tested for leaky gut and 50% of them end up testing positive! Similarly, all of his patients also get tested for gluten antibodies and 60-70% of them test positive. That is a HUGE percentage of people who are sensitive to gluten. Of course at least some of that links back to leaky gut, which permits particles of incompletely digested food to enter the bloodstream, to which Jack says the immune system responds with, "Who the ____ are you?"  You can click here to watch an interview he did recently on the link between leaky gut and heart disease.
Air purifiers:  Air purifier use is linked with lower blood pressure! If we clean the air in our home and ideally work in an environment with clean air, it dramatically reduces the toxic exposures that create inflammation in our blood vessels and in our bodies. Likewise they strongly recommend filtering drinking water — see my post here:  Best water filter on a budget.
Sunshine: Sunshine reaches UV receptors in the back of the eye that links to DHA, the highest concentration of which is in our retina. Vegans have VERY low EPA and DHA in their cells because they are not getting it from their diet (DHA is only obtained from animal sources—it's especially high in seafood). The closest vegan form of EPA and DHA is ALA (alpha-linoleic acid, an omega 3 found in plants like flaxseed), but our bodies are not very efficient at converting it into DHA.
Of course sunshine is needed by our bodies to make vitamin D out of cholesterol, as discussed above.
More quotes, concepts, and stories from the Wolfsons: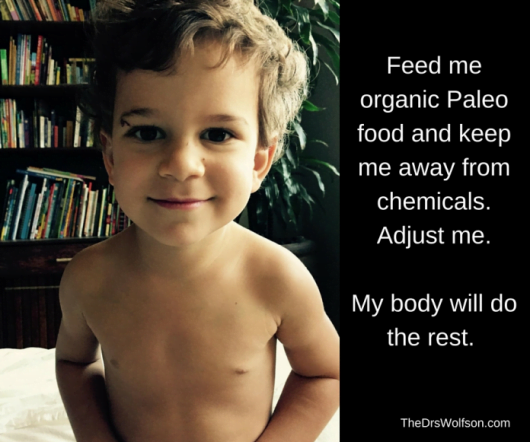 Poor nutrition + chemicals = dis-ease
Our body is a pharmacy that produces everything it needs at the right time at the right dose.
Epigenetics: Our genes load the gun but the environment (diet, lifestyle, toxic exposure) pulls the trigger. The gun can be fully loaded but if you never pull the trigger, the gun won't go off. This means that having a gene associated with a certain health problem doesn't mean the health problem will manifest!
Feed me organic Paleo food and keep me away from chemicals. Adjust me. My body will do the rest.
On chiropractic: Jack told an amazing story about when Heather's grandfather passed out at their wedding. Of course everyone was freaked out but Heather instinctively crouched down (in her wedding dress) at her grandfather's head, grabbed ahold, and adjusted his neck—the first adjustment of his life! He immediately regained consciousness, got up and went about his way, enjoying their wedding and reception and feeling perfectly fine. Normally, after a person passes out and then comes to they don't feel well for several hours or even days, but chiropractic does more than improve the brain's communication via the nervous system with different parts of the body. Newer research shows that it directly benefits the brain (and of course the brain controls everything).
When the Wolfsons met (at a farmer's market—how cool is that?), Jack was "drinking the Kool Aid" of the conventional system. Actually he was drinking Diet Mountain Dew, but Heather introduced him to a holistic approach to health and he quickly began deep diving into research and completely changed his entire paradigm. He transformed his cardiology practice into a holistic one so that now instead of relying on pharmaceutical bandaids, he addresses the underlying causes of cardiac and other health issues and transitions his patients off of the very statins and other medications he'd previously prescribed!
My husband, David, asked Jack how he deals with the haters. Jack says he's developed a thick skin and doesn't hesitate to block haters on social media. They received a lot of awful hate messages after Jack was interviewed on NBC Phoenix—even people telling them they hope their kids die of measles!  Jack's commentary on that was hysterical though: "That's kind of the point. How stupid do you have to be to say that?" (Not only are such things only spoken by total dirt bags, but anyone who's done their research knows that measles is rarely, if ever, deadly in first world countries.)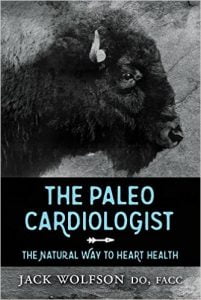 The Wolfsons walk the walk. They are not afraid to shout the truth from the rooftops, even in the face of persecution. Heather and Jack are the real deal—champions of health freedom, busting health myths and empowering people with real information to prevent chronic disease and improve their quality of life.
I highly recommend Dr. Wolfson's book, The Paleo Cardiologist, even if you don't eat a Paleo diet. It's a treasure trove of sound, practical advice for optimizing your health in numerous ways. Be sure to follow them on Facebook and check out their website for more health information and recipes and to check out their supplement line.
You'll love this video of a talk they gave earlier this year at Nourish Vermont on Holistic Living for the Whole Family, where the Wolfsons share more of their story and how to live a non-toxic, healthy life.
About Jill: My husband and I live in Waco, TX, along with our two awesome young adult kids (AND now in Dallas during the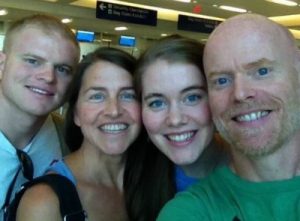 week while my husband attends chiropractic college). I have a small business selling handmade personal and home care products at our farmer's market and local retail sites. I am also Kelly's blog assistant.?  I am passionate about real food nutrition, natural health, local food, and I love to cook. Fortunately we have access to lots of local food via Waco's fantastic year-round farmer's market, nearby farms, and even a grocery store that sources much of its food locally.  See all my posts here.