Finally, we're here in Chicago!
It took only a little over three hours for me to drive around the Big Lake to get to Chicago this afternoon.  Along with Ann Marie (Cheeseslave), we finally got to meet fellow Real Food Media bloggers, Kimberly (Hartke is Online) & Kimi (The Nourishing Gourmet)!  We met many more fun people, too, which I'll tell you all about in this post, and the weekend is just beginning.  🙂  (Jenny from Nourished Kitchen just got here, too!)
All about dinner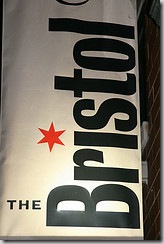 We went to the Bristol restaurant for duck fat French fries, but thankfully we had the no-GMO expert, Jeffrey Smith & his wife, Andrea, with us.  He asked all the right questions and found out that the fries were cooked in duck fat and soybean oil.  This turned out to be a good thing, because then we found all the other amazing foods on the menu that we may have missed otherwise.  Besides, the owner was so cool and open to learning about why we don't eat soybean oil.  (He didn't act annoyed with us at all!)  The other awesome thing about this restaurant is summed up in this sign on the wall: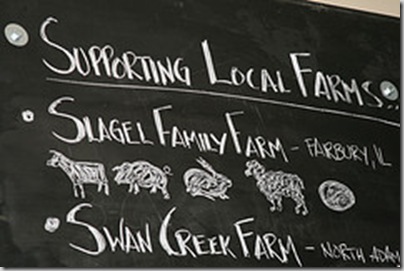 My favorites were the shaved pumpkin salad and the ricotta ravioli.  I forgot to take pictures of those, though, because I was too busy ooh-ing and ah-ing.  But Ann Marie got a picture of the ravioli: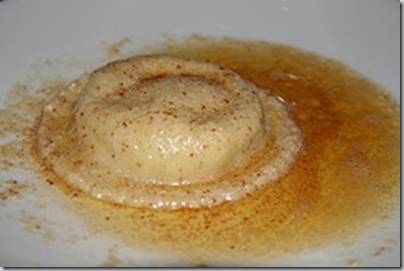 On the inside was the dreamiest cheesy filling ever tasted.
I tried the roasted bone marrow and thought it had a nice flavor, but it wasn't as yummy as some of the other foods we tried.  Here's a picture.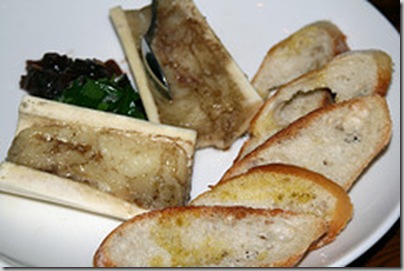 Alex, pictured below with Ann Marie, said that the fish was his favorite.   I thought it was blah, though, and don't much love heads or tails sitting on my plate.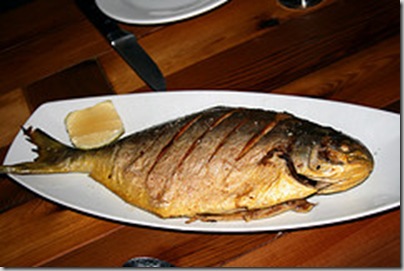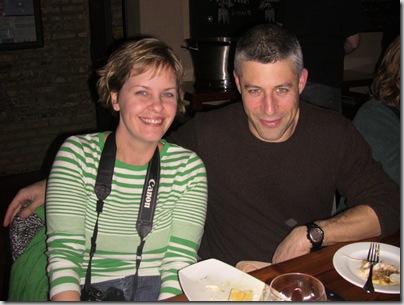 Above:  Ann Marie from LA & Alex Lewin from Boston.
More fun shots from dinner: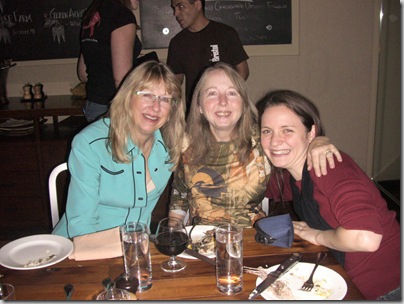 Kimberly Hartke, Victoria Bloch, & Kimi Harris.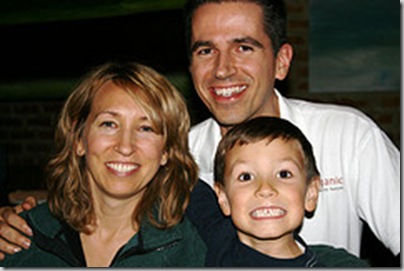 Dan, Addie & Adam from Corganic.  (Aren't they a cute family?!)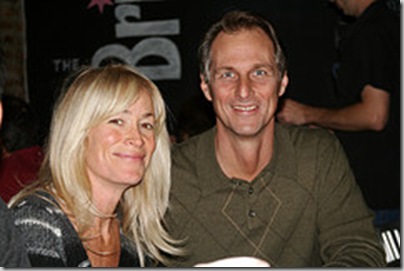 Karen Myers from Michigan and Kevin Brown, author of the Liberation Diet.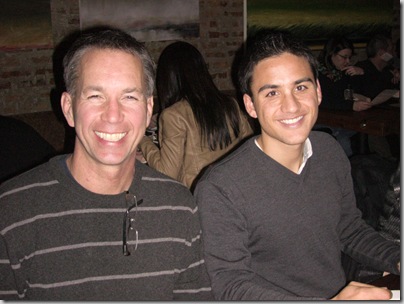 Archie, who I met last year at the Deidre Currie Festival, and Morgan Polotan, another blogger from Boston.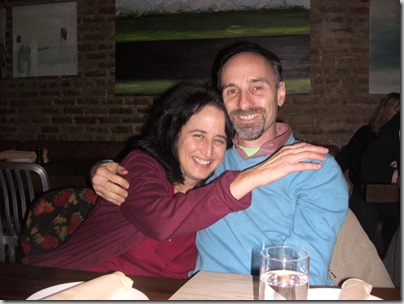 Jeffrey & Andrea Smith.  I love this picture of them.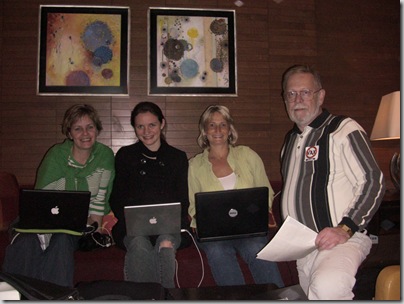 Above is a picture of us at this minute, blogging in the hotel lobby!
Tomorrow begins the Weston A. Price 10th Annual Wise Traditions Conference – my first one!  I'll be shooting out as many Tweets as I can, but we don't have internet at our booth, so I'm not sure how often I'll be able to get on.  If you're bored and wonder what's going on here, check the Twitter box on my homepage often and I'll try to get some good Tweets out.
P.S.  We look forward to next year when we'll also hopefully get to meet the rest of the RFM bloggers:  Carrie (Organic & Thrifty), Shannon (Nourishing Days), & Kristen (Food Renegade).
I'll chat with you more tomorrow, reader friends!