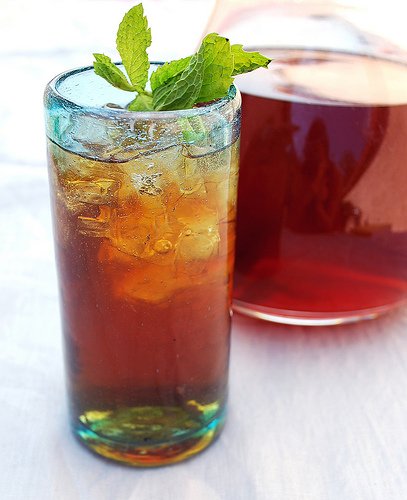 Are you fortunate enough to have fresh mint or lemon balm growing in your yard like we do?  Do you need more ideas for how to use it, though?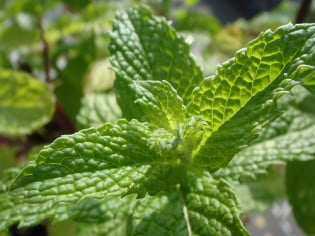 Yesterday we got talking about what to do with fresh mint.  There were so many tasty ideas for how to use it (and a lot of great ideas came through Facebook, too), so I wanted to share them with you.
We were talking about fresh mint, but most of these would be good ideas for lemon balm, too!
Ann Marie said: "I like mint in chilled filtered water, with or without cucumbers. Or in iced tea or lemonade."  Lydia Joy added, "Dry it and save it for mint tea all winter long!" (I did this with cilantro this week: clean it and lay it on your dehydrator to dry and store – easy.)
Ann Marie also suggested mint chocolate chip ice cream!  (Anyone know how to use fresh mint in this?  My recipe calls for peppermint extract.  I'll update the post when I hear from you!)
Mint jelly is good on lamb  (Anyone have a good recipe?)
Serve it on crackers w/ cream cheese.  (Doesn't that sound so light and delicious?)
Four ways to use fresh mint from Kimberly.  I love her pictures in this post.
Add to a Tabouli Salad – yum!
Have you seen Kristen's apple mint skin toner?
This one I need your help with!  A while ago I promised a guest post for Kimberly Hartke with a recipe for a low-sugar homemade Mojitos recipe, but after much experimenting, I can't get it right!  (I made some pretty disgusting concoctions.)  If you have a good recipe, will you send it to me to try?  ([email protected])  Once I have it down, then I can finally get that guest post to her.  Thank you!
Do you have more ideas? Comment below! (Also, feel free to leave links in the comments if you've seen a post with good ideas for using fresh mint or lemon balm.)