Do you need a great new side dish to make for Christmas dinner?  Your mouth will be watering in a matter of moments, guaranteed…
By the way, have I mentioned lately what a sweetheart my friend, Stan, is?  He's very thoughtful, so knowing what an extra busy time of year it is for Mom's with young kids, he offered to write a guest post for me this week!  Remember, Stanley wrote the amazing cookbook, Tender Grassfed Meat: Traditional Ways to Cook Healthy Meat
, so if you're on the lookout for help in getting the most out of your healthy meats, then you may want to order one!
Jansson's Temptation for the Holidays
By Stanley Fishman, Author of Tender Grassfed Meat
This is my family's favorite side dish. It is rich with cream, butter, sautéed onions, and anchovies, which unite to provide a wonderful flavor to the potatoes. It is
hearty—best served steaming hot—and great for cold weather and the holidays.
Potatoes & Carbs…
This dish does contain potatoes, which concerns many people because of their high-carb content. No worries, because I have loaded this dish with more than enough butter and cream to smother the potatoes with healthy fat that makes them easy to digest, and counters any negative effects from the carbs. Some of the healthy peoples studied by Dr. Weston A. Price, the Peruvian and Bolivian native peoples, ate a lot of potatoes. All traditional peoples served potatoes with plenty of fat.
This dish was inspired by an old Scandinavian dish called Jansson's Temptation.
I say "Scandinavian," because the Danes, Swedes, Norwegians, and Finns all claim it. There are several different stories about who Jansson was. This is my favorite: Jansson was said to be a fire and brimstone preacher, who denounced every form of fun, including good food. He was caught eating a rich dish of potatoes, cream, butter, onions, and tiny fish, which was so good that it tempted him to betray his strict principles.
There are many different versions of Jansson's Temptation, and just about all of them use grated potatoes. This gave the dish a somewhat sticky texture that I did not care for. I solved the problem by using potatoes that were shredded, not grated. The texture is creamy and tender, and is perfect for the delicious blend of flavors.
Different recipes call for various kinds of small fish. I decided to use anchovy fillets, which disintegrate into the butter and cream, giving the dish an intriguing flavor which is not fishy.
The version of Jansson's Temptation included in Tender Grassfed Meat uses bacon, not anchovies. While it is a fine, tasty dish, my family likes this one even better now.
Serves 4 as a side dish.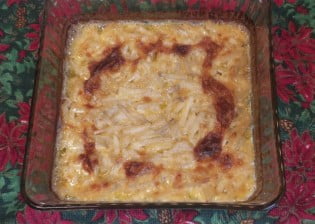 Print
Jansson's Temptation
Ingredients
4 tablespoons pastured butter
1 medium organic onion, sliced
6 medium organic potatoes, sliced into thin circles, then cut into small thin shreds, approximately 1 to 2 inches long, (see the photo above for how the circles and shreds look)
12 anchovy fillets, preferably imported, packed in a glass jar with olive oil, (not soy oil or canola oil) ***See note below about where to find these.
1½ cups organic cream, divided into 2 equal (¾ cup) portions
Instructions
Melt the butter over medium heat in a heavy bottomed frying pan. When the butter is hot and bubbly, add the onions, and cook for about 5 minutes or until the onions are soft.
Preheat the oven to 400 degrees. Place half the potatoes on the bottom of a greased, medium sized glass baking dish. Place the onions evenly over the potatoes. Place the anchovy slices evenly on top of the onions. Place the rest of the potatoes on top of the anchovies. Pour ¾ cup of the cream evenly over the mixture.
Bake at 400 degrees for 20 minutes.
Add the rest (¾ cup) of the cream to the dish, spreading it evenly, return to the oven, and bake for another 20 minutes.
Serve and enjoy this tempting dish.
Did you make a real food recipe?
I want to see it! Tag @KitchenKop on Instagram and hashtag it #KitchenKopRecipes OR share anything you know I'll love by tagging @KitchenKop and hashtag #KitchenKop -- see you over there!
I asked Stanley where to find the anchovy fillets and here's what he said:
"We just buy the bottled anchovy fillets at our local market. I think even chain supermarkets should carry them. Certainly any kind of Italian food market should have them, because they are important in the cuisine. Whole Foods also carries them. I think canned anchovy fillets are widely available, but we prefer the bottled version. I am pretty sure that Trader Joes also carries quality anchovy fillets."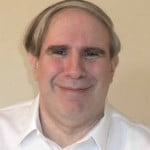 THANKS STAN!  Be sure to read Stanley's awesome Real Food miracle story if you haven't yet, and visit his blog:  TenderGrassfedMeat.com.  🙂