Really, can the church require vaccinations?!!!
Now and then I get all riled up over some health or nutrition issue, and when I do, there are always some of you who GET IT too and are right there with me, shocked and ticked OFF.  This time it was my friend Jill who got me goin'.  She told me about a church in California requiring vaccinations before they'll let kids sign up for VBS.  This is WRONG on so many levels; it's a major parental rights issue, a moral issue (especially for a CHURCH, due to the aborted fetal tissue used in the production of vaccines, which is so unbelievably disturbing that this happens in AMERICA, as if we're Nazis in the 1940's), and it's a SAFETY issue too, because of how many docs and vaccine makers that don't know what they're doing when it comes to this issue, as I explained in this post when I found that out very clearly, right before they almost shot up our son with a vaccine combo that their own insert said not to give together, one that they still give together ALL of the time!
Jill goes into all of that below in a very well-written letter she sent to the pastor, and if it inspires you to DO something, feel free to share this post with your friends, family, and local politicians using the share buttons below.  Here's Jill:
Dear California Church Applying the SB277 Vaccine Mandate to VBS and Sunday School
Dear Reverends, Ms. ____, and Mr. ____,
It came to my attention from a friend of mine who lives in California and tried to register her children for your VBS, that ____ Church is applying the SB277 school vaccine mandate to its attendance policy for VBS and other children's ministries. The application form's wording strongly implies that the law extends to churches, which is a gross misrepresentation of the law (the bill's text can be read here),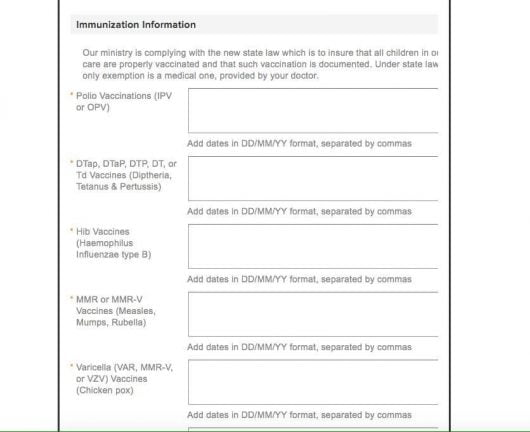 but there is more that is troubling me about your policy.
By your desire to have every child in your church (or even visiting for VBS) fully vaccinated according to the CDC vaccine schedule, I do understand that you are hoping to avoid exposure within your congregation to communicable diseases that vaccines are designed to prevent.
Unfortunately, there is a lot of data refuting the safety and effectiveness of vaccines as well as giant gaps in terms of safety studies and liability.
For example, drug companies that make vaccines are 100% liability free from injuries and death caused by their products—parents of vaccine injured children cannot sue drug companies, their doctors, or mandating agents, there has never been a health outcome comparison study between fully vaccinated and fully unvaccinated children or adults, and our current vaccine schedule (the most aggressive in the world) has never been tested for safety as given. While these are no small matters, instead of focusing on them I want to share with you a few thoughts that are applicable even if the assumption that vaccines have been proven completely safe and effective was true.
The first concept I'd like you to consider is if you were on a missions trip in a foreign country, would you refuse to minister to children who were not up to date according to America's CDC vaccine schedule?
I am sure your answer is "no", but placing this obstacle between the children in your community and hearing the gospel preached in your church is very much the same thing. It brings to mind Matthew 23:13-14 when Jesus chastised (to put it mildly) the Pharisees for "shutting the kingdom of heaven in men's faces" and not letting "those enter who are trying to". Please understand that I am not accusing you of being a Pharisee or consciously shutting children out of the kingdom of heaven. I believe you mean well, but the ramifications of your policy, besides being an inaccurate representation and inappropriate application of the law, are sobering, particularly as it applies to children. Many churches display in their Sunday School area a picture of Jesus surrounded by children with the words of Matthew 19:14 "Let the little children come to me, and do not hinder them, for the kingdom of heaven belongs to such as these."
Great men and women of God throughout history have deliberately ministered to the sick.
Of course children who are not up to date according to the CDC's vaccine schedule are not somehow automatically sick (although those recently vaccinated with live virus vaccines, such as MMR, chickenpox, rotavirus, and the nasal flu vaccine shed vaccine strain viruses for weeks on end), but since your policy is intended to prevent potential exposure to illnesses, it makes me wonder what would have happened if Mother Teresa and the Missionaries of Charity took the same approach. Or if the Paraboloni had done the same. Where would any of us be if Jesus had placed conditions of any kind on people before they could come to Him? Instead He was often criticized for spending so much time with "unclean" sinners and lepers.
8 years ago my husband, children, and I spent a year in South Africa, largely working with AIDS orphans.
Several of whom were HIV positive, some who were recovering from tuberculosis, one who had chronic chickenpox and then shingles because her AIDS-ravaged immune system couldn't bring it under control. We were around a LOT of sick people regularly (and stayed healthy by the way, even though none of us were "up to date" according to the CDC schedule). I wouldn't trade the honor of ministering to the many precious, physically ill people we befriended that year for anything. Sometimes while wiping the runny nose of a child I felt as if I was wiping Jesus' nose, since he said that whatever we do for the "least of these" we do for Him, and that whatever we don't do for the "least of these" we don't do for him. I am not perfect and am not trying to place myself in the same category as Mother Teresa or the early Church's Paraboloni, but I am so glad I had the opportunity to love—in person—hurting people who I actually knew were sick with communicable diseases.
The Church should be a sanctuary from corrupt government, not an extension of it.
While on the surface SB277 might seem like a noble effort to protect public health, just a little digging under the surface reveals that Senator Pan, who wrote the bill, has deep conflicts of interest with the pharmaceutical industry and was the recipient of nearly $100,000 in industry payouts prior to the bill's passing!
This isn't just public health we are dealing with here—this is big business for one of the most powerful industries in the world, represented by the largest spending lobby in Washington.
Furthermore, Senator Pan was contacted directly by the filmmakers of the documentary, Vaxxed, prior to its release, with detailed information about the fraud committed by the CDC in their definitive 2004 MMR/autism study. Dr. William Thompson, the lead scientist at the CDC turned whistleblower, has turned thousands of documents over to Congressman Bill Posey from Florida, who's been working to persuade congress to subpoena Dr. Thompson and investigate the fraud. Senator Pan knew, before SB277 passed, that the CDC's own MMR study showed a significant link between the timing of MMR and autism and that they illegally manipulated the data to cover that link up. Of course the MMR is one of the vaccines mandated by SB277 and the fraud committed in the CDC's study isn't its first black eye.
Before the CDC whistleblower came forward, Merck's (the maker of MMR) own whistleblowers came forward about fraud committed by the company itself, falsifying effectiveness of the mumps portion of the vaccine in order to monopolize the market. This may explain why almost all mumps cases now are in fully vaccinated individuals (the same can be said for whooping cough and DTaP, but that's another story). The MMR is merely one example of extensive corruption driving the pharmaceutical industry and bleeding over into health policy. The issue of pharmaceutical corruption and its influence over health policy is so pervasive that Harvard's University's Center for Ethics devoted an entire issue of its journal to the subject.
Along the same lines as corruption is the sanctity of life problem created by aborted fetal cell lines used in the production of several vaccines mandated by SB277, which leaves your congregants in a huge ethical and spiritual dilemma.
You can learn about this issue and learn about which vaccines are developed using aborted fetal cell lines and that contain cell protein and DNA from aborted babies here and here.
Of course supporters of SB277 point out that there is allowance for medical exemptions, assuming that if there is any reason a child may be susceptible to harm from vaccination their parents and doctor can opt them out.
Unfortunately, it is nearly impossible to obtain a medical exemption by CDC standards and doctors who use their professional judgement to write medical exemptions outside of official guidelines risk harsh professional consequences.
Seizure, fever of 104.9, shock or loss of consciousness after the last vaccine? Doesn't qualify.
Family or personal history of SIDS, documented vaccine injury, or neurological disorder? Doesn't qualify either.
Immunocompromised immediate family members of a child "due" for a live virus vaccine that sheds? Nope.
HIV positive, autoimmune disease, immunosuppressed, egg or penicillin allergies? Too bad.
By extending SB277 to your congregants, even families who are homeschooling susceptible children because they don't technically qualify (but should) for a medical exemption will have to choose between avoiding placing their child at risk for a severe adverse event or going to Vacation Bible School. You can read more about the unbelievably narrow standards for medical exemptions here and compare official CDC contraindications with known adverse reactions and side effects listed on package inserts for each vaccine here.
Finally, requiring parents to show proof of their children being "up to date" on their vaccines before participating in children's ministries is usurping God-ordained parental authority.
There is a reason scriptures pertaining to child rearing are directed at parents and not to the Church or the government (and vice-versa—children are instructed to obey their parents). That responsibility lies solely with the parents and of course responsibility and authority always go hand in hand. It was to Joseph that the angel appeared in a dream, instructing him and Mary to flee with the young Jesus to Egypt in order to escape Herod's murderous rampage. It was to Abraham that God spoke directly regarding Isaac and likewise to Hannah regarding Samuel. Neither the Church nor the government is in a godly place when they dictate how parents must raise their children. Without freedom to hear directly from and obey the Holy Spirit, parents are shackled in fulfilling their call to parent in the way only God knows their child needs and in accordance with God's plan for each individual child. It sets up a situation where a parent may fear "man" (their church leadership and church policies) over God.
This was longer than I intended and I thank you for staying with me this long. Please re-evaluate your church's vaccine policy for children with these thoughts in mind.
In an age of increasing government overreach and intolerance of Christian values I pray that the Church can be a beacon of light, a sanctuary from the darkness, a place that reflects 2 Corinthians 3:17 "…where the Spirit of the Lord is, there is freedom."
Respectfully,
Jill Boman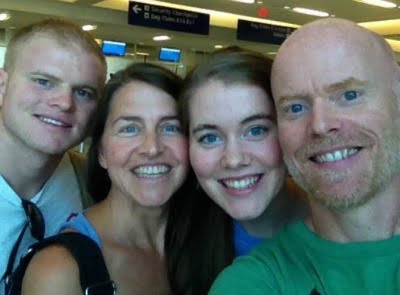 About Jill: My husband and I live in Waco, TX, along with our two awesome young adult kids (AND now in Dallas during the week while my husband attends chiropractic college). I have a small business, selling handmade personal and home care products at our farmer's market and local retail sites. I am also Kelly's blog assistant.?  I am passionate about real food nutrition, natural health, local food, and I love to cook. Fortunately we have access to lots of local food via Waco's fantastic year-round farmer's market, nearby farms, and even a grocery store that sources much of its food locally.
See all my previous posts here.
Photo credit: The Church at Auvers by Vincent Van Gogh (public domain)