Are you ready to get rid of your psoriasis, or have you given up on beating psoriasis naturally?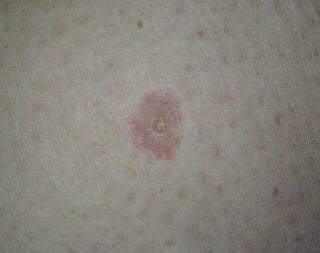 The other day I was chatting with my friend, Cindy, who told me about a remedy that she said really works for beating psoriasis naturally.  She heard about it from another friend who had them all over her head, and they were gone within a month after beginning this daily drink…
Cindy let me share her story:
My mom has psoriasis pretty bad and wears a lot of shirts with 3/4 length sleeves and longer capri pants.  When I didn't have them by my mid-40's I thought maybe I was going to be lucky.  However, in my late 40's they showed up, and since going through menopause it has gotten much worse.  I tried prescription topical creams when I only had a few spots, and it worked, but then it got worse.  (Now knowing how bad those drugs are, I wouldn't want to keep using those anyway!)  Last summer I had psoriasis all over my arms, some on my face, and they were so bad on my legs that I couldn't even shave (which I usually need to do about 3 times a week!)  That's when I started going to the tanner daily.  That did work and I was able to shave my legs again – but I hated knowing what I was doing to my body in the fake-bake machine.  I stopped going to the tanner once the weather got cooler (and I could wear pants and not have to shave my legs), and all the psoriasis came back.  It was later last fall when I heard about this remedy for dealing with psoriasis naturally, and I've been pretty much psoriasis-free ever since, as long as I remember to drink my cup of "medicine" each day.  It's been so nice not worrying about wearing clothes to cover them, especially when it's so hot in the summer.  I'm so thankful this works!"
Here's what to do — stir together the following in a coffee cup:
1 T. local raw honey (or get honey here if you don't have a good local source)
1 cup of hot water, not boiling
It's that easy, and inexpensive, too!
This is actually quite delicious, it's got a nice sweet and sour flavor to it.  Or you could add the honey and vinegar to coffee or tea if you prefer.  This will take a few weeks to start working but it has been a GREAT treatment for my psoriasis.  It doesn't prevent new outbreaks, but when they show up it helps to dry them up fast.  You have to continue this drink daily or they'll come back."
Why not raw apple cider vinegar?
I'd always heard about the many uses and successes with raw apple cider vinegar, so I asked Cindy if she's tried that.  She actually had, but said the psoriasis started to show up again so she switched back to the distilled white vinegar and then they went away again!
Have any of you tried something similar?  Or has another remedy worked for beating psoriasis naturally for you?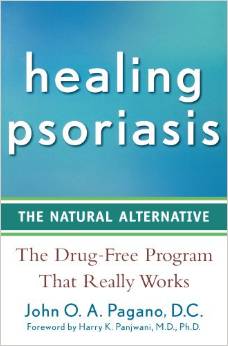 Here are a couple more helpful resources from the comments!
More:
Also, one of my family member swears by cod liver oil and said that her psoriasis stays GONE as long as she's taking that.