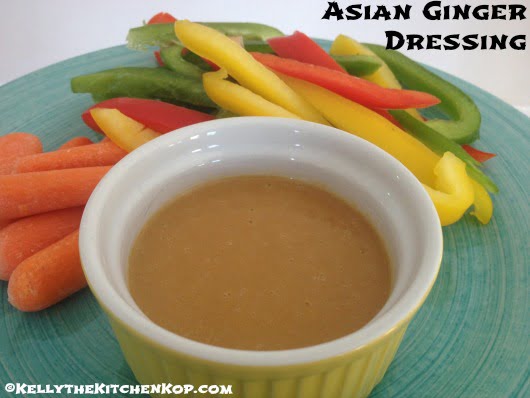 Do you love the taste of an Asian Ginger Salad Dressing?!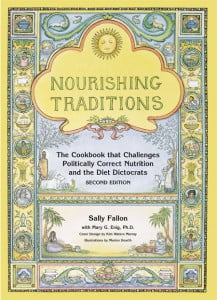 I've told you before about a couple of my foodie friends, Megan and Sonia.  Well they're both hooked on the Asian ginger salad dressing that you get in many oriental restaurants, so they brought me some to try and got me hooked, too.  But of course I wanted to recreate it…
It was nice to get a success in my kitchen today, since food flops are so familiar to me!
One thing Sally Fallon (author of Nourishing Traditions and WAPF Foundation founder) has always said, when asked how someone should start out in making the switch to real food, is that they should begin by making their own salad dressings, because it truly is SO simple.
Just a warning, though:  This recipe has a LOT of flavor.  If you like your food more mild, you'll want to decrease some of the ginger and/or the garlic, and omit the cayenne all together.  We are wild about super flavorful foods around here, though, even the kids couldn't stop eating it!
It's great for a veggie dip (even though it's a little thin) OR a salad dressing.  But it's so good, you'll be tempted to drink the stuff…
Asian Ginger Salad Dressing
I used my food processor (with that handly little side-scraper attachment you see there), but next time I'm going to make a much bigger batch and use the blender (which came with my beloved Bosch), that way I won't worry about it coming out the sides as it was starting to do a little bit with even this smaller batch.
Ingredients: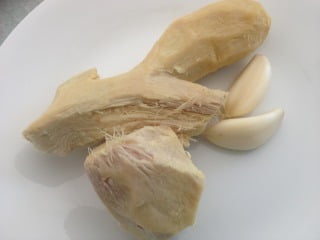 Instructions:
Throw everything into your food processor or blender and mix until it's all smooth.  Easy!  Makes almost 2 cups.